| | |
| --- | --- |
| Tyler Krieger, Tigers prepare for opportunity to keep playing | |
---
| | |
| --- | --- |
| Sunday, May 24, 2015 8:01 AM | |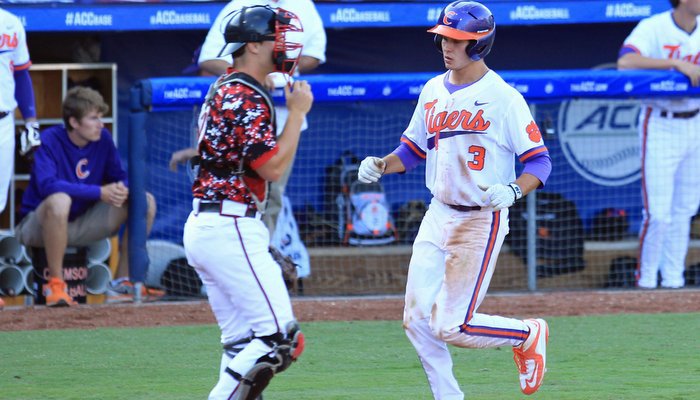 DURHAM, NC – Clemson infielder Tyler Krieger

Tyler Krieger
Jr. Infielder
#3 6-1, 170
Johns Creek, GA
View Full Profile sat on the podium next to head coach Jack Leggett

Jack Leggett
Baseball Head Coach
View Full Profile following Clemson's loss to North Carolina in the ACC Tournament Friday, and it was evident that he was fighting back tears as some of the questions turned to whether the Tigers would play another game this season.
The Tigers sit at 32-27 overall with a RPI in the mid-50's and with tournament upsets like UNC Wilmington knocking off the College of Charleston in the Colonial, the open spots for bubble teams are beginning to shrink.
Krieger told the media Friday that he believes in his teammates and coaches and hopes the Tigers get that chance when they watch the NCAA Selection Show on Monday.
"You know, I believe in this ballclub. I believe in my teammates and I believe in my coaches," Krieger said. "And I believe we can play with anybody in the country. It's kind of out of our hands at this point what happens and we'll be watching Monday. But I believe what we have as a team and a program. And I look forward to hopefully having an opportunity.
"You drive home and get better every single day. You assume an opportunity. I don't think you sit there and think that you're never going to get an opportunity. I always think optimistically good things are going to happen to good people. I believe we have a lot of good people in this program. I'll be waiting until Monday, but find ways to keep getting better, so I have an opportunity to keep playing."
Leggett agreed with Krieger and said he thinks the Tigers deserve a tourney bid.
"It's the same answer. I think we're deserving and we're a good enough team. Body of work, we had some rough edges early, mid-week," Leggett said. "But on the weekends we've got some starting pitching, we've got some good baseball players. And we've got some guys that feel like we get in the Regional and get in an opportunity, I think we could be a tough team to play."
He then said he hopes the committee takes into account what the Tigers have done against elite competition.
"But I think we've done some good things against some top ten teams," Leggett said.. "We've played formidable on the road against teams that are top ten. We played 4-0 on the road against teams that are top ten. Our strength of schedule has been extremely tough this year. And we play in an extremely tough conference.
"This tournament we play is, the eight teams that are in here, all exceptional teams and all good players and deserve go to keep on playing in a 64 team tournament, in my opinion. But I really think that we've got a good opportunity to play, and hopefully that will happen to us on Monday. We'll be playing like Tyler said we'll be playing and preparing for an opportunity next weekend. And hopefully that comes in our way."
The Tigers played well enough down the stretch to at least be on the bubble, and Krieger said the team showed resilience and became more of a cohesive unit during their struggles. '
"You know, I think honestly it's just baseball," Krieger said. "Sometimes even though we were playing good, we just didn't have things go our way. It's having patience, letting the game find you, letting success find you and not pressing. I think down the stretch we came together as a team and just kind of let success find us. Played a little looser. Better instincts. I like the way we're playing. I think if we get another opportunity it would be a fun time."
Catcher Chris Okey

Chris Okey
So. Catcher
#25 5-11, 195
Mount Dora, FL
View Full Profile added that he thinks Clemson will make the most of its opportunity – if that opportunity comes.
"Everything he (Krieger) said I agree with. We played hard no matter what the circumstances were," Okey said. "We trusted each other, and trusted what we were doing. We kept doing what we know we can do. And it came along. It came a long way for us. We've been playing really well. And like he said, I think if we get another opportunity we're going to shine."