| | |
| --- | --- |
| Tigers excited about Music City opportunity | |
---
| | |
| --- | --- |
| Monday, May 26, 2014 2:17 PM | |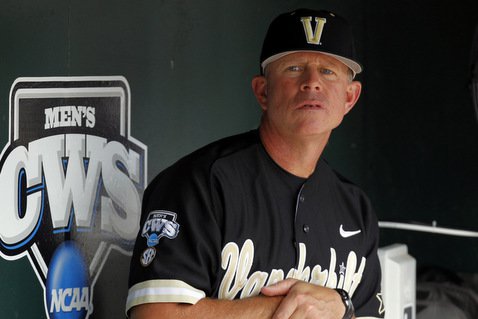 CLEMSON – A relieved group of Clemson players and coaches responded with excitement to the news Monday afternoon that their season isn't over. The NCAA announced the 64-team field for the NCAA Tournament via national television, and the Tigers are headed to Nashville where they face Oregon Friday afternoon.
The third-seeded Tigers will travel to Nashville (TN) and will play number-two seed Oregon in the first round on Friday at 1 p.m. (EST). Number-one seed Vanderbilt, coached by former Clemson coach Tim Corbin, will host the regional and play number-four seed Xavier in the other first round game on Friday.
This will be the first baseball game for the Tigers against Oregon and the first time Clemson has faced a Pac 12 team since 2010 when the Tigers defeated Arizona State, 6-3, in the first game of the College World Series.
Head coach Jack Leggett

Jack Leggett
Baseball Head Coach
View Full Profile said that unless a team is a "lock" to make the tournament, waiting on the regionals to be announced is always a nervous time.
"I'm always a little apprehensive coming into it, unless you are just a true lock," Leggett told the media shortly after the announcement. "It's very difficult to be a true lock nowadays. There is a lot of parity out there and a lot of good baseball teams out there. A lot of people are putting emphasis on their programs and people have all kinds of programs with financial aid. Everybody has some kind of angle going. It's never easy this time of year, especially when you put your faith in the committee's hands and you just trust they will pick the best 64 teams in the country. But I think we deserved to be in it and I would have been disappointed if we hadn't been it."
Infielder Tyler Krieger

Tyler Krieger
So. Infielder
#3 6-2, 170
Johns Creek, GA
View Full Profile said the Tigers, who have won 11 out of their last 15 games, don't lack confidence heading to Nashville.
"We're a confident group. Playing well down the stretch definitely helped us," Krieger said. "We've played in some emotional games. I'm really excited about the opportunity that we have and I believe that we can make some noise in this tournament. I love playing with my teammates and I can't wait to play at one o'clock Friday afternoon against Oregon."
Clemson has never played number-four seed Xavier and has faced Vanderbilt three times, just once in Nashville. Clemson closed its 1984 season with an 11-5 win at Vanderbilt. The two teams split two games at Clemson in 1986.
Vanderbilt enters the NCAA Tournament with a 41-18 record, including a 23-3 mark in non-conference games and 26-9 at home. The Commodores are coached by former Clemson assistant Tim Corbin, who coached under Clemson Head Coach Jack Leggett from 1994-2002.
Leggett said he spoke with Corbin shortly after learning the Tigers' destination.
"I already have talked to him," Leggett said with a laugh. "We knew this was going to happen at some point. I have a lot of guys in it, and eventually it was going to happen and it happened. I am excited about it. I am excited to see him but he is a gamer and a competitor like I am. But at the same time it's a business trip."
Oregon has a 42-18 record, a 24-6 record in non-conference play, and an 18-10 record away from home. with 5-0 victory over Creighton in the title game. The Musketeers enter the NCAA Tournament with a 29-27 record, including a 17-16 mark in non-conference play.
Outfielder Steven Duggar

Steven Duggar
So. Outfielder
#9 6-1, 185
Moore, SC
View Full Profile said the Tigers will head to Nashville with a positive mindset.
" It's anybody's game now. We understand that Vanderbilt is a very good team," Duggar said. "We understand that Xavier is a very good team. We also know that Oregon is a very good team. We're going to go up there with a positive mindset and we're going to continue to try to play really good baseball and let the momentum carry over to each and every ballgame.
"We've got a lot of confidence right now. We feel like we match up well with anybody in the country and it's just a matter of going out there and doing it. We can sit here and we can talk all we want about 'oh, we're a good team or we're this and we're that, ' but at the end of the day you've got to go out there and get base hits, strike outs, produce outs. We've got to produce. At the end of the day, if we do all of those things we'll be pretty well off."
.