| | |
| --- | --- |
| Throwback Thursday: Matthew LeCroy | |
---
| | |
| --- | --- |
| Thursday, June 19, 2014 10:07 AM | |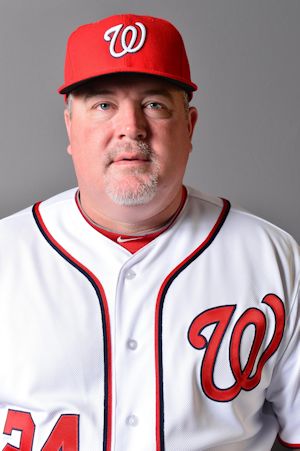 Because of Dabo Swinney

Dabo Swinney
Head Coach
View Full Profile 's high school camps, we skipped Throwback Thursday last week but will have it as a regular feature from here on out.
In this week's edition of Throwback Thursday, we caught up with former Clemson baseball great Matthew LeCroy. LeCroy played for the Tigers from 1995-97.
LeCroy's accomplishments speak for themselves – he led the Tigers in home runs each of the years he played; he was named to ACC 50-Year Anniversary baseball team; First-team All-ACC in 1996 and 1997;
First-team All-American by Baseball America in 1997; Fourth all-time in career home runs with 53 and eighth in RBIs with 208; Clemson's first ACC Rookie-of-the-Year in 1995; Homered in a five consecutive games in 1996; Member of the 1996 United States Olympic team; Number 50 selection of the Major League Draft in 1997; Starter on two Clemson College World Series teams; Played eight seasons in the Major Leagues, and hit 60 career home runs.
During his time at Clemson he hit .336 in 199 career games, scored 178 runs, had 247 hits, 53 home runs and 208 RBI. In 2013, he was elected into the Clemson Athletic Hall of Fame.
What is it like being a coach in the major leagues?
When I was offered to manage right after I quit playing has been a dream come true. Being able to work in this organization, and being able to be a part of the turnaround from being a really bad organization to being one of the best in all of baseball has special. Now having an opportunity to be a part of the major league staff is something I thought would happen, just not this quick.
What is your ultimate goal as a coach?
The ultimate goal I have - dating back to when I was a player - is to win the World Series. I wanted to do it as a player but fell a little short. Now I am getting the opportunity to coach, and one day I would like to manage a team. I know that takes a lot of work and there is luck involved, so I am happy where I am right now.
Would you consider going back to the college game?
College hasn't been a goal of mine, but it's also something that you never know what would happen if you're offered something or if there is something on the table. But until that situation comes up I don't really know what I would do.
What coaches have had the biggest impact on your career?
I've taken a little bit from all of the managers I've had in the game. Tom Kelly was an old style type of manager, and when I had Rod Gardenhire I liked the way he did some things. But ultimately, you just have to be yourself. I learned a lot from Pat Corrales and Bob Boone here in the Nationals organization. You try and learn as much as possible and learn that there are things you would like to do and some things you wouldn't. It all comes down to experience.
What are your fondest memories of Clemson?
I think the best memories I have are the really good teams we had. I had great teammates and we had some great players. We went out to the College World Series my first two years, and we were probably the favorite to win each of those years but we just didn't get it done. But you can't take away from the stuff we accomplished there as a group. But also I met my wife there, so I had better throw that in there as well.
Do you ever get back to Clemson?
I live in Belton in the offseason and I go to all of the games I can possibly go to when I am at home. We always go see the stadium and see the changes that have been made. They are amazing.
Has it pained you to see what the program has gone through lately?
The way society is these days, it's not about what you've done for me in the past but it's what have you done for me lately. But Jack Leggett

Jack Leggett
Baseball Head Coach
View Full Profile 's career is just amazing. What he has done at Clemson has been amazing. He just hasn't won the big game but what he has done for the program has been amazing. I heard they have been giving him a hard time, but I think they have to give him the chance to finish it.
Anything else you would like to add?
I am a Tiger for life. I love the school, and everybody in my family are diehard Clemson fans. My nephew is going to go to school there next fall, so orange is the color of our blood.