| | |
| --- | --- |
| The next Chris Okey? Tigers land another top 2017 prospect | |
---
| | |
| --- | --- |
| Wednesday, July 1, 2015 3:01 PM | |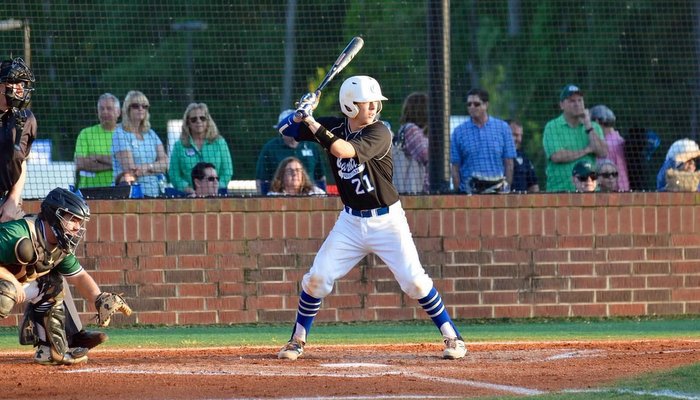 Chris Okey's play will help define Clemson's success on the diamond for the next year or two, but the way he carries himself on and off the field is building the baseball team for the future.
The success of Clemson's junior catcher and Mount Dora (FL) native is creating opportunities for recruiting coordinator Bradley LeCory and newly appointed head coach Monte Lee

Monte Lee
Baseball Head Coach
View Full Profile on the recruiting trail, as 2017 catcher prospect Drew Donathan committed to Clemson earlier this week.
The 6-1, 195-pound Charlotte (NC) Charlotte Christian catcher told TigerNet recently that he wasn't even on Clemson's radar until coaches saw him play while in town scouting one of his teammates.
"Clemson wasn't on my radar until this spring. I was talking to UNC, N.C. State and East Carolina before," Donathan told TigerNet Tuesday evening. "Coach [Dan] Pepicelli came to one of my games at Charlotte Christian to see Jackson Kowar, who is a pitcher that was supposed to come to Clemson this year, and they saw me. I did really well and they started showing interest. I started talking Coach LeCroy once a week and staying in touch. I went down for a visit during the spring to see Clemson play Wake Forest and I really enjoyed. I loved Clemson."
However, with the transition between former head coach Jack Leggett

Jack Leggett
Baseball Head Coach
View Full Profile and Lee, Donathan said he was unsure as to how his recruitment would go.
"Obviously, the coaching change happened and I was wondering how everything was going to work out but once they hired Coach Lee," Donathan said, "I was super excited because my high school coach knew Coach Lee personally. It just seemed right and they invited me down for a visit."
A Monday visit to Clemson and an hour long meeting with Lee sealed the deal for Donathan.
"While I was there, I just fell in love with the university and the coaches were great," he said. "I talked to Coach Lee in his office for almost an hour and we talked about what my role was going to be when I got to Clemson and how I would fit in in the program. I liked how that was and I decided to commit on the spot. I just decided to commit there, because it's the place for me and I can't imagine going anywhere else, so I committed to Clemson yesterday."
During the meeting, Donathan said he was able to learn about Lee's coaching philosophy and he thinks bringing new energy into the program can only help Clemson's baseball team.
"I think Coach Lee is a great coach and he's going to do great at Clemson," he said. "He did such a good job at College of Charleston and I think with all of the facilities and the resources at Clemson, that he will be even better at Clemson. He's a very energetic coach and I think that's going to bring a nice energy to Clemson baseball and it's going to be really good."
Donathan also pitches for his high school team, but he said he will focus solely on catching when he gets to Clemson and hopes to pattern his game after the Tigers' current catcher.
"I'm going to be a catcher at Clemson, which is where I'm playing now," he said. "I love Chris Okey. I watched him play a lot this spring and he reminds me a lot of the way I play. I play with a lot of energy like Chris. I look up to him as a player and I think I can learn some things from him, because I think he's a great player. I think he will do great next year at Clemson and at the next level."
Scouting report from Perfect Game
Drew Donathan is a 2017 C/RHP, UT with a 6-1 179 lb. frame from Charlotte, NC who attends Charlotte Christian. Donathan has an athletic build. Hits from a slightly open stance, Short line drive swing plane with good bat speed. Ball jumped off barrel, has pop and lift to all fields. Good extension through ball and makes hard contact. Interesting bat with more power to come, has live bat now. Defensively, athletic actions behind plate, 3/4 arm slot, shows off arm strength during games, has good catch and throw skills. Also pitched. Short arm action to over the top arm slot. Online delivery with good use of lower 1/2. Fastball has good arm side run. Outstanding Student. Named to Top prospect List.