| | |
| --- | --- |
| So You're Telling Me There's a Chance? | |
---
| | |
| --- | --- |
| Wednesday, May 21, 2014 4:25 PM | |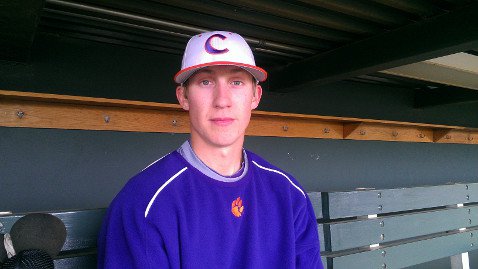 So you're telling me there's a chance?
Clemson's baseball team muddled through much of the 2014 campaign, and a loss last Friday to Boston College had many wondering if the Tigers would be forced to play in the ACC tournament's play-in game or even make the NCAA Tournament.
A 9-2 deficit to the Eagles last Saturday sent many fans to the exits, but somehow this team found some heart and some confidence and won 10-9 and now, yes, they actually have a chance. The path to the ACC tournament title game is clear – beat Miami Thursday and Georgia Tech Friday and the Tigers will earn a berth in the finale. Unlike recent seasons, the Tigers actually control their own destiny.
On Wednesday, No. 5 seed Clemson got seven strong innings from starter Matthew Crownover

Matthew Crownover
So. LH Pitcher
#44 5-11, 205
Ringgold, GA
View Full Profile and big hits by Tyler Krieger

Tyler Krieger
So. Infielder
#3 6-2, 170
Johns Creek, GA
View Full Profile and Steven Duggar

Steven Duggar
So. Outfielder
#9 6-1, 185
Moore, SC
View Full Profile in taking a 5-3 win over fourth-seeded Duke. The Tigers got the win by getting hits in the clutch, something that has been elusive this season.
Head coach Jack Leggett

Jack Leggett
Baseball Head Coach
View Full Profile said postgame that he thinks the comeback win over Boston College gave his hitters confidence.
"Yeah, I've always thought we have a really good baseball team. We won a big game the other day, and I think that gave us a lot of momentum and confidence in what we're doing," Leggett said. "We've played through a tough schedule along the way, and this is another tough ballgame for us. Every game we play in the ACC is tough. There isn't anything easy about it. But I've always believed in this team, and the team has always played pretty consistently for the most part.
"We did get some big hits today. We built some innings. Made him (Duke's starter) pitch from the stretch. That was one of the other things we tried to do was get them in the stretch, because not quite as effective as from the wind up. When we built the two innings in the fourth and the fifth, that was big for us just to take the lead. Then the runs that we built at the last part of the game were really important for us. Duggar got a big hit for us to make it 5 2 at the time, and gave us a little more breathing room."
Krieger said Clemson's hitters made adjustments the second time through the order.
"Our game plan going in was we were going to have to be aggressive and get on the fastball and make sure our swings were crisp," Krieger said. "I think obviously any time you see a pitcher the second time through, you're going to get a better idea of what he's got. I think he pitched an awesome game and has a lot of talent. We just seemed to make the adjustments when we needed it. "
Crownover did his part, striking out nine in 7 2/3 innings.
"Fastball command is my game. When I can feel my fastball whether it be my two seam or four seam, the changeup worked a lot better," the sophomore right-hander said. "Really worked on throwing a lot more of the swing and miss changeups this week and contact changeups and that really worked for me today. Threw a lot of strikes and got ahead. It was important because they know it's going to be a strike, so my changeup with my fastball really helped me out today."
The Tigers trailed 2-0 heading into the fourth, but a single run in that inning and a two-run double by Krieger gave him a 3-2 lead he would never relinquish.
"We always believe no matter what the score is. But when we got the lead I was throwing the ball pretty well," Crownover said. "So when once we got the lead I knew we were going to win. The way I was throwing the ball today I didn't think the guy hit the ball well for the home run, but there was maybe one other ball they hit well. They're a good team, but I felt like once we got the lead, the game was over."
The back-to-back wins have pushed Clemson's RPI up to 49th nationally, and a win over Miami Thursday would certainly help Clemson's NCAA Tournament chances. The fifth-seeded Tigers (35-22) will play top-seeded Miami on Thursday night at NewBridge Bank Park.
The matchup between the starting pitchers is intriguing – Miami lefty Chris Diaz hauled in ACC Co-Pitcher of the Year honors on Monday. The Hurricanes did not lose a game started by Diaz this spring. In 14 starts, the Florida City, Fla., native went 9-0 with a 2.32 ERA. He ranked first in the ACC in wins, 12th in ERA, seventh in strikeouts (78) and seventh in innings pitched (89.1).
Clemson junior righty Daniel Gossett

Daniel Gossett
Jr. RH Pitcher
#23 6-0, 180
Lyman, SC
View Full Profile has a 7-1 record, 1.74 ERA and .187 opponents' batting average along with 94 strikeouts against 28 walks in 93.0 innings pitched over 13 starts. Gossett earned All-ACC honors for the second time, as he was a Second-Team All-ACC selection in 2013.
Both teams will have their aces on the mound, and the winner has the inside track to Sunday. All you need is a chance.