| | |
| --- | --- |
| Snub from ACC coaches fuels Erwin's dominance of Cards | |
---
| | |
| --- | --- |
| Friday, May 22, 2015 7:01 AM | |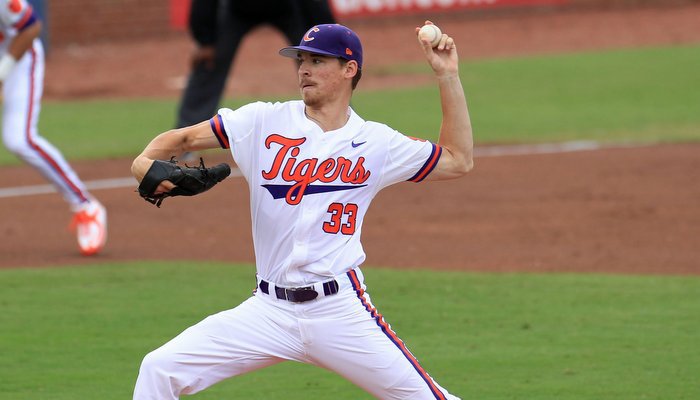 DURHAM, NC – Prior to the start of Clemson's ACC Tournament game against Louisville, the numbers in the pitching matchup between Clemson's Zac Erwin and Kyle Funkhouser jumped off the page.
Erwin finished the regular season with a 6-4 record and 2.80 ERA in 93.1 innings pitched, and he walked just 13 batters while striking out 79. Funkhouser also pitched 93.1 innings, and he had a 7-4 record (one more win) and struck out 90, but walked a whopping 40 batters. Guess which pitcher was named to the First Team All-ACC Team earlier this week, and which one wasn't even listed on the second or third teams?
If you guessed Erwin didn't a draw so much as a sniff from ACC coaches, you would guess right, and that's the reason he pitched Thursday's contest with a little extra-added motivation. Erwin earned the win by allowing just six hits, one run and no walks with a season-high-tying 11 strikeouts in eight innings pitched. Funkhouser suffered the loss, as he yielded nine hits, seven runs (five earned) and two walks with three strikeouts in just five innings pitched.
Because of the slight by the league's coaches, Clemson head coach Jack Leggett

Jack Leggett
Baseball Head Coach
View Full Profile felt like his starter would enter Thursday night with something to prove.
"Confidence. Zack's a kid, kind of soft spoken you can tell, he doesn't say much but he has some confidence in his pitching ability," Leggett told the media after Clemson's 7-2 victory over top-seeded and No. 3 Louisville. "I think he had a little chip on his shoulder he wasn't a first, second or third teamer in the ACC so he had a little chip on his shoulder about that. And he's pitched well for us all year long."
Erwin agreed with that sentiment, saying he wanted to prove that he belonged. He did that and more.
"I was frustrated. You just have to come out and try to prove that you're a good pitcher and that what other people think doesn't matter," Erwin said. "There was a chip on my shoulder to come out and prove that I could hang with big boys. It was nice to do well tonight."
The performance by the junior lefty came as no surprise to Leggett, who said that while it hasn't always been easy for Erwin, he has improved dramatically since last season and saved his best game for the biggest stage.
"He's only had a couple bumps in the road early but other than that he has really stepped up for us. He's gotten continually better," Leggett said. "[Pitching coach Dan Peppicelli} Pep's done a really good job with him. He came into the year with some confidence and his breaking ball was really good tonight, which is the best I've seen it. Got up on top of it, threw it with confidence, had good conviction with it. And his fastball, he was able to spot his fastball. You know, 11 strikeouts, no walks – that's a pretty good ratio and that's going to always keep you in the hunt, keep you in the game. But he's worked hard. He's a good athlete, and he's really improved since he's come to school. He went off in the summer and played up in the Cape and got some confidence there, and then that's rolled into this year. So I'm really proud of how he's improved and come along."
Louisville head coach Dan McDonnell has a staff full of great pitchers, but he said after the game that Erwin's performance was as good as it gets.
"You know, left handed and you throw 90 miles an hour, you've got a chance to pitch for a while. He's a talented pitcher," McDonnell said during his postgame press conference. "It could have been a different game if we got a two out hit there in the second and just in the third. He did a good job. He kept us off balance. Looked like we were trying to jerk the ball, pull the ball a little bit. And we didn't do a good job of staying on the ball. We didn't do a good job of moving the ball."
Erwin said that he also wanted to respond after not pitching quite as crisp against the Cardinals two weeks ago in Clemson, and he did it with the help of his curveball.
"Well, last time I pitched against them I gave up 11 hits and most of them were all on the first pitch fastball, so this time out I was trying to throw more off speed first pitch and get ahead in the count and that really helped out today," he said. "I think I was able to stay more on top of it (the curve) later on. I think the first couple innings I left some that were up here and I just didn't finish out front. So those are kind of cues when you leave it up you know you've got to get out in front more, and after that I did pretty well with it."