| | |
| --- | --- |
| Seventh inning Devils Tigers in NCAA Regional opener | |
---
| | |
| --- | --- |
| Friday, May 29, 2015 9:04 PM | |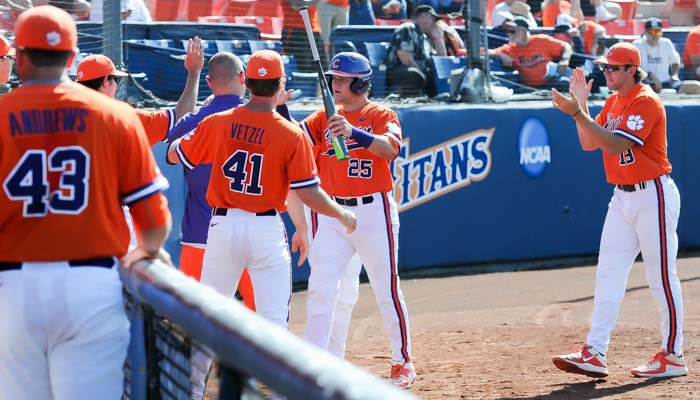 FULLERTON, CA – Two floaters over the middle of the plate and now the Clemson baseball team faces an uphill battle if it wants to win the NCAA Regional at Cal State Fullerton.
Arizona St. hit two home runs and scored three times in the bottom of the seventh to ruin Matthew Crownover

Matthew Crownover
Jr. LH Pitcher
#44 6-0, 210
Ringgold, GA
View Full Profile 's day and the Tigers (32-28) couldn't mount a big enough rally as second-seeded Arizona St. (35-21) topped Clemson 7-4 Friday afternoon at Goodwin Field.
The Tigers will now have to battle back through the loser's bracket, a battle that starts with a 7 p.m. (4 PM PST) game Saturday against the loser of Friday's Fullerton and Pepperdine game. The Tigers have lost five regional games in a row.
"We had a good ballgame going. I thought we got some big hits when we needed to," head coach Jack Leggett said. "In the sixth inning we had a really great opportunity and Weston hit it as good as you can hit it. I like the way we played. Matthew battled for us just as he always does. We just lost a little bit of control in the seventh and eight innings. They put some good swings on some pitches when they had to. Up until that point, I thought we were in pretty good control of the game. Give them credit. They came back and did what they had to do late in the ballgame. Our team showed the same kind of toughness and battle that we've been doing all year and we found a way get ourselves back into the game there at the end, but we let it get away just too far."
The first four innings was a classic pitching duel between both aces – Crownover and Kellogg – but it was the Tigers who struck first.
Chris Okey

Chris Okey
So. Catcher
#25 5-11, 195
Mount Dora, FL
View Full Profile led off the fifth with a walk and took second on a sacrifice bunt by Robert Jolly

Robert Jolly
Fr. Catcher
#12 5-9, 195
Myrtle Beach, SC
View Full Profile . Weston Wilson

Weston Wilson
So. Infielder
#8 6-3, 195
High Point, NC
View Full Profile singled through the right side to put runners on the corners with just one out. Tyler Slaton

Tyler Slaton
Sr. Outfielder
#18 5-8, 200
Cumming, GA
View Full Profile struck out for the second out of the inning but not before Wilson took second on a wild pitch. Andrew Cox

Andrew Cox
RS So. Outfielder
#6 6-0, 215
Belton, SC
View Full Profile , the nine-hole hitter, ripped a single up the middle to score Okey and Wilson, giving Clemson a 2-0 lead.
Arizona State wasted no time getting one of those runs back as right fielder Trever Allen made Crownover pay for his first mistake of the day, hitting a no-doubter over the left field wall, making it a 2-1 game.
Crownover had pitched a beauty through six innings but began to labor as his pitch count climbed into the 80s. He walked Allen on four straight. Crownover missed his mark on a 3-1 pitch to Joey Bielek, who made him pay with a two-run shot to left center. Brian Serven followed that up with a solo homer to left, giving Arizona State a 4-2 lead.
Crownover threw 100 pitches in seven innings, giving up four runs on five hits and a walk, while striking out a career-high nine.
The Sun Devils added three more runs against reliever Taylor Vetzel

Taylor Vetzel
RS So. RH Pitcher
#41 6-0, 155
Simpsonville, SC
View Full Profile in the eighth to seemingly put the game out of the reach.
However, the Tigers wouldn't go away quietly. Wilson had a one out double in the top of the ninth and advanced to third on a wild pitch. Slaton walked and stole second and Eli White singled through the right side to score both runners. Duggar then singled up the middle to put runners at the corners. However, Tyler Krieger struck out to end the game.
Leggett says the Tigers won't panic even though they now have to win out.
"I've been in a lot of Regionals – 26 of them – and we've been this situation before where we lose the first game and now you have to battle, relax and come out tomorrow ready to play a team that lost tonight," Leggett said. "We have to be more focused and tougher and get some rest and come out with the right mindset to be ready to play tomorrow at four o'clock. I think we're as good a baseball team as there is in this tournament and it's just a matter of us coming out and relaxing and taking it one game at a time to work our way back into it."