| | |
| --- | --- |
| Radakovich: Clemson baseball has plateaued, needs to compete for championships | |
---
| | |
| --- | --- |
| Thursday, June 4, 2015 3:01 PM | |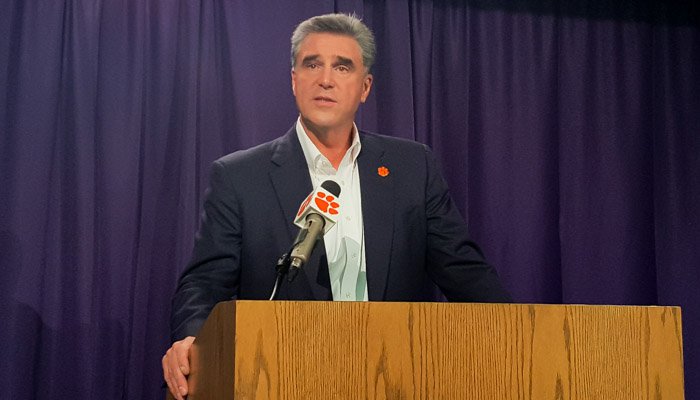 CLEMSON – Clemson Athletic Director Dan Radakovich

Dan Radakovich
Director of Athletics
View Full Profile said Thursday that his decision in parting ways with Hall of Fame baseball coach Jack Leggett

Jack Leggett
Baseball Head Coach
View Full Profile came down to one thing – Radakovich thinks the Tigers should be playing for championships, something Clemson hasn't been able to accomplish in recent seasons.
Radakovich met with the media earlier today in the McFadden Team Room and said the decision was made after an evaluation of the baseball program and that he thinks a fresh approach is needed if the Tigers are to get back to competing for those championships.
"Earlier today, I informed Coach Jack Leggett that I would be making a change in leadership in the baseball program. After careful evaluation of our season and the projection of our program over the last few years, it is my decision to introduce a fresh approach to our program," Radakovich said. "Jack has meant so much to this program over the last 22 years as head coach. I could not do justice to the impact he's made on our program. His contributions as assistant to hall of fame coach Bill Wilhelm followed by becoming a hall of fame coach himself speak to these achievements. Many players have been the beneficiary of Jack's service and to that Clemson will always be grateful.
"This decision was not an easy one. There is no denying the success of our program in the past have placed Clemson baseball in a position to compete for championships. After my evaluation, it came down to this – I think we can be better. Clemson baseball is a premier brand and is positioned well for the near future. Following the great work by coaches Wilhelm and Leggett, this program is built on a solid foundation. We have high expectations for our baseball program and we're going to find the right coach to continue to move that tradition of excellence. We need to create some new momentum and create optimism around our program. I'm confident that in our search for a new head coach, we'll find someone who will bring that excitement to our fans and our student athletes."
Earlier reports hinted that Leggett refused to make changes to his staff – many feel pitching coach Dan Pepicelli

Dan Pepicelli
Associate Head Coach
View Full Profile was in danger of losing his job – and Radakovich was forced to make the move to dismiss Leggett. Radakovich didn't confirm that move but did hint at it.
"We have an end of the year evaluation of our coaches. I do that. We have feedback from the coach," he said. "After we had that conversation earlier in the week and kind of looking at things, he wanted to stay the course. That's the head coach's prerogative. I made the decision at that point and time to change direction."
TigerNet asked Radakovich if a search was already underway for a successor and he said no.
"First of all, this is not an easy day. The short answer is no," he said. "I would hope today is about the great work Jack has done over the last 24 years being here as part of the Clemson community. We'll get to the other and there will be time to look for and get a replacement."
Radakovich said he spoke with current players – who defended their coach – but at the end of the day he felt like the Clemson program had reached a plateau under Leggett.
"Certainly the current players that I had an opportunity to speak with – I would expect no less out of the student athletes at Clemson – they were very supportive of their coach," Radakovich said. "That goes to the type of responsibility and organization that our baseball team has had. As I looked beyond that group, it talked about our plateau that has trended over the last couple of years. College baseball is very difficult right now. Major League Baseball rules and NCAA rules have created some really parity within college baseball. As I looked beyond that, we have a great university, great history and tradition, we have good facilities that are about to get better and we play in one of the best leagues in the country. Where is Clemson's place there? I think it needs to be at or near the top and competing for championships."
He then went on to say that the decision is based off current results.
"I think it's more here and forward. Certainly the history here and Jack's accomplishments and Coach Wilhelm's accomplishments are chronicled and are very noteworthy, but it's really about where we're moving on from here," Radakovich said.
He then added that the stipulations set forth last June didn't really play a part in Thursday's final decision.
"When I evaluate a coach we talk back and forth and we have a dialogue. Those four things were part of that dialogue," Radakovich said. "Those were my best suggestions given my experiences on what might be able to help our program. I'm not going to sit down each day and use a check mark and say, 'did you accomplish this or did you not.' I know that coach went out and talked to some other places. He's had more interaction with his student athletes. I can't tell you if we filled up that particular bucket a full check mark. But at the end of the day, it was where we are today. In my estimation, we needed to look forward and make a change."
He also made it clear that Clemson has spent the money necessary to be successful in the Atlantic Coast Conference.
"We've done some benchmarking. USA Today came out most recently with their financial database," he said. "In talking with our CFO, Graham Neff, I think that our expenses are third within the Atlantic Coast Conference. There are other metrics inside there. You might be a little higher in recruiting or a little lower in travel, but overall we're third as it relates to expenditures within the Atlantic Coast Conference."
Main recruiter Bradley LeCroy

Bradley LeCroy
Assistant Head
View Full Profile will stay on to help with the transition and will be a candidate for the permanent job.
"Bradley LeCroy who as many of you know is our chief recruiter is going to be that key focal point moving forward. I've had an opportunity to sit and talk with Bradley," Radakovich said. "He's asked about the permanent position and I've asked him to apply for that position, so we'll see where that goes. In the short run, a lot of the communication with recruits will go through Bradley. Bradley Owens will also stay on board as the director of operations. Dan Pepicelli – his contract is up at the end of the month but we'll look to Dan to help in any transition period as well. Bradley LeCroy will be the focal point."
Radakovich ended the press conference by detailing what he will be looking for in Leggett's replacement.
"I think we have not exhausted that list yet. To be real honest, this has been taking up all of the time coming to this point," he said. "You want to have someone who has shown the ability to lead, to win games, to recruit quality student athletes, to be a great representative of Clemson. Those things are all important as we look to the next leader of the baseball program. Those are just some – not an exhaustive list – because we haven't put that together but we will in the coming days."