| | |
| --- | --- |
| Position changes improve Tigers' defense up the middle | |
---
| | |
| --- | --- |
| Thursday, February 11, 2016 4:23 PM | |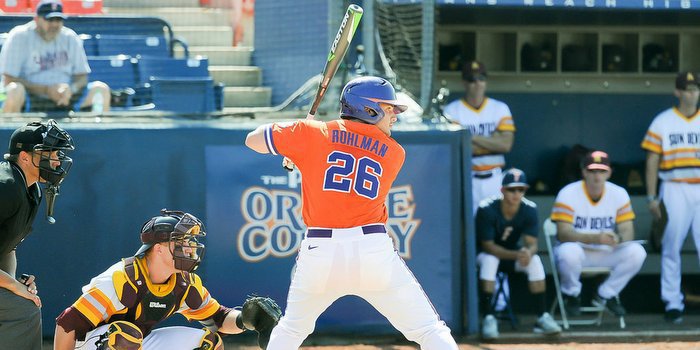 CLEMSON – Major league baseball teams place a premium on the defensive wizards who make playing shortstop and center field an art form. Why? Because the best teams are stronger up the middle.
When Clemson opens the 2015 season next Friday against Maine, Clemson fans in Doug Kingsmore Stadium will see some familiar faces in different places as new head coach Monte Lee attempts to strengthen the Tigers' defense in the middle of the diamond.
"Our success this year will be dictated by how good we play defense. When you look at a pitching staff where you don't have a lot of experience, this will be a pitch to contact oriented staff," Lee said. "We are going to ask our guys to execute pitches and get weak contact. If we get weak contact we have to trust that our defenders are going to make the routine play. So defense will be a big factor in our success. We have to limit baserunners."
One of the biggest changes will see former third baseman Weston Wilson move to second base, forming what Lee hopes will be a formidable keystone combination with shortstop Eli White.
"Some of the things we have done that I think will help us defensively - Weston Wilson moving from third base to second base has been huge for him," Lee said. "You take a kid who is a long, rangy athlete and very athletic kid and you put him in the middle of the field where his athleticism can play. He is much more comfortable at second base. He has athleticism and he has range. You put him and Eli White in the middle of the field and those guys have serious range in the middle of the field."
Clemson's middle defense starts with catcher Chis Okey.
"Obviously we have the best catcher in the country and all of college baseball in Chris Okey, a tremendous leader and tremendous athlete," Lee said. "He receives, he blocks, he throws. We feel very good about what we have behind the plate."
Former infielder Chase Pinder made the move to center field in the offseason.
"In the middle of the field out in center field is Chase Pinder. We moved Pinder out there," Lee said. "Pinder didn't get to hit all fall because of the shoulder injury. I told him to go out there in the grass and enjoy running around all fall long because that's what you're gonna get to do. He really took to center field and has become a very good defender out there. It's really important that the center line of the field is good and consistent for you. You have really athletic kids in Okey, in White, in Wilson and Pinder. Those four guys are very athletic and capable of making some plays."
Those moves have necessitated changes elsewhere.
"We put Adam Renwick over at third base. Rennie was our best player this fall. He didn't play a lot as a true freshman, but this kid is a baseball player," Lee said. "He just squares the ball up and hits the ball to all field and runs the bases hard. We put him at third and worked him over there and he's getting more and more comfortable over there every day. First base is a question mark. To me, right now, that is the most important decision I have to make. We are rotating a number of guys in that position - Reed Rohlman is playing over there, Andrew Cox is playing over there, and Chris Williams a catcher we signed over the summer has been there. We have been rotating some guys over there."