| | |
| --- | --- |
| Play Ball!!! Tigers, Leggett ready to start the season | |
---
| | |
| --- | --- |
| Wednesday, February 11, 2015 3:57 PM | |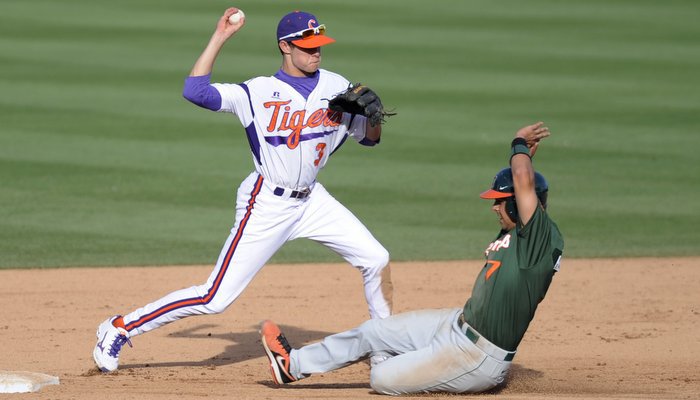 CLEMSON – Clemson baseball is back.
The familiar sounds of spikes on concrete and players warming up along the foul lines were in full effect under bright and sunny skies at Doug Kingsmore Wednesday afternoon as the Tigers prepare to open the season Friday at 4 p.m. with a three game season-opening homestand against West Virginia.
Head coach Jack Leggett

Jack Leggett
Baseball Head Coach
View Full Profile – who has led the Clemson program to 923 wins in 21 seasons as head coach – told the media that his team wasn't making season predictions or looking ahead to a possible postseason berth.
It's all about beating West Virginia this weekend.
"Three wins. The obvious is that we want to come out, we want to play well and we want to put everything into the game that we've been working so hard on in practice," Leggett said. "The accumulation of all of the hard work all fall and all of the conditioning and all of the fundamentals we've been through hopefully they'll show up this weekend. It's always a proving ground for a new team. It's always a new experience no matter how many years you've been doing it or been back. It's all new the first day. Hopefully we can get the jitters out or whatever it takes to get into the right frame of mind. The kids are ready to play someone else. I'm excited about Friday."
Leggett said the Mountaineers will provide a good challenge in the season's first weekend.
"They'll be a very good challenge for us," he said. "They had a very good ball club last year and played well in the Big 12. Randy Mazey is the coach and he has some Clemson ties to him from way back. He's been at TCU. It's going to be a good challenge. They've got a lot of new players. On the scouting report, it's difficult to scout for what we're going to see this weekend because most of their pitching is new and most of the position players are new."
Leggett said that shortstop Tyler Krieger

Tyler Krieger
Jr. Infielder
#3 6-1, 170
Johns Creek, GA
View Full Profile would start the season at designated hitter - the junior switch-hitter and co-captain missed the fall season while recovering from a shoulder injury. Krieger was a Second-Team All-ACC selection who hit a team-high .338, fifth-best in the ACC, in 2014 and he said he is close to playing in the field.
"I am doing well, getting better every single day," Krieger said. "I have about five days left on this throwing program, and once we get through that we will see how I feel and I expect to be playing and in the lineup very soon. I want to do everything I can do to help this team win, and that means being healthy and getting on the field as soon as possible. I am really excited about what we have going forward. We have a good lineup, a good combination of speed and power and left/right combinations. The ball, you can definitely tell in batting practice it's not flying out of the park but it is getting in the gap and will extend innings. It's exciting for sure with this new ball."
Leggett said Krieger will play designated hitter against the Mountaineers.
"He'll be our DH. We'd love to have him on the field. His energy and his leadership are absolutely critical for us but he's just not ready to go yet with his arm," Leggett said. "He's still got a little bit to go in the rehab program but hopefully he'll catch up during the next few weeks. Eli White

Eli White
So. Infielder
#4 6-2, 185
Easley, SC
View Full Profile will play shortstop. Chase Pinder

Chase Pinder
Fr. Infielder
#5 5-10, 175
Poquoson, VA
View Full Profile

Chase Pinder
Infielder
# 6-0, 165
Poquoson, VA
View Full Profile will probably play second. He played well for us in the fall and in the early spring offensively. He's new at second base but we've been working really hard at the beginning of the year with the thinking that Tyler might not be back to get him some repetitions. Again, it's new but he's an athlete that's played on some really good teams."
Clemson's overall health entering the season? Good, except for two members of the pitching staff.
"Good except for two guys – Patrick Andrews

Patrick Andrews
RS Jr. RH Pitcher
#43 6-4, 240
Hilton Head Island, SC
View Full Profile and Clay Bates

Clay Bates
RS Sr. RH Pitcher
#42 6-0, 190
Rock Hill, SC
View Full Profile . Two right-handed pitchers. Patrick had arm surgery – Tommy John – a while back so he's not 100-percent yet," Leggett said. "He came back but there was another little issue. Clay Bates was a pretty good relief pitcher for us. He's got a little strain so he'll be out for a little while. We've got a little bit more pitching depth – more left on left and right on right – more match up guys. Some other guys will have to step early."
Leggett announced that junior lefthander and co-captain Matthew Crownover

Matthew Crownover
Jr. LH Pitcher
#44 6-0, 210
Ringgold, GA
View Full Profile (2.90 ERA, 90 strikeouts in 99.1 innings) will be the Friday starter, followed by junior lefty Zack Erwin

Zack Erwin
Jr. LH Pitcher
#33 6-5, 195
Duluth, GA
View Full Profile and junior righty Brady Koerner.
The closer's spot has yet to be determined.
" Drew Moyer

Drew Moyer
So. RH Pitcher
#20 6-3, 215
Gilbert, SC
View Full Profile and Alex Bostic

Alex Bostic
So. LH Pitcher
#37 6-2, 215
Matthews, NC
View Full Profile are guys that can throw at the end of ball games," Leggett said. " Hunter Van Horn

Hunter Van Horn
Fr. LH Pitcher
#30 6-2, 180
Tampa, FL
View Full Profile will have a chance to do some things. Jake Long

Jake Long
RS Sr. RH Pitcher
#39 6-0, 190
Anderson, SC
View Full Profile will be there. Clate Schmidt

Clate Schmidt
Jr. RH Pitcher
#32 6-1, 205
Acworth, GA
View Full Profile . We've got a bunch of guys that can pitch late in the game for us. Drew Moyer will probably be in that closer role for us."
Clemson's goal each season is to win the ACC and make it to Omaha for the College World Series – goals the program has fallen short of in recent seasons –but junior outfielder Steven Duggar

Steven Duggar
Jr. Outfielder
#9 6-2, 195
Moore, SC
View Full Profile says there is a new attitude surrounding the program.
"I think I want to see how the guys respond. We're going to play somebody new - a quality opponent in West Virginia," said Duggar, who hit .294 and finished second in the ACC with 25 stolen bases a season ago. "I think everybody is going to come out this weekend with some high energy. What I want to see us do is maintain that energy through all three games of the series and then throughout the season. We've got a different approach this year. I think the guys - what we're going to try to do is win every pitch, win every inning and ultimately that might transform into winning every game. We're going to do our best this weekend and hopefully come out with a sweep"
The forecast for this weekend calls for colder weather, prompting Leggett to say that he hopes the fans won't stay away because of a little chill in the air.
"I'm hoping we have a good crowd this weekend regardless of what the weather is," Leggett said. "The sun is supposed to be out. There's no rain in the forecast – that's a huge deterrent most of the time. These kids are excited about playing regardless of the temperature or anything this else. They're excited to be playing somebody else. I'm excited about showing the place off."

Tags:
Tyler Krieger
,
Clay Bates
,
Patrick Andrews
,
,
Clate Schmidt
,
Zack Erwin
,
Jake Long
,
Matthew Crownover
,
Steven Duggar
,
Eli White
,
Drew Moyer
,
Alex Bostic
,
Chase Pinder
,
Hunter Van Horn
,
Jack Leggett