| | |
| --- | --- |
| Pepicelli likes the depth of 2014 pitching staff | |
---
| | |
| --- | --- |
| Thursday, February 13, 2014 11:13 AM | |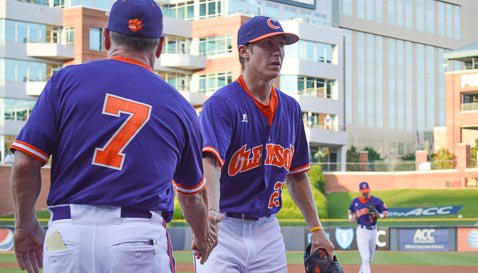 CLEMSON – Dan Pepicelli

Dan Pepicelli
Associate Head Coach
View Full Profile thinks the 2014 pitching staff has the potential to be the best group he has sent to the mound during his tenure, but he said the group will have to shed the potential tag once the first pitch of the season has been thrown.
The good news for Pepicelli and Clemson fans is that the talented group of hurlers boasts just one senior in righty Matt Campbell

Matt Campbell
Sr. RH Pitcher
#36 5-11, 195
Alpharetta, GA
View Full Profile . The group will be led junior right-hander Daniel Gossett

Daniel Gossett
Jr. RH Pitcher
#23 6-0, 180
Lyman, SC
View Full Profile , who should once again take his spot as the Friday night starter.
Pepicelli told TigerNet recently that he likes what he sees.
"It has the potential to be the best group I've had," Pepicelli said. "There is certainly some depth there. There are some good front line guys, and that is exciting. It is just a matter of going out and getting it done."
Gossett is one of the primary reasons the Tigers - who were picked to finish third in the ACC Atlantic Division by the coaches - are optimistic about their chances this season. The South Carolina native had a 10-4 record and 2.56 ERA in 2013. Gossett was named a Louisville Slugger Preseason Third-Team All-American by Collegiate Baseball and is the 77th ranked player in the country by Baseball America.
Pepicelli said the junior stacks up against any of the nation's best pitchers.
"It's big having Goose out there on Friday nights," he said. "I think we are confident that Goose can handle just about situation we put him in. He is as good of a dog as you can put in the fight. But he knows that he has to start all over in the first inning of the first game with the first pitch. That first pitch is the most important of the season, and he has to go from there."
The Tigers have a number of options in the rotation beyond Gossett, including Matthew Crownover

Matthew Crownover
So. LH Pitcher
#44 5-11, 205
Ringgold, GA
View Full Profile , Zack Erwin

Zack Erwin
So. LH Pitcher
#33 6-4, 180
Duluth, GA
View Full Profile , Jake Long

Jake Long
RS Jr. RH Pitcher
#39 5-10, 180
Anderson, SC
View Full Profile , and Clate Schmidt

Clate Schmidt
So. RH Pitcher
#32 6-1, 190
Acworth, GA
View Full Profile .
Crownover, a sophomore lefthander, posted a 7-3 record and team-best 2.19 ERA last season despite being limited in innings as he recovered from elbow surgery.
"I think Crownover has better stuff now than at any point last season," Pepicelli said. "If you look at him, his arm strength is coming around, he has better stuff, and he has good location. But that has to improve. He knows he is a work in progress, but that is one of the final pieces of the puzzle for him."
Lefty Zach Erwin came on strong toward the end of last season and finished with a 5-2 record and 3.45 ERA, and Pepicelli said he feels like he has the pieces in place for a strong rotation.
"Goose, Crownover, Jake Long and Zack Erwin give us four really good choices," he said. "I think Clate (Schmidt) had a really good fall, and he could be a starter, but I am excited about the relief roles he could fill as well. I am excited to see what we can get out of him. "
The Tigers have to replace the valuable Scott Firth

Scott Firth
RH Pitcher (2010 - 2013)
#20 6-0, 175
Buffalo Grove, IL
View Full Profile – who could start as well as handle short relief and long relief – and Pepicelli said that Campbell and Patrick Andrews

Patrick Andrews
Jr. RH Pitcher
#43 6-3, 225
Hilton Head Island, SC
View Full Profile are in line to share the closer duties.
"They both have shown good one inning stuff," he said. "Their stats and their stuff certainly show they might be set up that way. I like those two guys in the back end of games. But Clate has shown an aptitude for it, and Brody Koerner

Brody Koerner
So. RH Pitcher
#19 6-1, 205
Concord, NC
View Full Profile has thrown in short relief. I think freshman Alex Bostic

Alex Bostic
Fr. LH Pitcher
#37 6-3, 200
Matthews, NC
View Full Profile is another guys that can be a short reliever or a starter, but he is coming off of an arm injury, so we have to build him up."

Tags:
Alex Bostic
,
Brody Koerner
,
Clate Schmidt
,
Dan Pepicelli
,
Daniel Gossett
,
Jake Long
,
Matt Campbell
,
Matthew Crownover
,
Patrick Andrews
,
Scott Firth
,
Zack Erwin