| | |
| --- | --- |
| Monte Lee on Clemson: "This is a dream job of mine" | |
---
| | |
| --- | --- |
| Monday, June 22, 2015 12:35 PM | |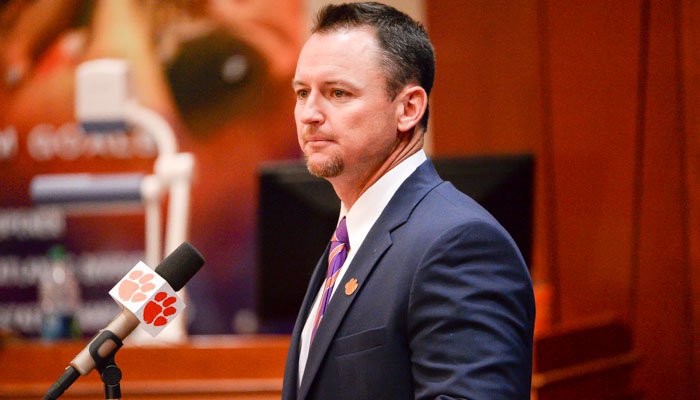 CLEMSON – Monte Lee

Monte Lee
Baseball Head Coach
View Full Profile said it best himself when he approached the podium for his introductory press conference Monday morning in the team room at the WestZone when he looked out over the room, gave a smile and said, "What a day."
What a day indeed. Lee was introduced to the media and various members of the Clemson program and it was impressive to say the least as he called Clemson his "dream job."
"What a day. I can't tell everybody here how excited I am to be here," Lee said. "I would like to thank Clemson Athletic Director Dan Radakovich

Dan Radakovich
Director of Athletics
View Full Profile , President James Clements and the Board of Trustees for giving me this opportunity and how excited I am to be here today. This is a dream job of mine. I don't even know if I could put into words how excited I am. This is a great opportunity for my family, for my friends and for myself."
Lee, who spent the last seven years as the head coach at the College of Charleston, thanked that school for his first chance.
"I would like to thank the College of Charleston for giving me an opportunity as a young man to be a head coach," he said. "I would also like to thank my former players. My players are important to me – more important to me than anything is my relationship with my players. I will coach here at Clemson focused on those relationships."
He then detailed the reasons why he chose Clemson, citing the tremendous history the program has enjoyed.
"Why Clemson?? Why Clemson? What is so attractive about this job and this opportunity for someone like me? What stands out about Clemson is the tradition and the consistency of this program," Lee said. "Our fan base that comes to support our programs here at Clemson is second to none. When you look at Doug Kingsmore, this is as rabid a fan base as there is in all of college baseball. The tradition of Clemson is second to none. This is as rabid a fan base as there is in all of college baseball. The tradition at Clemson is second to none. This program has been led by two men in Bill Wilhelm and Jack Leggett

Jack Leggett
Baseball Head Coach
View Full Profile and when you look at what these two men have accomplished here at Clemson, it's incredible. That kind of tradition is what the big draw was for me at Clemson."
Lee then went into what the fans can expect.
"Who is Monte Lee? I am a South Carolina guy," Lee said. "I was born in the Upstate and raised in Lugoff. One of the things I've been fortunate to have in my life is that I've lived and coached in South Carolina. Not many people get that opportunity. Relationships are more important to me than anything – one thing I can promise you is that I will have a tremendous relationship with my staff, my players and the fans here at Clemson. Without my players, I am nothing. Growing up in South Carolina, we don't have professional sports and college baseball is huge in this state. When you grow up in this state like I have, you are on one side of the fence or the other. This rivalry is second to none in college baseball. And we are going to do our best to recruit the kind of kids that want to knock the fence down to play at Clemson. We will recruit this state inside and out but we will also recruit nationally. We will go to all parts of this country to recruit because the Clemson brand is nationwide."
OTHER NOTES
On what fans can expect out of his teams
"What kind of teams? There is one thing we can control day in and out – that is our attitude and effort and I promise you our players will come to ballfield, the classroom, the community and the weight room with tremendous attitude and give this program and this community tremendous effort in everything they do. Our kids will be grinders on the field and we will represent this school and the community well. We will play hard and we will play fast and we will play extremely loose. We will enjoy game day. We want them to embrace and enjoy playing on game day, and I want them to look forward to coming to the field every day.
"Our teams will always be on offense in everything we do. When we are pitching we will attack, when we are on defense we will attack and we will attack when we run the bases. We will not do anything defensively. When it comes to the mindset, I want our players to have no fear of failure because this game is full of failure. They will accept it and they will deal with it and play with full-out aggression."
TIGERS
Lee said TIGERS will be the acronym his program will be known for.
"We will create an identity in this program. TIGERS – Toughness, Integrity, Gratitude, Excellence, Relentless, Selfless. I can't thank you enough for this opportunity. Go Tigers!"
*NOTE: This is the first portion of the Lee press conference. We will have more on his staff (there is no pitching coach as of yet) and the rivalry with South Carolina this afternoon.