| | |
| --- | --- |
| Monte Lee "not neutral" when it comes to Clemson/South Carolina | |
---
| | |
| --- | --- |
| Tuesday, July 14, 2015 3:01 PM | |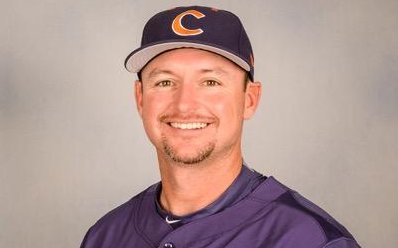 CLEMSON - At some point early next baseball season, new head coach Monte Lee

Monte Lee
Baseball Head Coach
View Full Profile will lead his baseball team against arch-rival South Carolina, completing a cycle that started years ago when he was an assistant at Spartanburg Methodist and continued when he was an assistant for the Gamecocks.
At that point, Lee will become one of the few people that has coached on both sides of the rivalry, something he says gives him a better understanding of what the rivalry means to people in this state. However, many on the Clemson side of the equation heard that Lee grew up a Gamecock fan and heard about his ties to the South Carolina program and wondered aloud whether he would be a good fit in Clemson.
Lee wants to put those concerns to rest, and spent time with TigerNet last week breaking down his career and how he wound up at South Carolina under former head coach Ray Tanner.
Prior to his time at College of Charleston, Lee was an assistant at South Carolina for six seasons (2003-08), serving as the volunteer assistant coach for five years before becoming the recruiting coordinator in 2008. During his time in Columbia, the Gamecocks had a 266-130 record, made six NCAA Tournament appearances, earned four super regional berths and two trips to the College World Series.
He began his coaching career as an assistant in 2001 at Spartanburg Methodist College, and it was while working there that he got the opportunity to go to South Carolina.
"I think the thing that I would want people to understand about me, just personally, is this: I played baseball at the College of Charleston and I got a degree at the College of Charleston," Lee said. "When I was a young assistant at Spartanburg Methodist trying to make my way into coaching, I happened to go work South Carolina's baseball camp because I was invited to come work it. And from that experience I was offered a job at South Carolina. Had I been offered an opportunity to come to Clemson and work a camp and they wanted me to be a coach on their coaching staff, I would have come to Clemson."
Lee said he doesn't make apologies for his time in Columbia.
"When it comes to the South Carolina time in my life, I'm not going to shy away from it. It was a great experience for me," he said. "I worked with a great coaching staff and a man that gave me a tremendous opportunity and taught me a lot about how to run a program in a successful way. I will always be grateful to Coach Tanner for that, and the guys that I worked with there.
"I will always have good relationships with them, and the coaches I coached with there. That isn't going to change. I got the opportunity because I worked a camp there and got to meet Coach Tanner and he wanted me to be his volunteer assistant when that spot came open. Had I worked a camp at Clemson and Jack Leggett

Jack Leggett
Baseball Head Coach
View Full Profile would have wanted me to be his assistant, I would have moved to Clemson that day."
Lee then went on to say that he is 100 percent committed to being a Tiger.
"When you grow up in this state, there are two programs that people identify with. Had I gotten the opportunity at either one to coach there I would have gone to either one," he said. "But when I left South Carolina I went back to the College of Charleston - where I had gone to school and played - and that was a very special thing for me. I moved on from my time at South Carolina. I appreciated my time and relationships there, but I was 100 percent into being at the College of Charleston. I think the allegiance piece is real simple - I am at Clemson. I am 100 percent into being here. I understand the rivalry. One of the advantages I have is that I understand this rivalry. I understand the state of South Carolina. I can relate to the people at Clemson. I know what it's all about. I am not neutral to knowing about this rivalry because I grew up in the state of South Carolina. I am 100 percent in to everything that is Clemson and that is just the way it is."