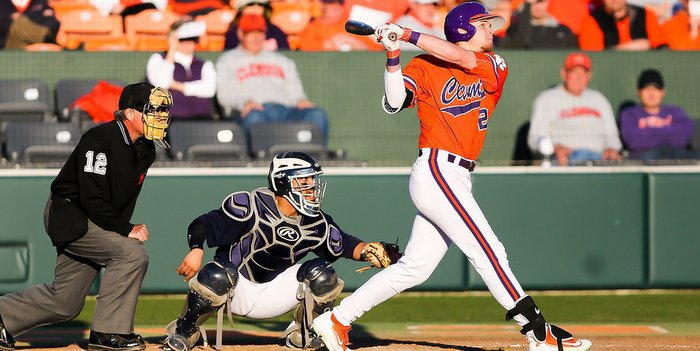 | | |
| --- | --- |
| Monte Lee lands Beer with a simple phone call | |
---
Sometimes, all it takes is a phone call.
Outfielder Seth Beer was one of the nation's top prospects in high school, and he committed to then-Clemson head coach Jack Leggett in October of 2014. Beer stayed committed to the Tigers even though it looked like he had a chance to go in the first round of Major League baseball amateur draft following his senior season at Lambert High School.
However, Leggett was let go last June and Beer's certain future – a future that he hoped included Clemson – was cloudy.
"I remember going through this. My goal was to enroll early," Beer told TigerNet this week. "So when there was a coaching change, obviously I was uncommitted at the time. I was stressing out. My family was stressing out because we had something that was planned and we knew what was going to happen, and all of a sudden it was back up in the air."
Beer had fallen in love with everything Clemson – he loved Lake Hartwell and the opportunity to fish and made his verbal commitment to Leggett on a day the Clemson football team defeated North Carolina in a Death Valley thriller.
But would he get the chance to follow his dream and play for the Tigers? A phone call made all the difference.
"I was playing in a tournament down in Fort Myers, Fla., and I got a call from a South Carolina number," Beer said. "I thought to myself, I wonder who this is? I picked it up, and he said, 'Hey this is Monte Lee, the head baseball coach at Clemson. He and I talked baseball for about an hour and a half. After that, I said, 'Coach, I want to play for you.' Since that time, I feel like it's been one of the best decisions I've ever made in my life. It's one of those things I needed to pray about. I didn't know if I wanted to play professional ball after high school or not. I just had to pray about it and so far it's been a great time."
Beer said making the decision to play for Lee was the best decisions he's ever made.
"It's great. He's a pro-style coach. He loves swinging the bat and he loves home runs," Beer said. "He loves hard contact with the bat. It's something I love and it's something that is going to help our team and players in the future beyond Clemson. It's a cool experience. Definitely one of those big things in my decision to come to Clemson was Coach Lee."
Beer has gotten off to a tremendous start in his first 16 games as a Tiger. Out of the seven players who have been lineup regulars, he leads the team in home runs (7), average (.426), RBI (22), total bases (47), slugging percentage (.870), and on-base percentage (.515). Out of those top seven hitters, he also has the least number of strikeouts (just four in 54 at-bats).
Beer said the numbers prove he's able to take a mature approach to the plate and not just swing for the fences.
"I take pride in being a complete hitter, but it could change any given day," he said. "Any great pitcher is going to be able to hit his spots and get me out, and that's just part of the game. You just have to tip your cap to them. It's a game of failure, and you have to be able to handle that kind of adversity."
He said he knew he could hit on the collegiate level after getting his first hit during intra-squad scrimmages in January.
"During intra-squads. We have a very good pitching staff and us competing against each other is a totally different thing from high school," he said. "It's a different atmosphere. Getting that first hit and just knowing I could do this was big."
The Tigers take a 13-3 record into this weekend's home ACC series against Boston College, and Beer said he couldn't have asked for a better start to his season or career.
"It's been great. It's been a great atmosphere. Memories I will remember for the rest of my life," he said. "Obviously, most of these guys I looked up to last year, coming to these games as a small junior in high school. Just being able to be a part of this team and them taking me in as a friend and as a teammate is just an awesome experience."
*TigerNet correspondent Murphy Andrews contributed to this report.

Upgrade Your Account
Unlock premium boards and exclusive features (e.g. ad-free) by upgrading your account today.
Upgrade Now