| | |
| --- | --- |
| Missed opportunities haunt Tigers in ACC tourney loss | |
---
| | |
| --- | --- |
| Wednesday, May 20, 2015 1:47 PM | |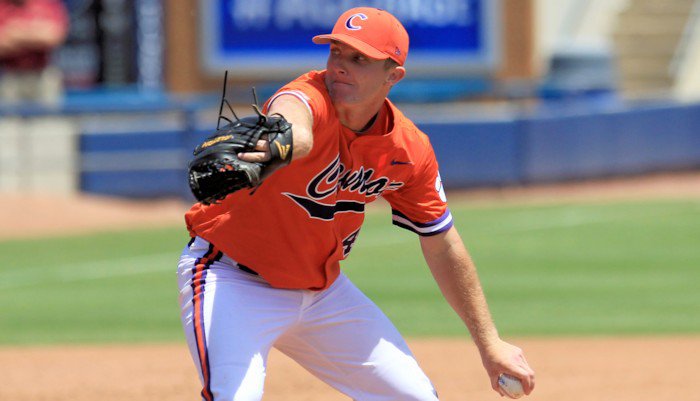 DURHAM, NC – Missed opportunities were the theme Wednesday for the Clemson baseball team.
A misplayed ball in the third led to two runs and the Tigers could muster just one run after loading the bases in the seventh and eighth innings in losing to No. 10 Florida St. 3-1 in game three of the ACC Baseball Championship at the Durham Bulls Athletic Park.
Clemson's offense took advantage of those opportunities in sweeping Florida St. last weekend in Tallahassee, but the "play with nothing to lose" attitude that was prevalent during the sweep was sorely lacking in Wednesday's loss. Clemson outhit FSU 6-4.
In order to have a shot at making Sunday's championship game, the Tigers will need to beat top-seeded Louisville on Thursday and North Carolina on Friday, while hoping Florida St. loses each of its next two games.
"It was a good ballgame. It was a tough one to lose," head coach Jack Leggett said. "Matthew pitched well for us and (Taylor) Vetzel came in and got the last couple of inning for us. We had some opportunities offensively. I don't know what the stat sheet says but I think we left 12 men on base and we did have some chances. They had a pitcher that was pitching really well all day long. He was ahead in the count 0-1. 0-2. He pitched very well and he's got a really good out pitch. His changeup is a really good out pitch. When he gets ahead in the count like that, it makes him very effective. We still had some chances but didn't come up with a hit when we had to. They scored all of their runs in one inning and other than that it was a good ballgame."
Crownover was solid through two innings but the Seminoles cashed in a Clemson mistake in the third. With runners at the corners and two out, FSU's D.J. Stewart blasted a ball to left field near the scoreboard. Left fielder Reed Rohlman

Reed Rohlman
RS Fr. Outfielder
#26 6-0, 210
Moore, SC
View Full Profile mistimed his jump and the ball clanked off the scoreboard allowing both runners to score as Stewart slid in for a triple. He later scored on a single and FSU led 3-0 at the end of the third.
Crownover defended Rohlman's catch attempt and took the blame for the Stewart hit.
"I think he made a pretty good play. Stewart is going to be a big league player and I made the mistake and gave up an 0-2 hit to the nine-hole hitter and then walked the two-hole hitter," Crownover said. "That was my mistake. That guy is going to play in the big leagues, so I can't let him beat me. I have to beat the other guys."
The Tigers missed a golden opportunity to dent the scoreboard in the seventh. Robert Jolly

Robert Jolly
Fr. Catcher
#12 5-9, 195
Myrtle Beach, SC
View Full Profile singled to left field with one out and Weston Wilson

Weston Wilson
So. Infielder
#8 6-3, 195
High Point, NC
View Full Profile walked to put runners at first and second for Tyler Slaton

Tyler Slaton
Sr. Outfielder
#18 5-8, 200
Cumming, GA
View Full Profile . Slaton grounded to first but the first baseman's throw – aimed at getting Wilson at second – bounced off of Wilson and rolled into short left field. Leggett did everything but do a flip to get Jolly to score, but Jolly stood fast at third – much to Leggett's ire – and the bases were loaded for Glenn Batson

Glenn Batson
So. 3rd Base
#15 6-2, 205
Greenville, SC
View Full Profile .
FSU replaced starter Boomer Biegalksi at that point, and Batson promptly grounded into a 3-6-3 double play to end the threat with Florida St. still leading 3-0. It was the 61st double play turned against Clemson this season.
Biegalski went 6.1 innings, giving up just four hits while striking out seven and walking one. He threw first pitch strikes to 15 of the first 18 batters he faced.
Crownover deserved a better fate – he pitched seven strong innings, giving up three hits and the three runs while striking out eight and walking three. He threw 106 pitches, 62 for strikes.
Duggar singled to center with one out in the eighth and moved to second on a Krieger walk. FSU brought in closer Billy Strode – who had 12 saves coming in – and Strode gave up a single to Rohlman to load the bases with one out. Okey grounded out to first to score Duggar – making it 3-1 – but Strode struck out Jolly looking to end the threat.
The Tigers put two runners on in the ninth against Strode, but Duggar struck out swinging to end the game.
Clemson plays top-seeded Louisville at 3 p.m. Thursday.