| | |
| --- | --- |
| Matthew Crownover classy, gracious in defeat | |
---
| | |
| --- | --- |
| Wednesday, May 20, 2015 5:29 PM | |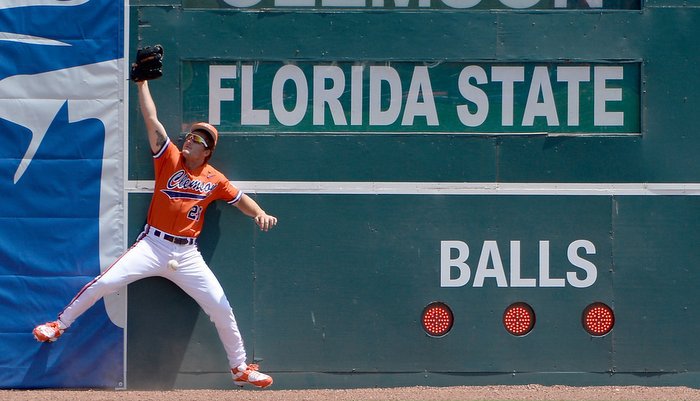 DURHAM, NC – Matthew Crownover

Matthew Crownover
Jr. LH Pitcher
#44 6-0, 210
Ringgold, GA
View Full Profile had every right to be disappointed and angry following Wednesday's 3-1 loss to Florida St. in the ACC Baseball Championship. Instead, he was gracious.
Crownover deserved a better fate – he pitched seven strong innings, giving up three hits and the three runs while striking out eight and walking three. He threw 106 pitches, 62 for strikes. He held the Seminoles scoreless through two innings, but the Seminoles cashed in a Clemson mistake in the third. With runners at the corners and two out, FSU's D.J. Stewart blasted a ball to left field near the scoreboard. Left fielder Reed Rohlman

Reed Rohlman
RS Fr. Outfielder
#26 6-0, 210
Moore, SC
View Full Profile mistimed his jump and the ball clanked off the scoreboard allowing both runners to score as Stewart slid in for a triple. He later scored on a single and it was all the runs the 'Noles would need in the win.
Crownover dutifully answered all of the media's questions during the postgame interview session, and gave credit to Stewart instead of indicting his teammate for the missed out.
"I think he made a pretty good play. Yeah, I can't let Stewart beat me. I made the mistake of giving them 0-2 hits, and walking two batters," Crownover said. "That pretty much says it for the last two games. That guy, I can't try to let him beat me, I have to beat the other guys. He doesn't chase down pitches. A lot of guys you can throw pitches that they chase. But he's not going to swing unless it's a strike. And he got me today.
"I felt like I was out of sorts for a while there. My four seam was kind of cutting on me. I was adding and subtracting on my sinker all day, my sinking fast ball. But I just tried to get ahead. I fell behind a lot of batters early on. But really should have done a little better damage control, but a good team beat me."
Crownover deservedly won the ACC's Pitcher of the Year Honor earlier this week, and he said that he couldn't take credit for the award and instead heaped praise on his teammates.
"It's a team award. My teammates scored a lot of runs for me throughout the year, and making plays behind me. And it's a great honor," he said.
Crownover walked out of the interview room and into a crowd of Seminoles – including Stewart – who were waiting their turn for interviews. Crownover gave each player a handshake, wished them luck in the rest of the tournament and congratulated them on the win.
He then walked out of the door and to the team bus, knowing that unless Clemson earns an invite to the NCAA Tournament he may have pitched his last game in a Clemson uniform, something that head coach Jack Leggett

Jack Leggett
Baseball Head Coach
View Full Profile doesn't want to think about.
"He's had a great season, we wouldn't be in the position we are without him. And he's given us some great efforts, every Friday night, every first game of the series, this whole year," Leggett said. "He did very well again today. So he's been a huge, valuable piece of our puzzle and the way he played especially in the last month and a half or two months. He's one of those guys that's been consistent from the beginning of the season to now. So he's got a great deal of respect amongst his teammates. He goes about his business, he's disciplined, focused and locked into what he needs to do. He goes about his business in a business like fashion. And the results are indicative of how hard he works."