| | |
| --- | --- |
| Making the Case: Breaking down Clemson's NCAA Tournament chances | |
---
| | |
| --- | --- |
| Friday, May 22, 2015 11:39 PM | |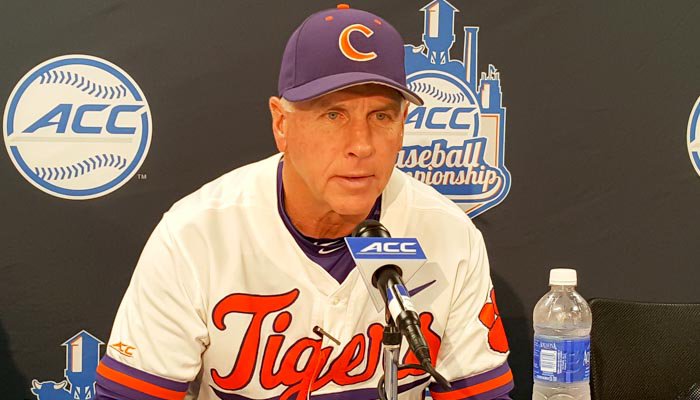 DURHAM, NC – Did Clemson's baseball team do enough in the ACC Tournament and over the last two weeks of the season to earn an invitation to the NCAA Tournament? It will be close, and a lot will likely depend on what happens in other conference tournaments across the country.
The Tigers went 1-2 in the ACC Tournament in Durham, with bookend losses to Florida St. and North Carolina and a second game win over No. 3 Louisville.
With Friday's loss to North Carolina, the Tigers are 32-27 with a RPI of 54 and a strength of schedule of 15. The 32 wins and the low RPI puts Clemson squarely on the bubble.
TigerNet spoke with Aaron Fitt of D1Baseball.com about the Tigers' chances, and he said he still thinks the Tigers will be playing somewhere next weekend.
(NOTE: If you like college baseball, you need to check out their website. They have the inside scoop on everything college baseball, and do a fantastic job.)
"It keeps them on the bubble. I think they are on the right side of the bubble," Fitt said of Clemson's chances. "I wanted to see them come in here and win one game, at least. I thought that 0-3 would have doomed them. But after sweeping Florida St. on the road at the end of the year, they've done enough. You have 16 wins in the ACC and 11 wins against the Top 50 and they finished strong.
"I think that will be enough. I still have them ahead of UNC in the pecking order, just because they did better in the league and had more quality wins and they didn't get swept twice at the end of the season like Carolina did. That stuff matters. How you finish matters. It's hard to go to Tallahassee and sweep. I think that will hold a lot of weight. It's a borderline RPI, and that's why we are having this conversation. The midweek losses are what they are. But I still think they've done enough and it will probably depend on the size of the bubble."
What will have to happen for the Tigers to squeak in? It all depends on what happens in other conference tournaments, according to Fitt.
"There are some obvious ones - like in the Big 12 they need to pull for Oklahoma St. to win that tournament. That should be a two-bid league with Oklahoma St. and TCU, but if somebody other than OSU wins the tournament it becomes three and you have a bid disappearing there," Fitt said. "I think in the Colonial you have the College of Charleston - they need to come back and win that tournament. Wilmington would be kind of a shaky bubble team I think and would probably be out. But Wilmington won today (Friday) and they are sitting pretty. That could snatch up a bid. In Conference USA you probably want a Florida Atlantic or a Southern Miss to come back and win it. Those are teams that are probably both going to get in and if somebody else wins it then that is probably a four-bid league."
I asked Fitt what outsiders see when they look at the Clemson program, a program under fire under Hall of Fame coach Jack Leggett

Jack Leggett
Baseball Head Coach
View Full Profile , and his answer was candid.
"They are definitely talented and a regional-caliber team. There aren't a lot of teams that can match their offensive firepower, especially the top five spots in the lineup. It's good. It's formidable," Fitt said. "They have that 1-2 pitching punch on the mound. They are dangerous if they get in. Whether they've done enough is the question, but the talent is there and it has been good. I know Clemson fans aren't satisfied with being second-fiddle in the state - that's the biggest thing. That is why we are hearing all of this griping every year, since South Carolina won the championship.
"But they are still one of the most consistent programs in college baseball, and have missed just one regional in what? The last three decades? There is something to be said for that. It is hard to do that. It's hard to make the postseason every year, and South Carolina is discovering it's hard to get back even after you've been in Omaha. I think the fans give Coach Leggett too much flak, personally. I know they have high expectations, but I think this program is in decent shape. They continue to recruit well, and talent has not been an issue. They've underachieved sometimes, but they are talented. I still think the future is bright for these guys. They have the ballpark stuff happening now and there are a lot of reasons for optimism."