---
| | |
| --- | --- |
| Thursday, June 26, 2014 11:49 AM | |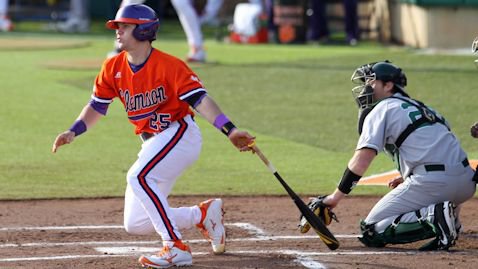 CLEMSON – A lot has happened since Clemson's baseball season ended 26 days ago. After some time away, head coach Jack Leggett spoke about his meetings with athletic director Dan Radakovich, the 2013-2014 season, what he hopes to accomplish during the offseason and the direction of the program.
During the meetings, Clemson's athletic director laid out four changes that needed to made: the hiring of a sports psychologist, Leggett and his staff needed to meet with other successful coaches, a four player council, and an improvement of Leggett's image among the media and the fans.
Below is an edited transcript of Leggett's meeting with the media Thursday afternoon at Doug Kingsmore Stadium.
Were you a little disappointed that everything [conversations and meetings with Radakovich] was made public?
"My feeling on all of that is that when you talk about things, you talk about them as a group behind closed doors – just like I do with my team – but we need to change some things and make things better, but at the same time I think we do a lot of good things," Leggett said. "I don't know what to tell you other than that I hoped that it would've never gotten to this point because we defend our program because we believe in our program. We believe in our university. We believe in Clemson baseball and we have for a long time. Our former players do. The players that are on our team do. Our parents do. All of Coach [Bill] Wilhelm's players in the past do and we have great relationships with them. It's an opportunity for us to improve. It's opportunity for us to learn and get better. That's something that I've always been interested in doing."
Is there a good deal of adapting that you feel like you will need to do as far as what Dan Radakovich is asking?
"We've had a good talk about things and we have a good understanding of what we want to do better and what he thinks we need to do better. I've coached in 2,000 baseball games so I've got a good feeling that I know what I'm doing and about our program does. At the same time, even though we've coached in a lot of baseball games, been around for a long period of time and had a lot of success, there's always things we need to look at and get better at. I go home every single day trying to learn something new. I tell my players that and I tell my campers that as soon as you stop learning this game, then you're headed down the wrong path. I feel good about what we do. I've always felt good about what we do at Clemson and we'll be trying to do thing a little bit better."
Do you feel like you as a coach – on the field or off the field – need to change your approach?
"There is always room for improvement. If stop learning in this business then you are stagnant and dead. There is always something to improve upon and there is always something to learn. One thing that we do at the end of every year is we look at our program – something that we've done for 21 years – and try to figure out what we can do better, what we do exceptionally well. I would be a little cautious in saying that this program has done a lot of good things for a long period of time, so there's not any wholesale changes that we think we need to make. We need to play a little bit more consistently. It didn't end the way we wanted it to end, but it never does unless we win the last game. I've been disappointed at the end of every year – some more than others, I guess. If you don't win the last game of the year, it's always disappointing and that's where we're at."
Is the new goal to mesh an old school, gritty mind like yourself with some kind of new school thinking?
"I would always tell you that I don't think I'm old school. I like to work hard and I like to compete and that has what Clemson has always wanted in its coaches. I've always liked that that's how we approach. Our players like the fact that I like to compete, the fact that I'm tough and the fact that I'm fair. I feel like we are all of those things. At the same time, we have fun, we laugh, we joke around, we have as good a time as you can possibly have on a baseball field and our players will tell you that. I feel like we've adapted with the times and we are on that cutting edge with what we're trying to learn. I feel good about where our program is going."
Do know which programs you will visit or have you already talked to other coaches?
"I'm always in constant contact with other coaches and to be honest with you, most of them want to come here and shadow our program. At the same time, there is always something to learn and I'm always on the phone with other coaches talking baseball. From time to time, I'll go to clinic and talk baseball and break up into groups and talk more baseball. There is always something to be learned. Like I say, there is nobody too good in this business one way or the other – no matter how successful you've been or not – to pick somebody else's brain, talk to some other people and figure out some different things. I'm always open to those things."
What is your assessment of last season?
"Our hitting, our pitching, our defense showed flashes of really good things throughout the course of the year, but we just need to be more consistent and put those three things together. I like the players we have. I like the attitude that we have. I like the coaches that we have. I like the program that we have and I believe in in 100-percent. I'm excited about what we have in the future and I'm excited about getting started in the fall – getting the kids back in and the new ones in that always infuse you with excitement. I'm excited about it. I'm looking forward to it."
You always talk about the "mourning period" after each season ends, are you already looking forward to next season?
"I'm always looking forward to the year. Once the last game ends, I'm looking forward to the next one. I love this university. I love this baseball program. I love the players that I've had in the program in the past and the players that I have in it now. I have a lot of respect for the coaches that we have and for the history and tradition that we have. I'm always motivated to keep it at the top and keep it going where we want it to go, so once we finish the last game of the season I'm always looking forward to the next challenge that we have. We have a great challenge ahead of us and I'm very excited about it and very much looking forward to it."
With personnel loses to the draft and graduation, do you feel like next year will be a rebuilding year?
"We lost a key guy in Daniel Gossett

Daniel Gossett
Jr. RH Pitcher
#23 6-0, 180
Lyman, SC
View Full Profile who is your Friday night guy, but we've got some guys coming back that I think are going to develop. Matthew Crownover

Matthew Crownover
So. LH Pitcher
#44 5-11, 205
Ringgold, GA
View Full Profile is a great starter for us. Clate Schmidt

Clate Schmidt
So. RH Pitcher
#32 6-1, 190
Acworth, GA
View Full Profile ended on a real good note for us. We've got some good kids coming in. We lost some good position players. Stevie Wilkerson had a great year for us in the infield. At the same time, we 've got some real good attitudes coming back. We've got some enthusiasm coming back within our program. We've got to get Tyler Krieger

Tyler Krieger
So. Infielder
#3 6-2, 170
Johns Creek, GA
View Full Profile back from his shoulder injury. He's got some surgery possibilities and some rehab, so we'll probably miss him in the fall. He's a great teacher and coach on the field and example of how we want to play and practice every day so we will miss him a little bit. I feel good about the kids we 've got coming in. I feel good about the kids we've got coming back. I feel good about the coaching staff. I feel good about what we've learned to get better. At the same time, I feel good about what we do."