| | |
| --- | --- |
| Leggett says Tigers will be "dangerous" with late-season momentum | |
---
| | |
| --- | --- |
| Wednesday, May 13, 2015 2:10 PM | |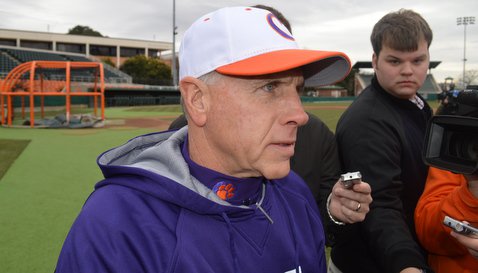 GREENVILLE – Jack Leggett

Jack Leggett
Baseball Head Coach
View Full Profile knows his team is under fire from the fans and is a longshot to make the NCAA Tournament with a 28-25 record, but he said after Tuesday night's comeback win over Furman that his team is gaining a little late-season confidence.
Clemson has three games left in the regular season – at Florida St. - and will begin play in the ACC Tournament next week in Durham, N.C. A best-case scenario for the Tigers is a sweep of Florida St. and getting some help within the conference and avoiding the Tuesday play-in game – seeds seven through ten face off on Tuesday with the two winners advancing to Wednesday's pool play.
However, it appears those play-in games are the Tigers' destination, but Leggett said Tuesday that he likes what his team is doing heading into the final three games of the regular season after storming back from a 10-0 deficit and defeating Furman 23-15 at Greenville's Fluor Field.
"I feel better about this team than I did a month ago. We've been playing better baseball," Leggett said. "We've had a couple of hiccups but our offense has been pretty good. We've got to have a few more starting pitchers step up for us. We've had trouble from the seventh inning on with our relief pitching.
"Our defense hasn't been all that good. We've got to do a little bit better. Offensively, we've got a few more guys feeling better about themselves. I feel a lot better than I did a month ago. I think we're a dangerous team if we can get some momentum going and get some good starting pitching and relief pitching at the end and play some defense."
Leggett admitted that the Tigers have a steep hill to climb in both the ACC Tournament and that his team's NCAA chances probably hinge on winning that tournament, but he said he hopes his players can learn some lessons from Tuesday's win.
"You can learn some lessons from every game and we can learn some from this one. If you're down 10, you're never out of it. It's a tough, humbling game," he said. "The good things is we won it. We've got to play a little bit better but we've got some toughness about us. Our back's our against the wall and we're kind of banding together and hoping people jump on our backs and give us some momentum and some positive energy going into the weekend against Florida State. It's going to be a big weekend for us so hopefully we'll get some rest and get on a plane tomorrow and go play well down at Florida State this weekend."
The fewest number of wins for a Leggett-coached team at Clemson occurred in the 2008 season – the last time the Tigers missed the NCAA Tournament – as the Tigers ended with a 31-27-1 record. The Tigers would have to win all three at FSU just to reach that 31-win mark, and Leggett said his players have to play the game as if they have nothing to lose.
"There is no conservative approach. We have to play to win. We always talk about no fear of failure and reckless abandon and playing on the edge," he said. "We've got to go down there and play to win. We can't go down there and hold things back. It's really an important time for us and the kids know that and they know what's at stake. We've just got to go down there and relax and play good baseball."