| | |
| --- | --- |
| Leggett says Tigers are NCAA Tournament worthy | |
---
| | |
| --- | --- |
| Monday, May 18, 2015 11:09 AM | |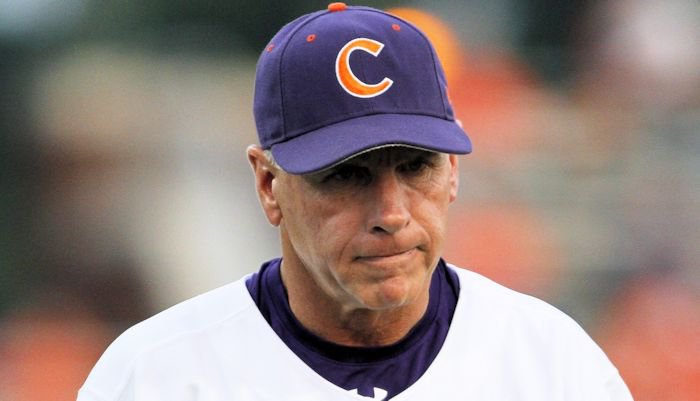 Jack Leggett

Jack Leggett
Baseball Head Coach
View Full Profile says yes and many in the national media are beginning to agree with him.

The Tigers' season seemed on the verge of collapse following a 17-9 loss at Wofford just 18 days ago that left Clemson with a three-game losing streak and a record of 24-24. Since then? The Tigers have won seven of eight, scored 71 runs (including 23 against Furman) and went on the road to sweep No. 8 Florida St. this past weekend in convincing fashion.

The Tigers head to Durham, N.C. this week for the ACC Baseball Championship and get another chance at the Seminoles on Wednesday, take aim at top-seeded Louisville on Thursday and play the winner of Tuesday's play-in game between North Carolina and Virginia Tech on Friday.

Can the Tigers keep the momentum?

"I like the way we're playing right now," Leggett said Monday. "We played really well this past weekend and over the last month-and-a-half or so we've played some really good baseball, so hopefully we can carry that into the weekend in a very competitive tournament. There's a lot of really good teams and a lot of teams that are playing really well right now and a lot of teams that are playing for something."

Leggett said he can't point to any one thing that has the Tigers battling for their postseason lives.

"I think our starting pitching has stepped up. Getting Jake Long

Jake Long
RS Sr. RH Pitcher
#39 6-0, 190
Anderson, SC
View Full Profile healthy and back in mid-April was a big deal for us," he said. "We're also swinging the bats from top to bottom a lot better. We've got more guys that are contributing to the order. I think we're playing pretty well and turning it over offensively and we've been playing pretty good defense. I think we're just starting to get some confidence rolling and starting to get some guys back healthy. Having Tyler Krieger

Tyler Krieger
Jr. Infielder
#3 6-1, 170
Johns Creek, GA
View Full Profile back out in the field has helped us in terms of just leadership, even though Chase Pinder

Chase Pinder
Fr. Infielder
#5 5-10, 175
Poquoson, VA
View Full Profile

Chase Pinder
Infielder
# 6-0, 165
Poquoson, VA
View Full Profile did a great job. We've got a couple of injuries that we've been overcoming all season long and it has just taken us a while to get that going. I just think we're playing better."
TigerNet asked Leggett what he thinks the Tigers need to do to snare a tourney invite, and he said his team just needs to keep winning ballgames. He also said he thinks the Tigers are tournament worthy right now.
"Do I think we have to do anything specifically? Just keep on winning," he said. "I think we're in pretty good shape with where we finished in the conference. We finished fifth and just half a game out of third place. I like the way we finished up. We played really well at Florida State and yes I think we're NCAA Tournament worthy. I think we'd be a tough team to play in the NCAA Tournament. We've got one of the better one-two punches in the conference pitching wise. Certainly, (Matthew) Crownover gives you a chance every single time on a first game of a series."
He then said that he thinks his team is peaking at the right time.
"Our goal is just go play our best baseball. That's what it has been all along," Leggett said. "We had a little trouble with that earlier. Getting Jake back has helped take some of the pressure off and at the same time we're turning a little bit better on offense. I think it's just a matter of getting the confidence rolling and getting more guys playing better and just getting on that little bit of a roll. We played really well this past weekend and we've played well for the past month-and-a-half. I'm not sure we've arrived, but at the same time I think at least recently we've been playing as well as anybody. I think it's just a matter of us hanging with it and staying positive and everybody remaining loyal and working hard together. That's kind of what has come out here at the end."
In an article that posted Sunday, D1Baseball.com writer Kendall Rogers said Clemson was one of the big winners from the final weekend of the regular season.
Okay, here's a heart-to-heart talk moment here. When the Tigers looked rather lifeless after Louisville beat them two of three a few weeks ago, did anyone, and I mean anyone see this team turning the corner in short order? I know I didn't, and the Tigers deserve props for what has transpired over the past two weeks.
Clemson showed signs of surging last week when it took a midweek game from Charleston and defeated Georgia Southern in a weekend non-conference series, but this weekend's series against Florida State was in another stratosphere, as the Tigers finished off a road series sweep of the Seminoles with a 9-6 victory in the series finale. The Tigers, by the way, didn't allow a run to the 'Noles in 17-straight innings before that streak was snapped in today's contest.
Clemson starting pitcher Jake Long put together quite a solid start. Though his command was iffy at times, he found ways to get outs and allowed a run on four hits in six innings. Meanwhile, Tigers outfielder Reed Rohlman

Reed Rohlman
RS Fr. Outfielder
#26 6-0, 210
Moore, SC
View Full Profile had an afternoon to remember with not one and not two, but three doubles and four RBIs. CU leadoff hitter Eli White

Eli White
So. Infielder
#4 6-2, 185
Easley, SC
View Full Profile also had a big day with three hits and an RBI.
So, here's the skinny on this series: In my book, Miami has certainly passed up Florida State in the ACC national seed pecking order with it pounding Georgia Tech throughout the weekend and FSU struggling mightily with Clemson. As for the Tigers, they are now up to the mid-50s in the RPI, and things look good with a solid conference mark and strong finish to the regular season. However, Jack Leggett's club needs to play well in the ACC tournament to finish off the unthinkable finish to the season.
Buckle your seatbelt, folks.
**PITCHING ROTATION NOTE: Leggett said that Matthew Crownover

Matthew Crownover
Jr. LH Pitcher
#44 6-0, 210
Ringgold, GA
View Full Profile will start Wednesday against FSU, Zack Erwin on Thursday against Louisville and Jake Long on Friday against the play-in winner.