| | |
| --- | --- |
| Leggett likes Clemson's tourney chances | |
---
| | |
| --- | --- |
| Wednesday, May 14, 2014 3:04 PM | |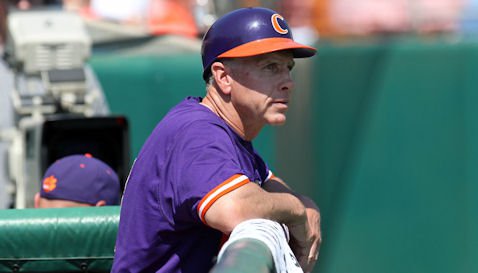 GREENVILLE – We have to take it one game at a time.
The cliché probably began when the first sports writer interviewed the first of the gladiators a couple of thousand years ago, but it has held fast and firm for coaches and players throughout history. For Clemson's baseball team, however, that cliché actually means something as the Tigers play their final three regular season games this week.
Clemson hosts Boston College in a three-game series starting Thursday at 6:30. The Tigers and Eagles will play again Friday at 6:30, and the series concludes at noon Saturday. The Tigers are 32-21 overall and 13-13 in ACC play, and by winning two out of three against the Eagles to avoid the play-in game in next week's ACC Tournament - assuming all 18 ACC games are played this weekend and Wake Forest does not sweep Virginia, Clemson will avoid a play-in game by winning two games this weekend (Maryland's regular season is concluded, and Clemson owns the tiebreaker after winning two games at Maryland earlier). There is also a scenario where Clemson can win just once this weekend and still finish sixth.
Ten teams will make the tournament and be seeded 1-10. The Coastal and Atlantic Division winners will be the top two seeds with the best conference record as the top seed. Teams 7 through 10 will play a Tuesday play-in game to make it to pool play; 7 v. 10 & 8 v. 9. The two four team pools will actually play a round robin tournament similar to previous years, with the two winners advancing to Sunday to play in the championship game.
The Tigers are also on the bubble for making a NCAA Regional, even though the latest projections I've seen have Clemson in. Collegesportsmadness.com has Clemson as a two seed in the Columbia regional along with South Carolina, Charleston and Davidson. ESPN has Clemson as a three seed in the Nashville regional along with Vanderbilt, Kansas and Evansville.
Clemson defeated Furman 7-2 Tuesday night at Fluor Field, a game that Clemson head coach Jack Leggett

Jack Leggett
Baseball Head Coach
View Full Profile called a must-win for a team that is battling to stay alive for the postseason.
"Every game is a must-win, no matter what. It is for our team, and we know what's at stake," Leggett said. "We are in a decent position, but we have to get ourselves in a better position. This game was big, and I think we turned it on today, but we have to do it again this weekend on Thursday, Friday and Saturday against Boston College. There is no letting up and there is no taking anything for granted. They have been playing well, and we are now focused on them. But this is a big weekend for us."
Leggett said that while his team still needs to keep it's one game at a time approach, he thinks the Tigers are in good shape for earning a postseason berth.
"We have to take it one game at a time. I think we're in good shape. I think people have a lot of respect for our team and I don't think people want to play us in a regional," he said. "That is how I feel about it and that is the feeling I get from other coaches. But there is nothing guaranteed and we have to take care of our business. We can't rely on anybody else and take care of what we can take care of. We have to go into the ACC Tournament playing well, and that starts by playing well this weekend. We have to get into the tournament and do some good things there."
Leggett said that while this season hasn't gone exactly like he would have wanted, he thinks it's been good enough to warrant a tourney appearance.
"I think our strength of schedule is always pretty good and our RPI is pretty good," he said. "There are a bunch of teams similar to where we are in the country. But we have played some tough games and we've played some pretty good teams. We have played some tough ballgames throughout the course of the year, so I think we're in pretty good shape. But if we don't play well this weekend or play well next week we can take care of that in a bad way. But our idea is to take care of what we can take care of and that is to play really well Thursday, Friday and Saturday and worry about things after that."
In other words – one game at a time.
"Honestly, we just have to worry about one game at a time. We can't think about goals or anything down the road," Leggett said. "The best thing we can do right now is focus on playing well and being ready to play on Thursday. "