| | |
| --- | --- |
| Leggett: This baseball team hasn't given up | |
---
| | |
| --- | --- |
| Monday, May 5, 2014 11:35 PM | |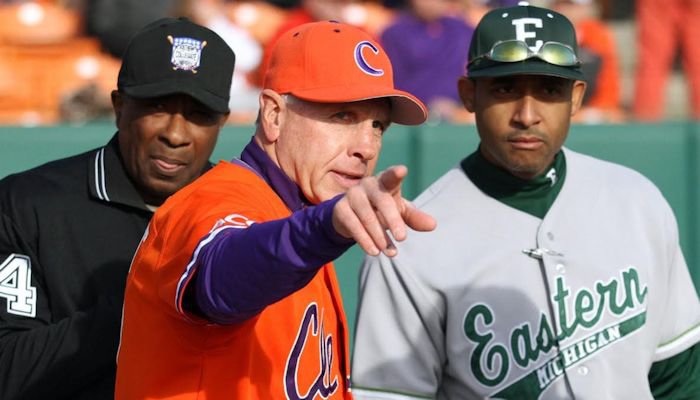 CLEMSON – Clemson head coach Jack Leggett

Jack Leggett
Baseball Head Coach
View Full Profile says that reports of his baseball team's demise have been greatly exaggerated, and a modest four-game winning streak has his players believing that a late-season run might turn into something special.
Junior righthander Jake Long

Jake Long
RS Jr. RH Pitcher
#39 5-10, 180
Anderson, SC
View Full Profile pitched seven effective innings in No. 24 Clemson's 5-2 victory over UNLV at Doug Kingsmore Stadium on Monday night to sweep the two-game series. The Tigers have now won four in a row following a stretch that saw them lose five out of six and fall out of the Top 25.
The Tigers (29-19) have eight games remaining in the regular season – one each against High Point and Furman and three each against Notre Dame and Boston College – and Leggett said his team knows that they are in a situation where they have to win every time out.
"Every game is a must-win. Right now, we are emphasizing the fact that we have to keep on playing," Leggett told TigerNet after Monday's win. "We have to finish strong and we have to put ourselves in the position we want to be in. We have worked hard all year, but we've been inconsistent at times. We've played some great games, and we've shown flashes of being a really good team. Hopefully, we are starting to catch fire a little bit, feel a little bit better about ourselves and get a little confidence. Pitching has been stepping up a little bit, and we need to continue that. "
Leggett said that sweeping James Madison and UNLV over the long weekend proves what his team can accomplish when they play consistently.
"It tells us we have a good team. We have always felt that way," he said. "We just have to be really consistent and focused every time we come out. We have to keep working hard, battling and being competitive. When we do that, we are pretty good."
Catcher Garrett Boulware

Garrett Boulware
Jr. Catcher
#30 6-1, 210
Anderson, SC
View Full Profile – who had three walks and an RBI double in Monday's win – said he thinks the team is coming out of its doldrums and that the players know what's at stake each time they take the field.
"No matter how hard you try and how hard you work, the hits just won't fall. And that's baseball, but it will beat you down," Boulware said. "Maybe you will have one or two bad games, but when you have 10 bad games, it's hard to pull yourself out of that. Hopefully we are pulling our way out of that. We are definitely not giving up. Hopefully we've had our dry spell and now we're finding our way out of it. We have to win to play. We have to win if we want to do some damage. We just have to find a way to win."
The Atlantic Division title is probably off the table – Clemson trails first place FSU by 4 ½ games with six to play – but Leggett said that every other goal is still attainable.
"Everything is still intact. That is the great thing about the length of the season," Leggett said. "You can't ever let up or let your mind go to a bad place. If you do, you are going to find yourself in deep trouble and the season will be over and you will be wondering what the heck happened. We are going to continue to stay positive and stay focused and locked in and get greedy."
Leggett also had a message for those who think that his team has quit on the season.
"They don't know us, they don't know me and they don't know our baseball program or our team," he said. "Any fan or columnist who would make a statement like that has no idea what this baseball program is all about."