| | |
| --- | --- |
| Leggett: No one wants to play dangerous Tigers in the post season | |
---
| | |
| --- | --- |
| Tuesday, May 20, 2014 9:58 AM | |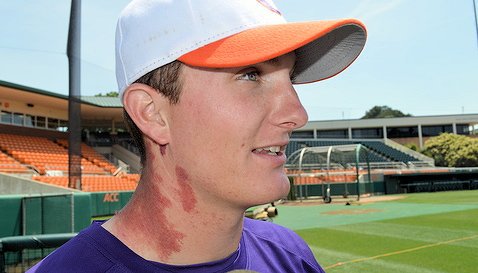 A little bit of confidence can go a long way, and Jack Leggett

Jack Leggett
Baseball Head Coach
View Full Profile thinks his baseball team is one that no one wants to play in the post season.
The Tigers overcame a 9-2 deficit Saturday, rallying to beat Boston College 10-9 in the regular season finale and earning a fifth seed in this week's ACC Tournament in the process. The tournament will be held at NewBridge Bank Park in Greensboro, N.C.
The Tigers face No. 4 seed Duke on Wednesday at 11 a.m., No. 1 seed Miami (Fla.) on Thursday at 7 p.m. and the winner of the Georgia Tech/Wake Forest play-in game Friday at 3 p.m. All three games will be televised live by Regional Sports Network. The Tigers do not play Saturday.
The winner of Clemson's bracket plays in the ACC Championship game Sunday at 1 p.m. on ESPN2. The other bracket consists of No. 2 seed Florida State, No. 3 seed Virginia, No. 6 seed Maryland and the winner of the North Carolina/NC State play-in game.
Because of the expanded ACC, the Tigers and Blue Devils didn't square off in the regular season, but Leggett says he knows that the Tigers will have their hands full.
"We've done some work and some homework so far," Leggett said Monday. "I've followed them during the course of the season. I've seen where they've had some really good moments and some down moments, as well. They have some really good pitching, we know that. Their starting pitching is probably one of the strengths of their team. They have some hitters that will battle you throughout the lineup. They've played some good games against some good teams. They've been a little bit inconsistent, but at the same time very dangerous. I think their starting pitching is probably an equalizer for them."
Despite the win Saturday, the Tigers lost three of their final six ACC games and appear to be squarely on the bubble when it comes to making the NCAA Tournament. Leggett was asked Monday if Clemson's record (34-22) was disappointing.
"I always have high expectations, so there is probably no season that meets the expectations that I have going in unless we win it all," Leggett said. "We've had some ups and downs. We've had some instances where we've played extremely good against some very good competition. We played a very tough schedule. We've played four weekend series against teams that were in the top five or top three in the country. We played some very tough ball games and we played very competitively. We just have been a little inconsistent at times."
He then said that when the Tigers manage to put the pitching and hitting together, they are the kind of team that will be a tough out for anybody.
"When our pitching has been really good, our hitting has been a little off. When are hitting has been good, our pitching has been a little off," he said. "We've won nine of the last 12 games. We're a team that I don't know if anyone would want to play, to be honest with you. In the regional, I feel confident with what our team is capable of doing and I still believe in them. I feel good about where we are right now.
"The big win the other night was something that we had to do and we took care of it. I think we've got Crownover and Goose that are two premiere pitchers in the league. I think that helps us get started and feel confident going into the ACC Tournament. We also know that we've got some really good competition that we'll be playing against, so it will be a good challenge for us. I feel like we've still got most all of our goals intact."
Leggett said that except for the top three teams in the league, much of the ACC is in the same position as Clemson and that he thinks the Tigers are in good shape to nab a postseason spot.
"If you look at our conference standings, they are all jumbled up. The top three teams in the conference are Miami, Florida St., and Virginia and after that I think we're in pretty good shape," he said. "I think our resume and who we've played lately, how we finished second in our division and fifth in the conference has put us in a pretty good spot, but we obviously want to go into the conference tournament and do some damage. There are a lot of other teams that have the same feeling that they need to go into the conference tournament and do something good. At the same time, there have been some really good moments and some moments that we'd like to have back, but I think everybody in the country would tell you the same thing."
With that in mind, he said the team's only focus should be on beating Duke Wednesday.
"We're just going to concentrate on winning the game Wednesday. I think that's the most core focus that we can have," Leggett said. "That's something that we have under our control. We can't control what everybody else does or what anybody else is doing in the country or in the tournament or what anybody else thinks. The most important thing for me is to get us in a good spot where we're ready to play and compete on Wednesday against Duke. We know that we're going to face some really good pitching and it's going to be a really good challenge for us, there's no question about it. There's nothing easy in this conference. Weekend after weekend, take a look at what happens in the conference and it will tell you that there is a lot of parity in the conference."