| | |
| --- | --- |
| Leggett: "I am not giving up on these kids" | |
---
| | |
| --- | --- |
| Tuesday, May 5, 2015 8:15 AM | |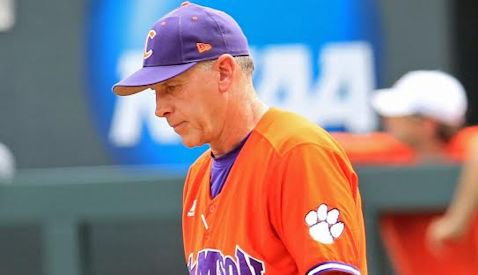 CLEMSON – Clemson players Eli White

Eli White
So. Infielder
#4 6-2, 185
Easley, SC
View Full Profile and Steven Duggar

Steven Duggar
Jr. Outfielder
#9 6-2, 195
Moore, SC
View Full Profile sat in the dugout following Monday night's game against Louisville, the postgame fireworks going off in the distance. Neither player noticed the pyrotechnics, however, having already witnessed a different fireworks show provided by the Cardinal bats as Louisville defeated the Tigers 9-5 at Doug Kingsmore Stadium, taking the last two games of the series.
Clemson head coach Jack Leggett

Jack Leggett
Baseball Head Coach
View Full Profile shook his head and patted each player on the shoulder before gathering an equipment bag and leaving the dugout, followed by the players and the rest of the coaches in ones and twos as the fireworks finale boomed in the night air.
It was yet another loss in a season of losses, and Monday night's was a microcosm of the season – oh so close yet oh so far.
With their NCAA Tournament hopes waning and needing a win to secure a spot in this month's ACC Tournament, the Tigers took a 5-4 lead into the eighth, depending on the bullpen to get those last six outs and secure a series win over the nation's third-ranked team.
Instead, the Cardinals crushed back-to-back home runs to lead off the eighth and would tack on three more runs on Clemson's schizophrenic bullpen in taking the series. The Cardinals hit a season-high four homers on the night and Leggett admitted after the game that the difference between the two teams showed in the bullpens.
"The difference between them and us is they kept bringing arms out," Leggett said. "They're a very good team. I can see why they're where they're at. I think we're playing a lot better baseball. We've just got to play nine innings."
The Tigers (24-23, 13-13) also didn't take advantage of chances offensively, stranding 13 runners and going just 4-for-15 with runners in scoring position.
"It is frustrating," said White, who went 3-for-5 with one RBI and two runs scored Monday. "We battled. We were in every single game expecting to win. It's tough, but that's baseball sometimes."
The Tigers are in a stretch of playing 12 games in 15 days to end the regular season, and Leggett said someone on the pitching staff has to step forward if Clemson is to make a late-season run.
"We've just got to find some answers (in the bullpen) at the very end (of games)," Leggett said. "We're a little thin there. We're going to try to distance ourselves as the game goes along and not make that a factor. But right now it has been a factor for us. Somebody has to step up and get us deep in the game, and then the bullpen has to come in and do the job. It's been tough for us. We've had some great opportunities and we've been in good position a lot of times, but unfortunately we just don't have enough horses at the end of games right now."
Monday's loss leaves the Tigers sixth in the ACC – fourth in the Atlantic Division – and a series win over Louisville might have provided the kind of late-season spark needed to make a run at an NCAA Regional. Leggett was asked if he thinks about making that kind of run, and he said yes.
"Of course you always think about it," he said. "I like the way we are playing and the way we are battling. I am not giving up on these kids and they aren't giving up and they are battling. They deserved a better fate tonight and we let it slide in the eighth inning and just didn't have many answers on the mound. These kids are tough and we will keep battling with them."
The Tigers return to action Tuesday when they head to Wofford for a 6 p.m. nonconference showdown.