| | |
| --- | --- |
| Lee embraces the expectations of getting Clemson back to Omaha | |
---
| | |
| --- | --- |
| Tuesday, June 23, 2015 8:12 AM | |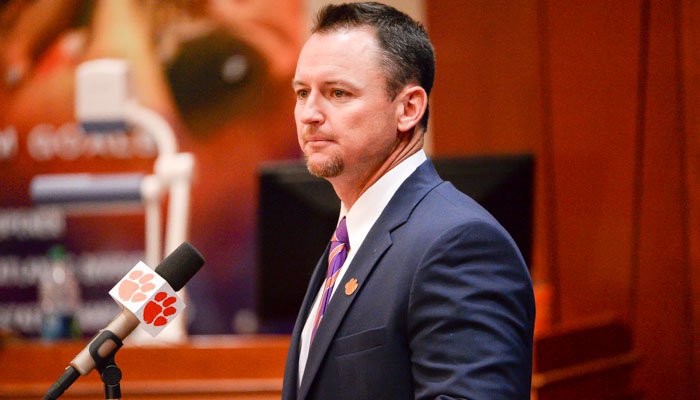 CLEMSON – The road to Omaha is littered with obstacles for college baseball's traditional powers, but the very best of those programs find a way to overcome those obstacles. Can Clemson find a way for its first trip to Omaha since 2010? New head coach Monte Lee

Monte Lee
Baseball Head Coach
View Full Profile believes it can.
Lee told the assembled media Monday at his introductory press conference that Clemson has everything it takes to win and he wants to build off of the tradition and foundation built by former coaches Bill Wilhelm and Jack Leggett

Jack Leggett
Baseball Head Coach
View Full Profile .
"The tradition of Clemson is second to none. It's been led by two men for 58 years between Bill Wilhelm and Jack Leggett, and that's impressive to me," Lee said. "When you look at what these two men accomplished over their career here at Clemson, it's incredible. 2,116 wins at Clemson between these two men. When you look at Bill Wilhelm, 17 regular season ACC championships, 7 tournament championships, it's an ACC record. Six trips to Omaha. His 1991 team won 60 games. I don't even know how you do that. That's an ACC record. The Clemson baseball program is in the top ten in NCAA history in wins, and has won more ACC titles than any other program. Jack Leggett, who coach Wilhelm handed the torch to, 22 years, 3 ACC titles, six trips to Omaha, nine super regionals, 21 regionals. His 1994 team won 57 games, which is the second-most in ACC history. That is tradition. That kind of tradition is what the main draw was for me at Clemson, is to be able to follow such great men."
Lee then made the promise that his teams will play loose and will handle the pressure of a rigorous schedule.
"The biggest thing we will establish within the culture of the program very early is that the fall practice session will be tough. We are going to apply pressure to our players in the fall, so that they are ready for any situation they will face in the spring," Lee said. "That's a big part of what will lead to our success. You don't work the game of baseball. We're going to go to work in the fall, but you don't work the game of baseball. You play the game of baseball. So when they cross those lines in the season, when we're playing a 56-game schedule against extremely tough opponents, we want to play.
"That's the message I'm going to send these guys, is all that hard work, all their pressure, the expectations we're going to have for these guys, when we get to the season, that's where you reap those benefits and enjoy it. So I'm going to be extremely loose during the season in the dugout. I have to put out the vibe that we're going to be able to handle pressure. If we're down by two runs, so what? The tying run is on deck, the winning run is in the hole. That's my mindset: create a culture in the dugout that we're loose, we're going to have fun, and we're gonna let it fly, and compete at the highest level."
Part of the reason for Leggett's dismissal was outlined by Athletic Director Dan Radakovich

Dan Radakovich
Director of Athletics
View Full Profile , who said that the expectations for Clemson's programs center on championships and not doing just enough to slide into the NCAA Tournament.
Lee said he embraces those expectations and the only reason he took the position was because he thinks he can take the program back to Omaha.
"I understand the expectations of Clemson, and I embrace those expectations. Listen, this is a program that can compete at the national level. The only reason I would want to coach at Clemson is because we have the opportunity to get to Omaha," he said. "Outside of the fact that this is a tremendous community, a tremendous opportunity, a great place to live and raise a family, this is a great program with a great tradition. But I understand those, and embrace those. We're going to do our best to do everything in our power to get to the College World Series and win a national championship – and you can do it from Clemson."
Scholarship limitations are one of the reasons that college baseball has experienced parity in recent seasons, but Lee said he thinks Clemson can overcome those obstacles and return to an elite status.
"There's some things within the rules and regulations of the NCAA that create parity in college baseball. If you look that just 27 on scholarship, 11.7 scholarships, having to offer a kid 25 percent, it's different than the old days," Lee said. "Back then, you could offer that 11.7 scholarships however you wanted. You had a lot more flexibility and you could go get a kid from South Carolina for a book scholarship. That's not the case anymore. You have to pass on those guys, and a lot of times those guys end up being really, really good players. The rules put in place the last few years have definitely created some parity. You're seeing more and more teams advance from regionals and super regionals, and even get to Omaha, who may not be traditional powers. But you can do it from here. There's no question about that."