| | |
| --- | --- |
| Lee and LeCroy nab big-time prospect for 2017 | |
---
| | |
| --- | --- |
| Tuesday, June 30, 2015 3:08 PM | |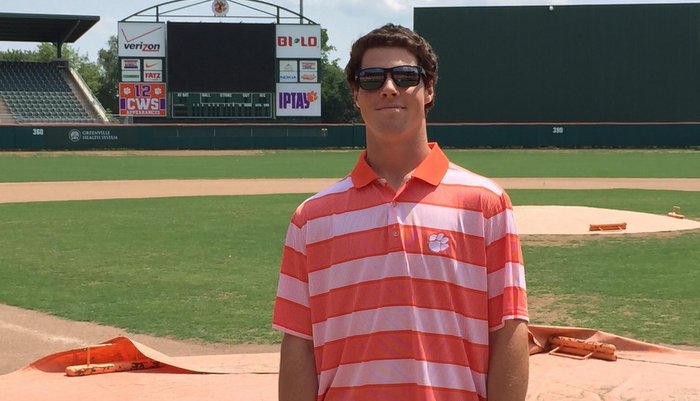 The Monte Lee

Monte Lee
Baseball Head Coach
View Full Profile era is officially underway as the Clemson baseball team picked up its first commitment for the 2017 cycle Monday afternoon.
Clemson's new head man has been on campus for just two weeks, but is already making a splash with recruits and received a verbal commitment from Mathew Cooper - the No. 6 player in the state of Virginia and No. 45 overall player for the 2017 class.
Cooper - out of Virginia Beach (VA) Norfolk Academy told TigerNet that he actually had contact with recruiting coordinator and assistant coach Bradley LeCroy

Bradley LeCroy
Assistant Head
View Full Profile prior to Lee's arrival at Clemson and it was that relationship that helped lead to the commitment .
"I was actually in contact with Coach LeCroy - the assistant coach," Cooper told TigerNet Monday evening. "We've been talking for a couple of months and he saw me play down at Perfect Game Junior Nationals and that's when things really picked up. Coach LeCroy is awesome. Whenever someone travels a lot of miles to come see you play, I'm always very thankful. I've talked to him a couple of times over the phone and he's very nice and very good in the recruiting process."
However, it was Lee's reputation as an offensive coach that sealed the deal for Cooper becoming a Tiger
"I'm very excited. Coach Lee has definitely proven himself over the years at College of Charleston and South Carolina," Cooper said. "He's a great coach. He's a great offensive coach and I'm looking forward to working with him offensively and from a hitting standpoint. I'm just really excited."
The 6-3, 210-pounder said he really liked Lee's message when he and his parents sat down with the newly appointed head coach Monday while on a visit to Clemson.
"I got to talk to Coach Lee a couple of times and most importantly today," Cooper said. "The conversations he had with me and my parents made me want to choose him as the coach that I want to play for, because he's very honest and very straight up. You know what you're getting with Coach Lee. He's a great guy and I'm really looking forward to it."
Cooper said that in addition to Lee's offensive philosophy, Clemson had the total package for what he was looking for a college.
"First of all, the Clemson education is very good. Coach Lee making the move there caught my attention," he said. "The facilities are second to none there and I got to get a little tour of that today and kind of see everything they have to offer. With the new baseball center they're building, it's going to be really, really cool. It's going to be one of the best in the country. Lastly, Clemson is a college town and it's a great atmosphere and it's something that I want to experience."
Cooper is a versatile player - playing several positions on his high school team - and he said he hopes to grow into a position once he gets to Clemson.
"I think they're going let me play into a position," he said. "I'm going to keep playing outfield, catcher and first base. They really like me as an offensive player. That's what they're really recruiting me as. They told me to just keep playing a lot of positions and being versatile, because that's what they really like about me."
Scouting report from Perfect Game:
Matthew Cooper is a 2017 C/1B with a 6-2 210 lb. frame from Virginia Beach, VA who attends Norfolk Academy. Big strong athletic build, especially for his age. Right handed hitter, spread stance with limited shift to contact, strength hitter, gets too rotational at times, inside swing approach with mid to opposite field contact, should learn how to turn on balls with experience. Huge power potential, hit home run to straight away centerfield off the flag pole. Runs very well for his size and age, 6.90 in the sixty. Big arm strength behind the plate, has quick feet, still learning to receive and frame the ball. Also plays outfield and first base, future best position still to be determined. Young athlete with lots of strength and tools to develop. Follow closely.