| | |
| --- | --- |
| Jack Leggett: "Right now I wouldn't want to play us" | |
---
| | | |
| --- | --- | --- |
| Monday, April 6, 2015, 7:01 AM | | |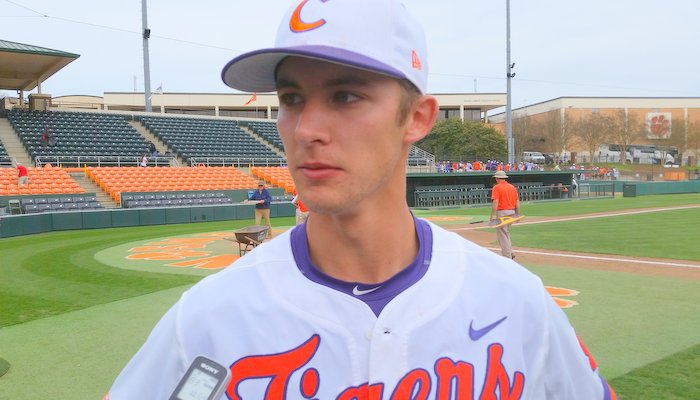 CLEMSON – Despite Sunday's loss in the series finale against North Carolina, Clemson head coach Jack Leggett

Jack Leggett
Baseball Head Coach
View Full Profile thinks his team is not only dangerous, but about to turn the corner.
Since losing the first two games against Wake Forest last weekend, the Tigers have won four of six games – including taking two games and the series over the Tar Heels this past weekend. Following Sunday's loss, the Tigers are 16-15 overall and 7-8 in the ACC, a half-game behind fourth place North Carolina St.
Leggett told the media after Clemson's 8-7 loss Sunday afternoon that he likes the way his team is playing and that if he was coaching another team he wouldn't want to face Clemson right now.
"We need some more consistency but I do like the way we're playing," Leggett said Sunday afternoon. "We're playing much better. Right now, I wouldn't want to play us if I were somebody else because I think we're playing a lot better and with a lot more confidence. We've got more guys playing in a better zone. Odd things happened today that I haven't seen that cost us here and there and it was big at the end."
With games against Georgia, Charleston Southern and a series at Boston College this week, Leggett said his players need to focus on the task at hand.
"It would've been nice to have a sweep, but we know it's tough to do in this conference if you look around," Leggett said. "This was a tough team. It would have been nice to have one because every single game is going to come back and help us or haunt us before it's all over. We have to put this behind us and be ready to play on Tuesday and Wednesday. We have to do a better job of that and then we have to go up to Boston this weekend and play well.
"Regardless of what the situation is or what the weather is, we have to go up there ready to play. Every inning, every game, every pitch, every hit counts a little bit more right now. I'm pleased with how we played. I like the way our kids competed this weekend. They competed really hard. They were never overmatched. We had some innings early in the game where we just weren't as sharp."
Shortstop Eli White

Eli White
So. Infielder
#4 6-2, 185
Easley, SC
View Full Profile said he and his teammates feel like they are finally beginning to turn the corner and gain some momentum and know that they have a difficult road ahead if the Tigers are to make the postseason.
"We feel the sense of urgency. We know we didn't play a great first half and that we have to have a better second half," White said. "There has definitely been some people step up and talk about that and we're all ready to do it. We all have confidence and we have confidence in each other. We're starting to get the thing rolling down the hill and we're starting to feel it. I feel like we're a force to be reckoned with.
However, White said that if Clemson will focus on doing the little things, the wins will come.
"We just have to come out every day and just play our hardest every day and control what we can control - putting good at bats together, making good pitches and making all of the plays," he said. "That's all you can do. If you do that, the games will take care of themselves."