---
| | |
| --- | --- |
| Saturday, June 7, 2014 10:13 PM | |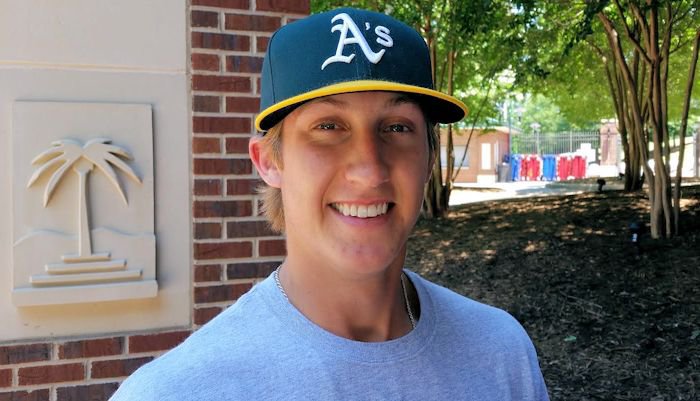 CLEMSON – Daniel Gossett

Daniel Gossett
Jr. RH Pitcher
#23 6-0, 180
Lyman, SC
View Full Profile thinks the Tigers have all the pieces in place to contend next season, but said that someone on the team has to step up at some point in a big situation and make the one pitch or get the big hit that will make a difference in a big game.
Gossett also said he hopes that Clemson head coach Jack Leggett

Jack Leggett
Baseball Head Coach
View Full Profile is around to see the turnaround.
Gossett was drafted by the Oakland A's in the second round (65th pick) of the MLB Draft Thursday night. Speaking to reporters Friday in front of Doug Kingsmore Stadium, Gossett said that Clemson's disappointing season came down to players not making plays.
"The guys and the coaching staff, we have all the tools. It just came down to getting that one big hit," Gossett said. "We have all the talent in the world. It just comes down to performing. We were just missing that one little pitch, that one double in the gap. I felt like we were that close all season."
While Gossett doesn't know if he will be around next season, he said that he thinks next year's team will be better.
"You know, we're just going to have to play. We've got the talent, there's no doubt about it," he said. "We've got a great group of guys, and we've got the coaching. I feel like they're going to take it to heart, and these guys are going to buy into the process that the coach is laying down. It's going to be real special. We're going to start relaxing, we're going to start playing, and it's going to be real good stuff."
He then said that he hopes Leggett is around next season.
"Oh, absolutely. I've only had the privilege of spending three years with him, and just in those three years, I can attest to anything good anyone's ever said about him," Gossett said. "He's a great coach, but I think he's a better guy just because of the absolute – he brings a lot more to the table than just a coach. He's great to talk to. He understands. He's not just going to yell at you and expect you to conform to what he's saying. He's a great guy, and he's an awesome coach. He knows how to coach baseball. He's great in the game. He understands the game better than anyone I've ever met. There's no doubt he's been around long enough to understand the game better than anyone I know. He knows how to win. When you think Clemson, you think Jack Leggett baseball. And there's a reason you think Jack Leggett baseball. So I'm more than happy to hear he's coming back."
Gossett said that Leggett was one of the reasons he chose Clemson.
"Yeah, I would say he is. Because you hear he's a Hall of Fame coach," he said. "You hear about good coaches in the past, and Jack Leggett is right up there with the best of them. To have the opportunity to play under a guy like that, take advantage of that opportunity."
Gossett was reminded that many fans want to see Leggett out, and that others say the game has passed him by. He said he didn't agree with anyone who thinks that Leggett has lost anything as a coach.
"I think that's an outside-looking-in kind of deal. When you're inside and you see, he works just about as hard as, if not harder than, most the players out there," he said. "That man is out there on the field with us. He's hitting his fungoes, he's teaching us technique, he's teaching us about the game. When I get away from it and I hear other people talking, I'm like, you have no idea. You don't understand, you're not there with us. You don't go through it with us. He's in the weight room working out with us. It's unreal. I don't think I'd rather play for anyone else in college than Jack Leggett."