| | |
| --- | --- |
| Diamond or Dance? Clemson commit stands by his promise | |
---
| | |
| --- | --- |
| Saturday, May 16, 2015 8:01 AM | |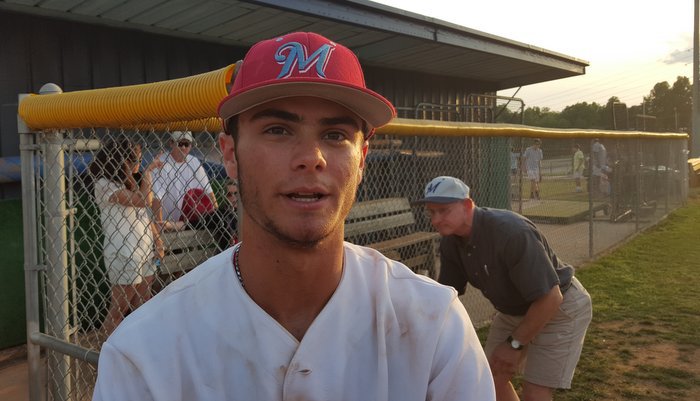 GREENVILLE – Chris Thompson and his J.L. Mann baseball teammates executed the perfect celebratory dog pile following their win over Northwestern in the AAAA Upper State Championship Friday evening, and now the Clemson commit and his fellow Patriots will dance their way into AAAA State Championship Series against Wando.
It will be the second-most important dance Thompson has been to this spring.
The junior outfielder – who committed to Clemson last December – has been a key cog in Mann's march to the state championship this spring and the joy on his face after Friday's 7-3 win was evident as he celebrated with this teammates and looked forward to next week's title series.
However, Thompson spoke at length with TigerNet about an experience he had back in April, one that changed his life and one in which he showed enough maturity to put his favorite sport on the back burner while he spent time making someone else happy.
It all started when Thompson attended the "Night To Shine" at Brookwood Church in January. Sponsored by the Tim Tebow Foundation, a night that allows teens with special needs to attend a special prom.
It was there that he met a special young lady named Victoria Raeckelboom.
"I had heard about it through people at school and I had been talking a lot to my mom about it. She was pretty close to the people at Brookwood and growing up I had friends that worked for the church and they told me about it," Thompson said Friday. "I've always been very involved with those kids and I've always liked working with them, so my mom signed me up for it and I met Victoria there. She wasn't even my buddy. I was with another kid from her school who introduced me to Victoria, so that's how we met."
And, just like that a new friendship was born after the chance meeting on the dance floor at Brookwood Church.
"She came up to me and told me that she really liked me and she thought I was really nice, so we got to dancing," Thompson said. "She asked if I could dance with her, so we danced the night away. Towards the end, when we were getting ready to leave she asked for my number, because she wanted to ask me to her senior prom because she had never had the chance to go with anybody. I told her that as long as I didn't have a game I could go and we just hit off from there."
Unfortunately for Thompson, inclement weather led to his game being postponed to prom night, forcing him to make a tough decision - should he play an important game with his teammates or stand by his prom promise? Thompson said he knew there was only one thing he could do - let his teammates take care of business on the field, while he helped his friend have the night of her life.
"Her prom was for a Saturday night. We were supposed to play in the region championship on that Friday night but it got rained out," he said. "When it came down to it, I just didn't have the heart to stand her up. I went after everybody left and told my coach and he understood completely and the boys were really supportive."
It was a decision fully supported by his parents, teammates and coaches.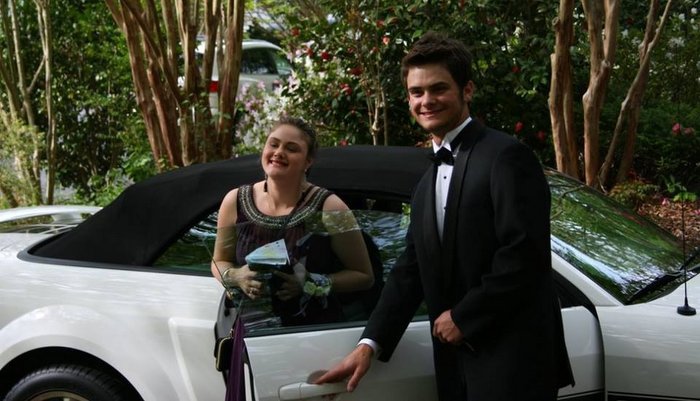 "He wasn't disappointed at all. He was really happy for me because he knew it was the right thing to do," he said. "It was just a unique situation and something that I didn't have the heart to turn her down and he knew that I didn't need to be there for us to win. We're a whole team, so when one of us is down, everybody else picks up the slack. We won the region championship for the first time in AAAA in school history."
Most prom nights start out with dinner and stops at a park for pictures, and Thompson and Raeckelboom's night wasn't any different - except that theirs began at the ballpark.
"We played on Saturday, which was prom night," he said. "Before the game, I walked Victoria down here to the dugout and I let her meet all of the boys and the coaches. We watched the first inning and then we left. We ended up winning the region championship, so it was a happy ending."
At the end of the night, Mann was crowned Region AAAA champions and Thompson had an incredible, life-changing experience.
"It was amazing. It started about 8:30. We were one of the first ones there and we started dancing pretty early," he said. "I met some of her friends. We got there early just to take pictures and everything. She wanted to dance and talk to everybody. It was just an amazing experience."