| | |
| --- | --- |
| Crossroads: Big decisions ahead for Clemson baseball | |
---
| | |
| --- | --- |
| Monday, June 1, 2015 12:48 PM | |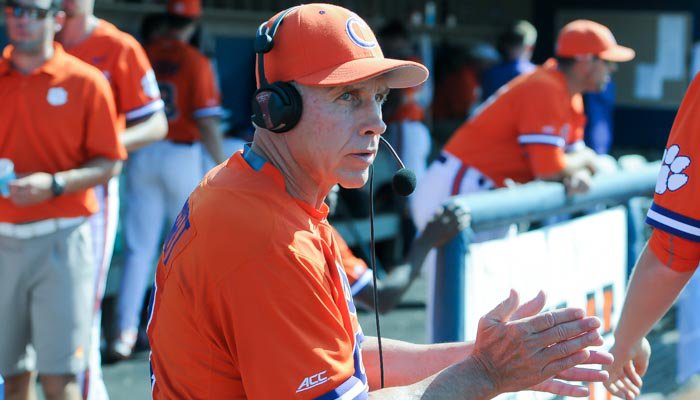 FULLERTON, CA – To say that Clemson's baseball program is at a crossroads is like saying Mt. Everest is a nice little walk – the saying itself doesn't do the enormity of the task at hand justice.
During Clemson's NCAA Regional tournament game at Goodwin Field at Cal State Fullerton Saturday evening, I sat in one of the camera wells as the evening shadows began to creep across the diamond and wondered to myself whether I was seeing the sun not only set on a baseball game, but on Clemson's season and perhaps Jack Leggett

Jack Leggett
Baseball Head Coach
View Full Profile 's Clemson career.
The lengthening shadows gave an urgency to the Tigers' players, who battled back from a 7-0 deficit to take an 8-7 lead only to see that lead slip away with three late runs from Pepperdine as the Waves escaped elimination for another day.
For the Tigers – and maybe for Leggett – elimination happened all too quick.
So what happens now? Tough calls have to be made, and there is no easy answer even though the fans who are the most vocal right now will tell you the easy choice is the clear choice. As a writer who covers the program, I don't think it's ethical to either politic for someone's job to be saved or to politic or call for someone to be fired. All we can do is throw the facts out there and wait for someone to make some kind of a decision, and that decision should come fairly quickly considering that Leggett has one year left on his current contract – you either have to extend his contract to help recruiting or go ahead and make a change and bring in a new coach just as the new facilities are brought into place.
Leggett's resume speaks for itself - 21 NCAA Tournament appearances and six College World Series berths. Clemson is the seventh-winningest program in the nation during his time as head coach. He has had 11 players selected in the first round of the MLB Draft and has more wins than all but eight NCAA Division I coaches. Early last year, he was inducted in the American Baseball Coaches Association Hall of Fame.
He has also had success despite the fact that the game itself – especially recruiting and scholarships – has experienced a paradigm shift. Under the old system, a coach like Leggett could parse Clemson's 11.8 baseball scholarships to as many as 35 players and in some cases give the player only book money. Under the new rules in place, only 27 can receive aid and none can receive less than 25 percent of a full scholarship.
So what does that mean? That means that kids that used to come to Clemson to play and to provide depth for the program are now going to places like the College of Charleston, Coastal Carolina and Wofford and helping those teams battle the Tigers during mid-week games.
Clemson also doesn't have a competitive advantage when it comes to offering out of state players financial aid – not like arch rival South Carolina can offer and Clemson can't dip into million dollar endowments like Vanderbilt – and a person would be blind to not notice how it has affected recruiting.
On the flip side – other programs are making it work under the new rules while Clemson has struggled to adjust and the results have shown on the field- the loss to Pepperdine was Clemson's fifth consecutive NCAA Tournament loss and the Tigers haven't won a NCAA Tournament game since a 10-2 win over St. Louis in the Columbia Regional in 2013. Clemson has also lost 7-of-8 and 11-of-14 since the Tigers' last 2-0 regional start in 2011.
Clemson made the Super Regionals seven times from 2000-10, but haven't hosted since 2011 or made a regional final since 2012.
This year's team had talent and finished near the top of the ACC in several offensive statistical categories except home runs – the Tigers finished next-to-last in homers. In offensive categories that require a certain level of execution – sacrifices and stolen bases – Clemson was mainly middle of the pack in the conference. The baserunning was abysmal at times. Clemson finished dead last in fielding percentage and defensive miscues cost the Tigers in the loss to Pepperdine.
Despite having starters Matthew Crownover

Matthew Crownover
Jr. LH Pitcher
#44 6-0, 210
Ringgold, GA
View Full Profile and Zach Erwin the Tigers were next-to-last in earned run average and dead last in the conference in saves. The bullpen was especially troublesome.
There are issues within the Clemson program that needed to be addressed and need to be fixed before the Tigers can climb back into the ranks of the nation's elite, and the program will likely lose leaders like Steven Duggar

Steven Duggar
Jr. Outfielder
#9 6-2, 195
Moore, SC
View Full Profile , Tyler Krieger

Tyler Krieger
Jr. Infielder
#3 6-1, 170
Johns Creek, GA
View Full Profile , Crownover and Erwin once the MLB draft rolls around.
The biggest question now – will Leggett be the one who recruits their replacements, or did we all see the sun set on his Hall of Fame Clemson career? No one knows for sure, but this week will be interesting.