| | |
| --- | --- |
| Corbin says he would rather not face mentor Leggett | |
---
| | |
| --- | --- |
| Wednesday, May 28, 2014 11:14 AM | |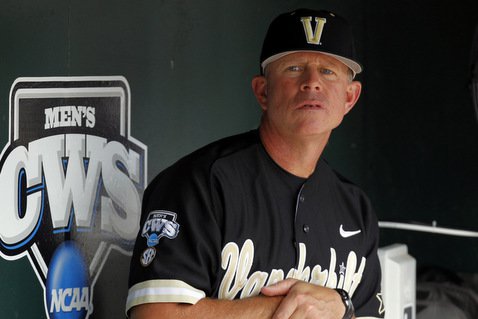 Clemson and Vanderbilt haven't squared off on the diamond in nearly three decades, but with the close ties of the two head coaches it should come as no surprise that the Tigers and Commodores haven't seen each other in game action since 2002.
Vanderbilt head coach Tim Corbin was hand-picked by Clemson's Jack Leggett

Jack Leggett
Baseball Head Coach
View Full Profile from Presbyterian College in 1994 and was an assistant coach for nine seasons, helping the Tigers to 434 wins, two ACC regular season titles and four College World Series appearances.
It was during his time at Clemson that Corbin learned most of what he knows as a college baseball coach and was introduced to his wife by Clemson's Hall of Fame head coach, leading to a very strong relationship between the two coaches.
With so many ties between Leggett and Corbin, it's easy to see why there could be a little uneasiness should the Tigers and 'Dores square off this weekend in the Vanderbilt Regional.
"It's by design [that Clemson and Vanderbilt haven't played against one another]," Corbin told the Vanderbilt media shortly after the NCAA selection show. "I don't like playing my best friends. I don't like doing that, but it's not to say you wouldn't do that, but personally I look for ways not to do that. If you're matched up against one another, that's someone else's choice. I would rather play against people I don't know as much. The older you get the more people you end up knowing. "
Leggett told TigerNet shortly after Monday's announcement that he spoke with Corbin shortly after learning the Tigers' destination.
"I already have talked to him," Leggett said with a laugh. "We knew this was going to happen at some point. I have a lot of guys in it, and eventually it was going to happen and it happened. I am excited about it. I am excited to see him but he is a gamer and a competitor like I am. But at the same time it's a business trip."
Corbin said that Leggett was more than just a mentor and even went as far as to say that he was like a second father – responsible for much of what he has become as a head coach and a person.
"He's everything. My lifestyle is because of Jack Leggett. My wife is because of Jack Leggett, really," Corbin said. "The first week I was there he set up a date with Maggie. She probably didn't want to date me, but she became my wife. I think I have as a college baseball coach at this level is because of Coach Leggett – your thought processes, your approach, your respect for certain things is nurtured and developed by him.
"He came here last year when he could've just gone for somewhere because they were out. He chose to come here, stay with us, watch us play, be a support system. I'm sorry we didn't win because I would've loved to have enjoyed that moment with him. He is a friend first. The kids have to play against each other, so it's not one of those things that I concern myself with too much. You have to play against friends if you are in this business long enough then you develop relationships like I have with Jack and [Florida head coach and former Clemson assistant Kevin O'Sullivan] Sully."
The Clemson-Vanderbilt connection runs deeper than just the two coaches as Leggett spent time with the Commodores last year before their Super Regional against Louisville.
"Probably just because they (Vandy players) are so familiar with them." Corbin said. "He [Leggett] was present last year during the Super Regional. I had him speak to the team because I think so much of him. They (his players) are very knowing of coach and of Clemson. They understand my background there and probably a lot of their program comes out here."
However, Corbin hopes to put the emotion of possibly facing his mentor and best friend behind him and focus on what his team needs to do in order to advance to a Super Regional.
"It's just the way baseball is and the kids have to play," he said. "It's just a Xavier regional right now and that's all that matters. What happens from there, they have to do their job and we have to do ours. We're just going to worry about Vanderbilt right now."