| | |
| --- | --- |
| Competition fueling the race for starting spots | |
---
| | |
| --- | --- |
| Sunday, February 7, 2016 7:01 AM | |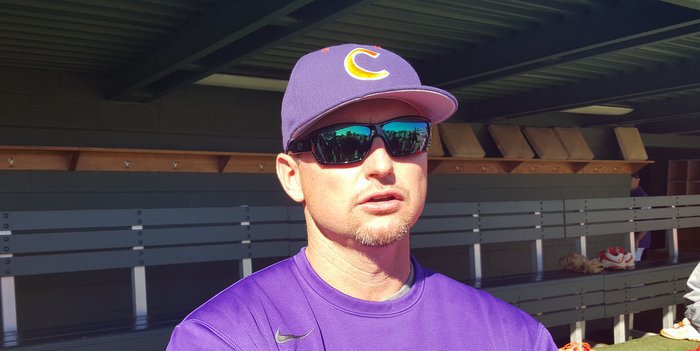 CLEMSON – The Clemson pitching staff fans see in 2016 will be vastly different than the one that led the Tigers to an NCAA Tournament berth last season.
Gone are All-American and ACC Pitcher of the Year Matthew Crownover, as well as All-ACC pitcher Zach Erwin. The two combined to win 17 games last season. Brody Koerner got off to a fast start as the No. 3 starter, and when he began to struggle, Jake Long stepped in and filled that role. Head coach Monte Lee returns six of eight position starters, but only ten of the 61 starts made by 2015 pitchers return in 2016.
Eight pitchers return with experience but just one – Clate Schmidt – has experience as a starter. Schmidt has started 25 games in his Clemson career but started just six a season ago.
The inexperience and lack of a proven starter provides competition in practice leading up to the season opener against Maine in two weeks.
"We want to match these guys up and force them to compete against each other to win jobs," Lee said last week. "Clate is going to go against Charlie (Barnes) and they are going to go toe-to-toe. Those guys are fighting for Friday and Saturday. We have a number of other guys that are fighting for Sunday and midweek. "We want to find out who is our first guy out of the bullpen. Who is our long reliever, short relievers, lefty-lefty matchup guys and closer? All of those roles have to be defined."
New pitching coach Andrew See will be tasked of helping find the players to fill those roles. The Tigers return Patrick Andrews – who missed of last season with an injury – along with Alex Bostic, Paul Campbell, Pat Krall, Drew Moyer and Hunter Van Horn.
The ramped-up competition means more fastballs for Tiger hitters in practice, but Lee doesn't care if the pitchers give up hits – he just wants to see his pitchers locate.
"The biggest thing I'm looking for at this time of the year is the pitch execution," Lee said. "I know early, during this time of the year, we are going to come right after these batters with fastballs. We are going to mix some pitches, but our hitters know the majority of the pitches coming across the plate are going to be fastballs so they typically will get some hits. But the biggest thing I'm looking for is when we call a fastball away, do you execute the fastball away? When we call it in, do you get it in? When you get ahead of the hitter, can you put him away?
"That's the big thing. Do you execute pitches? If you execute pitches, you have a chance to have a quality start. If we execute pitches then there should be a lot of balls put in play with weak contact and we should play pretty good defense behind that. To me it all goes hand-and-hand. I'm just looking for guys to execute pitches and see how they shake out."
Lee will be relying on Schmidt to provide leadership for the unproven group, something that Schmidt looks forward to.
"We have all been taking the leadership role, whether it's been Pat Krall, Charlie Barnes, or me. We've all pushed each other as hard as we can," Schmidt said. "I've started on the weekend so at least having some experience I can help the guys. I've been trying to push everyone to where we can be a better staff. It's been an effective offseason."
Battling Schmidt and Barnes for a weekend spot in the rotation are two freshmen - Jake Higginbotham and Brooks Crawford. Those two appear poised to take over the Sunday role, but redshirt freshman Alex Eubanks and the junior Bostic are also candidates.
"Those two guys (Higginbotham and Crawford) are highly touted and have pro-level stuff, but they're true freshmen, so we want to see those guys compete against each other against our hitters and see how they do," Lee said. "That's what this time of the year is for, to see who emerges out of that group to become the No. 3 starter."

Tags:
Patrick Andrews
,
Clate Schmidt
,
Brody Koerner
,
Jake Long
,
Matthew Crownover
,
Drew Moyer
,
Alex Bostic
,
Charlie Barnes
,
Alex Eubanks
,
Paul Campbell
,
,
Hunter Van Horn
,
Pat Krall
,
Brooks Crawford
,
Jake Higginbotham
,
Monte Lee
,
Andrew See