| | |
| --- | --- |
| Clemson baseball struggling, but Leggett not ready to push the panic button | |
---
| | |
| --- | --- |
| Monday, March 16, 2015 7:01 AM | |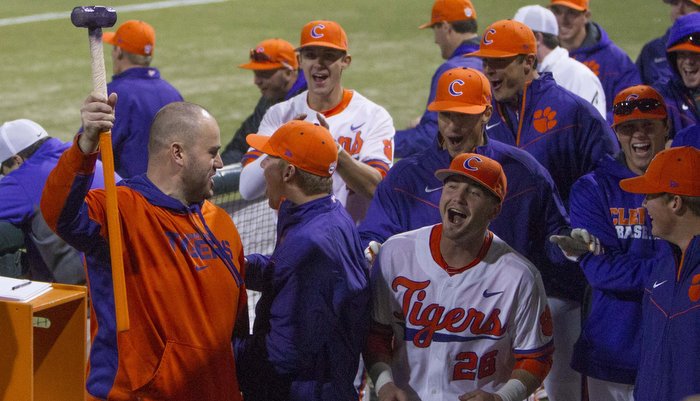 CLEMSON – Clemson's baseball season will hit the one-third point this week, so it's still too early to panic. But with an overall record of 9-9 and a 2-4 start in ACC play, the Tigers need a spark to get the season going in the right direction.
Following a 12-run outburst in two games and splitting a doubleheader against Notre Dame on Saturday, the Tigers committed three errors and hit into four double plays in a 5-1 Sunday loss, clinching the series win for the Irish.
Notre Dame (14-4, 3-3) won the final game Saturday and Sunday's series finale to win its first ACC series this season. The Tigers weren't bad at the plate and put the leadoff man on in five of the first seven innings. The Tigers also had eight hits, drew three walks and got hit by two pitches, but stranded eight and went 0-for-6 with runners in scoring position.
"We had some opportunities today, but we hit into four double plays," head coach Jack Leggett

Jack Leggett
Baseball Head Coach
View Full Profile said after the game. "Those are rally killers. Those are tough. We just made two mistakes on defense that were key and cost us two runs and they were sharper than we were today. I thought we were ready to play today but it wasn't enough. "
Since taking two of three from arch-rival South Carolina a few weeks ago, the Tigers have lost six of eight, and if the Tigers are to even replicate last season's regular season record of 34-22 they will need to go 25-13 the rest of the way, and to finish with the same 15-14 conference record as in 2014 will need to go 13-10 in ACC over the final 23 games.
Leggett said he won't let his team hit the panic button.
"We just have to keep working. That is all we can do. We have been here before and we've been down this road and we just have to play ball," he said. "We've still got a lot of ballgames left - we have 38 ballgames left to play here in the regular season, and there is nobody on this team that is going to quit or let up or decide they aren't going to play. I've seen us pull it out before and we are close, just not quite where we need to be yet."
Can the Tigers get back the intensity they showed in taking two of the three from the Gamecocks? Leggett thinks so.
"They all believe they can get it back. They all believe we can do it, and we will," he said. "It's just one of those things where we ran into a buzz saw last weekend and they swung the bats extremely well and this weekend they just played a little bit better. They made some big plays when they had to. There is very little margin for error in this league, and you look around this league and see what is happening and it will be a battle in our division and the other division and throughout the conference in general."
ACC standings
ATLANTIC DIVISION

SCHOOLS		CONF W-L-T	CONF PCT	W-L-T	PCT

Florida State	5-1-0		.833		17-4-0	.810

Louisville	5-1-0		.833		14-6-0	.700

Notre Dame	3-3-0		.500		14-4-0	.778

Wake Forest	3-3-0		.500		13-8-0	.619

NC State	2-4-0		.333		10-7-0	.588

Clemson		2-4-0		.333		9-9-0	.500

Boston College	0-6-0		.000		5-12-0	.294

COASTAL DIVISION

SCHOOLS		CONF W-L-T	CONF PCT	W-L-T	PCT

Georgia Tech	4-2-0		.667		14-5-0	.737

Miami		4-2-0		.667		15-6-0	.714

Virginia Tech	4-2-0		.667		10-9-0	.526

North Carolina	3-3-0		.500		12-7-0	.632

Pitt		3-3-0		.500		8-9-0	.471

Duke		2-4-0		.333		14-5-0	.737

Virginia	2-4-0		.333		12-5-0	.706
It doesn't get any easier for the Tigers, who will travel to Conway to take on Coastal Carolina – the Chanticleers have won five in a row and now stand 13-6 on the season. Including in the recent winning streak was a 13-2 win over North Carolina. Following the midweek game in Conway, the Tigers travel to Blacksburg (VA) to take on a Virginia Tech team that swept top-ranked Virginia this past weekend.
"They beat up on North Carolina the other day, so you know they can do it," Leggett said of Coastal. "It will be one of those things where we have to put this behind us and play well on Tuesday and somebody has to step up for us. There is a lot of travel and a lot of things we have to be able to take care of."