| | |
| --- | --- |
| Clemson baseball coach search over as Monte Lee agrees to terms Wednesday | |
---
| | |
| --- | --- |
| Wednesday, June 17, 2015 11:02 PM | |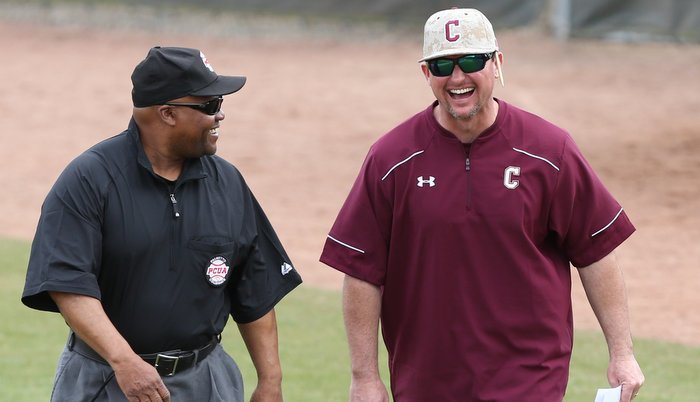 The search for Jack Leggett

Jack Leggett
Baseball Head Coach
View Full Profile 's replacement at Clemson appears to be over as Athletic Director Dan Radakovich

Dan Radakovich
Director of Athletics
View Full Profile and Monte Lee put the finishing touches on a contract Wednesday afternoon, according to sources.
Leggett was let go on June 4th after serving 22 years at the helm of the Clemson program, winning 955 games and advancing to the College World Series six times with the last appearance in 2010. Clemson finished the 2015 baseball season with a 32-29 overall record and dropped a pair of games at the Fullerton Regional of the NCAA tournament.
Lee, who has spent the past seven seasons at the College of Charleston, agreed to become just the third baseball coach Clemson has had since 1958 – Leggett was hired in 1994 following a 36-year tenure by the legendary Bill Wilhelm.
Lee has guided the Cougars to a 276-145 (.656) overall record after averaging 39.4 wins per season since 2009 and he has led his alma mater to four NCAA Tournament appearances in those four seasons.
He led the Charleston program to back-to-back Regional finals appearances in 2014-15. In 2015, the Cougars beat Auburn twice to advance to the championship round of the NCAA Tallahassee Regional, and CofC championed the 2014 Gainesville Regional and earned a trip to the 2014 Lubbock Super Regional. He led Charleston to a CAA regular season title in 2015, CAA Tournament championship in 2014, and a Southern Conference regular season championship in 2012. His career winning percentage of .656 currently ranks in the top 20 among all active NCAA Division I coaches.
Clemson can't officially announce Lee until the background checks have been completed and the contract has been completed, but the word trickling out of Clemson late Wednesday was that a press conference would be held Thursday.
Not known is whether Lee will bring pitching coach Matt Heath or whether former Leggett assistant Bradley LeCroy

Bradley LeCroy
Assistant Head
View Full Profile – kept on in the interim – will be retained.
Lee played in 206 games during his career at College of Charleston, from 1996 to 1999, before being the first position player drafted in school history by the St. Louis Cardinals in the 39th round of the 1999 MLB Draft. Lee, who earned all-district academic honors in 1999, hit .333 for his career. He tallied 240 career hits, scored 156 runs, added 50 doubles, six triples, 22 homers, 150 RBI with 88 walks and 66 stolen bases.
Lee began his coaching career as an assistant for two seasons, 2001-02, at Spartanburg Methodist Junior College. The 2001 Spartanburg Methodist club reached the NJCAA College World Series and the 2002 team set a school record with 51 wins. During summers of those two years he also worked with the South Carolina Diamond Devils AAU team, as an assistant in 2001 and as head coach in 2002.
He was an assistant coach at South Carolina from 2003-08, eventually working his way up to recruiting coordinator. While with the Gamecocks, Lee and USC went 266-130 with six NCAA regional appearance, four Super Regionals and two College World Series berths.