| | |
| --- | --- |
| Clate Schmidt has plans: Beat cancer, then return to be Clemson's Friday starter | |
---
| | |
| --- | --- |
| Monday, July 6, 2015 7:01 AM | |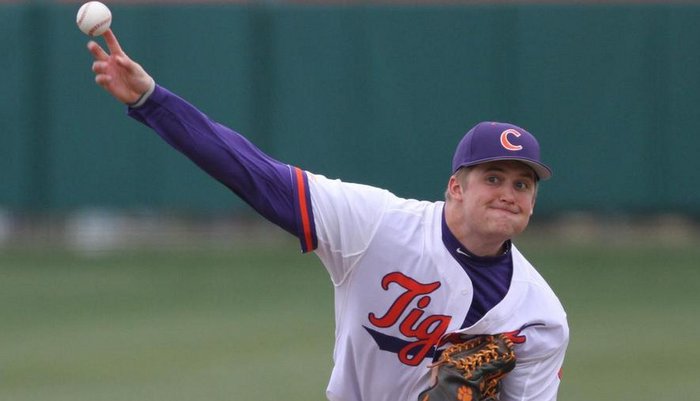 Cancer isn't going to slow down Clate Schmidt

Clate Schmidt
Jr. RH Pitcher
#32 6-1, 205
Acworth, GA
View Full Profile .
In fact, the Clemson right-hander out of Acworth, Ga., not only plans to sail through chemo with his characteristic toughness, he plans to be on the mound as the Tigers' Friday starter next season.
Schmidt was sitting with his family in early June when the doctor called to tell him he had nodular sclerosing lymphoma.
"We knew that the doctor was supposed to call within a couple of days and my family and I were sitting on the back porch, so when she called we were all together. She started off saying, 'I've got bad news and I've got good news,' so of course we always take the bad news first and end on a good note," Schmidt told TigerNet late last week. "She told us and she said that the good news is that it's easily curable and that it's the best kind of cancer you can get in this type of situation. She was trying to make us feel good but we didn't really want to listen to it. It was one of those days that just really sucked. In my head, I was just thinking, 'You have to get everything out now and you can't let anything affect you going forward. You have to be positive and be able to attack it.' That's the mentality I've been taking to it."
Yesterday I was diagnosed with nodular sclerosing lymphoma. It's just another path that God has sent me down that we didn't plan on.

— Clate Schmidt (@CSchmidt32) June 2, 2015
Schmidt began aggressive treatments shortly after the news, and he said once the shock of the news began to wear off he started planning his next baseball activity.
"I've had two treatments. I had my last one five or six days ago," he said. "I had a port put in my chest that's easily accessible for the doctors, so instead of having the IV put in my veins they put a port in my chest so it doesn't affect my arm muscles or anything like that for baseball. I go in and get blood work done - they put a needle in my chest and draw blood. Then, I go into the chemo ward and sit there for two-and-a-half hours and have a bunch of chemo and fluids pumped into me.
"It scared me at first. Before this, our doctor had mentioned that it could be something like this and my parents googled everything in the books, which is not a smart thing to do, but we found the stories of Jon Lester, so I wasn't too nervous. There was the initial shock and the, 'Oh crap, I have to make sure I'm going to be okay.' I'm 100-percent going to be cleared in the fall if the treatments go well. After my fourth treatment, I'm going to be able to jump right back into the swing of things and get ready to gear up for the season."
His health news and the news that former head coach Jack Leggett

Jack Leggett
Baseball Head Coach
View Full Profile would no longer helm the program occurred around the same time, but Schmidt says he has managed to put both events into perspective and is now excited about the future.
"I wouldn't say that my whole world was turned upside down. I would say that it got shaken a little bit," Schmidt said. "The thing was, at the time Coach Leggett had been checking on me, but my main concern was my health. I was so worried about the diagnosis. Before we even went to California, I had surgery to perform a biopsy. During that time, I wasn't worried about it during the games but it was always in the back of my mind. When everything happened with Coach Leggett, it was devastating to us and the program, but I'm excited about what's coming. I've talked to Coach Lee and (pitching coach) Coach (Andrew) See and I'm really excited for what we have to come this season. I hope to be able to come back and be that senior leader that everyone knows and be able to be the guy that's the go to guy on the mound and on the team, so I can help lead this team in any way possible to Omaha."
Schmidt doesn't mince words when he details his plans for 2016.
"I'm looking to be the Friday night starter. That's what I'm coming back to do," he said. "I'm coming back to be the leader of the staff, the leader of the team. The guys coming back – Rudy ( Andrew Cox

Andrew Cox
RS So. Outfielder
#6 6-0, 215
Belton, SC
View Full Profile ) and (Chris) Okey - we're ready to gear up and get it going, but I want to be that Friday night guy that steps on the mound and goes head-to-head with the best in the ACC."
In the meantime, however, Schmidt will finish his chemo treatments, count his blessings and stay in shape when he isn't battling the nausea that comes with the chemotherapy.
"My whole life flipped upside down and my perspective on life changed completely the first day I stepped foot in the chemo ward," Schmidt said. "You step in there and you see these little kids and older men and women and then you see kids that are your age and you think, 'I could have it so much worse and I'm lucky enough to have the type of cancer that I do have.' If I had some of the other types it could be much worse and I wouldn't even be able to play baseball again.
"I'm blessed enough to be on this earth and it's something that you cannot take for granted. I'm excited. I'm geared up. I'm ready to work. I'm chomping at the bit. I've been wanting to throw. I'm tired of sitting around and being able to work out whenever I can. You go from a sick week to a good week and during the good week you work out as much as you can and then you go back to the sick week."
Schmidt said he plans to start the new school year with the rest of the Clemson students.
"I should be back on campus either the first week of school or the week after, because that's when the radiation should be over," he said. "Then they want me to take a break for a week to see how the radiation affects me. I'll be right back on campus at the beginning of the school year."
He also plans to catch up with new head coach Monte Lee

Monte Lee
Baseball Head Coach
View Full Profile .
"I've already met Coach Lee. He's a gung-ho kind of guy," Schmidt said. "I'm going to try to hook up with him when they come down here to recruit in the next week or so. He's a genuine coach. The first thing he asked me, 'How are you doing? I've heard a lot about you.' It wasn't about the game. It was about how my health was and that was something that resonates with me. And, he was wanting to get some of the numbers of the other team leaders to talk to them. I just get a good vibe from him (See), just like Coach Lee. I love Coach Lee so far, from what I've been able to gather. He seems like a great guy and I'm really excited to be able to play for both of them."
Schmidt appeared in 18 games last season - including six starts – and was 2-3 with a 4.67 ERA in 52 innings. He says that he is excited about making small tweaks to his pitching mechanics that should make a difference. A plus is that he gets to do it in Clemson.
Excited to finally say that I cant wait to get back on the field with @ClemsonBaseball and our new coach @MonteLeeCU lets make it memorable!

— Clate Schmidt (@CSchmidt32) June 19, 2015
"Clemson is the right place for me. It has taught me to humble myself," he said "It's taught me to love the game. It's taught me so much from being a little freshman kid at 170 pounds to coming into my senior year at 200. It's changed me for the better and I'm extremely thankful to Clemson for that.
"I feel like I started making strides at the end of last year. I've been working on my lower half and my mechanics this summer. I've been wanting to stay back a little bit more on the rubber. I've been working on that. I've been working on my core strength. Other than that, I'm working on some timing stuff."
Schmidt's father Dwight is a pilot and colonel in the United States Marines Reserves and has served extended tours in both Iraq and Afghanistan, and Schmidt said that while people might think he gets his fighting spirit from Dwight, he also gets it from his mother, Renee.
"Both he and my mom are incredible people. They raised my brother and I right and I try to do right by them every day," Schmidt said. "The thing is that growing up in that military household and seeing how my dad attacks everything every day, it's embedded in our DNA. You don't want to disgrace anyone. It's all about honor and I would not want to disgrace anyone while I'm going through life by not giving it everything I have. That's what I've taken to heart and I want to live my life to the fullest every day."
Included in the household is Clate's younger brother Clarke, a pitcher for rival South Carolina. Schmidt says that Clarke has been by his side through the treatments and more than supportive, but all the brotherly love doesn't get in the way of a little smack talk. Especially after Clemson took two of three this past season.
"We've been doing that the entire year," he said. "When the series ended, I of course got the first initial jabs a couple of days after. You have let it sink in and then you jab. We've had healthy jabs, but of course I've had the last laugh. It's been a good year and hopefully we can do it again next year."
First day of treatment for the big guy. Ready to kick cancers ass. War ready #SchmidtStrong pic.twitter.com/YU7vVfV8DD

— Clarke Schmidt (@ClarkeSchmidt) June 10, 2015