| | |
| --- | --- |
| Chilly conditions highlight start of baseball practice | |
---
| | |
| --- | --- |
| Saturday, January 25, 2014 2:17 PM | |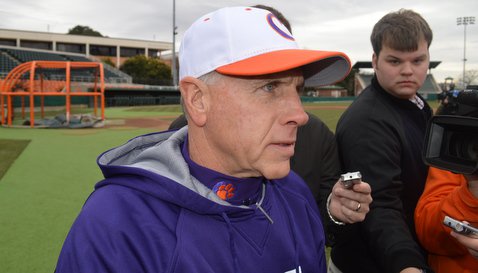 CLEMSON – The sounds of the metal spikes on concrete and the familiar pop of the baseball hitting leather overcame the clouds and cold temperatures as the 2014 Clemson baseball team held its first practice of the season Saturday afternoon at Doug Kingsmore Stadium.
As the Tigers stepped onto the diamond just after lunchtime, Clemson head coach Jack Leggett

Jack Leggett
Baseball Head Coach
View Full Profile said his team would have to overcome the elements of a cold winter day and simply go to work in preparing for the 2014 baseball season.
"We've got some work to do," Leggett told the media Saturday afternoon. "We've got a job on our minds and we've got to put the elements out of it. Obviously, it would've been nice to practice with normal weather, but we've only got three weeks of practice before our first game. Regardless of weather, we've got work to do."
The Tigers, who were picked to finish third in the ACC Atlantic Division by the coaches earlier on Friday, return eight of nine positions starters and 77 percent of their innings pitched from 2013, when Clemson won 40 games and played in the NCAA Tournament.
Among Clemson's top returning players is junior righthander Daniel Gossett

Daniel Gossett
Jr. RH Pitcher
#23 6-0, 180
Lyman, SC
View Full Profile , who had a 10-4 record and 2.56 ERA in 2013. Sophomore lefthander Matthew Crownover

Matthew Crownover
So. LH Pitcher
#44 5-11, 205
Ringgold, GA
View Full Profile also returns after compiling a 7-3 record and team-best 2.19 ERA a season ago.
With Gossett's experience as the Friday night guy, Leggett said having the junior back in the rotation was a huge boost for his team.
"It's a great value. The Friday night guy has a tremendous load to carry on his back," Leggett said. "That added to the fact that he is always facing somebody else's Friday night guy. Everybody else has a Friday night guy too. It's not like we're the only one with a good pitcher on Fridays. It's always going to be a battle and it's always going to be a close ball game. It's always going to be a situation where he's got to pitch well and we've got to play extremely well for us to get a W. But, knowing that he goes out there in the first game on Fridays is nice. We know that he is going to throw strikes, compete and he's got pretty good stuff."
Leggett even went as far to say that the Duncan native would be the Tigers opening day starter in just a little over three weeks.
"He [Gossett] would be our opening day starter if we played today. He's earned it and he's one of those guys that shoulders that responsibility really well," Leggett said.
Shane Kennedy

Shane Kennedy
Sr. Infielder
#11 6-2, 190
Orlando, FL
View Full Profile , who will miss a substantial portion of the season while recovering from a torn ACL that he suffered in the fall, was a Second-Team All-ACC player in 2013 who hit .317 with five homers, 35 RBIs, and 22 stolen bases. Garrett Boulware

Garrett Boulware
Jr. Catcher
#30 6-1, 210
Anderson, SC
View Full Profile led the team in homers (8) and RBIs (45) as well.
In addition to the return of key veterans, Leggett also adds 14 freshmen or red-shirt freshmen to the roster this season, giving him a plethora of options at every position.
"They are always high in my mind. We've got a lot of kids returning," Leggett said. "We've got some good kids coming in. We've got a good sophomore class, a good junior class, and good kids that decided to come back as seniors. Our freshmen are going to make some contributions. At all positions, we've got a mixture of youth, competition, and experiences. That includes infield, outfield, catching, and our pitching staff, so that makes for an interesting start."
The Tigers scored 340 runs in 2013, but struggled at times with offensive consistency. That combined with the new NCAA bat regulations led to the home plate at Doug Kingsmore being moved out; however Leggett doesn't think he nor the fans will see a huge difference this season.
"It seems like 10 feet and it doesn't seem to have made a difference during batting practice when we've been watching and trying to gauge how it looks," Leggett said. "It's not like people are going to go, 'Wow, we are going to have homerun after homerun.' It's not going to be anywhere close to what we were used to in 2010 when the bats were different, but at the same time, there might be a couple of more balls that shoot into the gap or a couple of more balls that skip out. Overall, if you are sitting in our ballpark, you won't even know that the plate has been moved. It really isn't an appreciable difference. If the wind is blowing in at all, it doesn't matter what the dimensions are, it's pretty tough to get a ball out of here."
But, he does think people will take notice of the new playing surface that was installed over the summer.
"I think the playing surface and what we did to improve that during the summer is a tremendous asset to our facility and I think the fans will really enjoy seeing our new field," Leggett said.
The Tigers will open up the season against Eastern Michigan in a three-game series at Doug Kingsmore Stadium from February 14-16.