| | |
| --- | --- |
| Breaking down Baseball's first weekend | |
---
| | |
| --- | --- |
| Monday, February 17, 2014 6:14 PM | |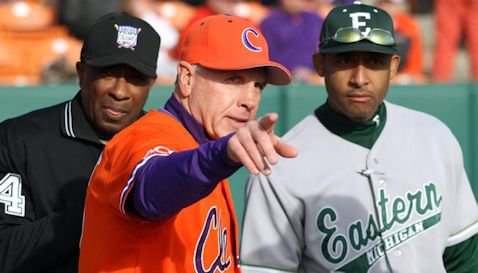 CLEMSON - Not everything went Clemson's way during the opening weekend of the 2014 baseball season, but Jack Leggett learned a lot about his team, including who might be the stars of this year's squad.
The Tigers lost the opener after getting stellar pitching from ace Daniel Gossett, but a rocky sixth inning and 10th inning errors proved too much for Clemson to overcome.
Saturday was a completely different story with starter Matthew Crownover and reliever Zack Erwin combining for 13 strikeouts, while only giving up one earned run and no walks.
The rubber match on Sunday was a back and forth battle that saw big innings from both teams, as well as untimely errors, but a big eighth inning by Jay Baum and the Tigers was the deciding factor in the game and the series.
Despite the weekend's ups and downs, Leggett said his team is proving themselves to be battle ready and not afraid to fight for wins.
"We struggled a little bit in the third inning, but our kids have toughness, too," Leggett said after Sunday's victory. "We had to battle back, relinquished it, got it again, lost it and got back the final time. We showed some resilience too. I liked some of the things I saw. We've just got to get a little better, keep playing. We had four freshmen in the lineup today, so we've still got some youth. Everybody just has to continue to get a little bit better. We had a pretty good weekend."
Extra Hits
Last Week: 2-1
Friday: Clemson 5 – Eastern Michigan 6
Saturday: Clemson 5 – Eastern Michigan 3
Sunday: Clemson 9 – Eastern Michigan 7
Inconsistent pitching: Pitching coach Dan Pepicelli may have the best starting pitchers that he's had during his tenure with Gossett and Crownover. Both pitched almost flawlessly during their Friday night and Saturday starts. Gossett pitched five innings, giving up only one run on four hits, while Crownover struck out nine and gave up four hits during his five innings of work.
Relievers Clay Bates, Zack Erwin, Clate Schmidt and Matt Campbell had solid outing, with only Schmidt coming out of the weekend with an ERA above zero. However, as good as those guys were, several others had a difficult time trying to know the rust off after a long off-season and difficult injuries.
Gossett said after Friday's game that he has full confidence in the entire pitching staff.
Okey impresses: The freshman catcher from Eustis, Florida was ranked third on the list of 2014 catching prospects and was the highest rated player to not sign a professional contract, and he did not disappoint during his first weekend as a Clemson Tiger.
Okey began his Clemson career with a bang with a two-run single to center field, becoming the first freshman in Clemson history to drive in two runs with a hit in the first inning of a season.
The freshman was the designated hitter in the Friday and Sunday games, while getting his first start at catcher Saturday. During the three-game series, Okey was 3-for-12 with a team-high five runs batted in.
Cox making a statement for playing time? One of the unsung heroes from the Eastern Michigan series was freshman Andrew Cox who showed his versatility throughout the weekend – starting the first two games in left field and Sunday's tilt at first base.
Not only did Cox play outstanding defense in both positions – looking more natural as a first baseman – but he also hit .444, going 4-for-9.
Duggar's streak: The sophomore right fielder burst onto the scene last season and has continued his success into the new year.
The Byrnes High School product went 5-for-12 with four stolen basesin the Eastern Michigan series, continuing his streak of 12 straight games in which he has hit safely.
Up Next
Friday: Home vs. Maine at 4 p.m.
Saturday: Home vs. Maine at 2 p.m.
Sunday: Home vs. Maine at 12 p.m.