| | |
| --- | --- |
| Bragging rights are on the line this weekend | |
---
| | |
| --- | --- |
| Wednesday, February 26, 2014 6:16 PM | |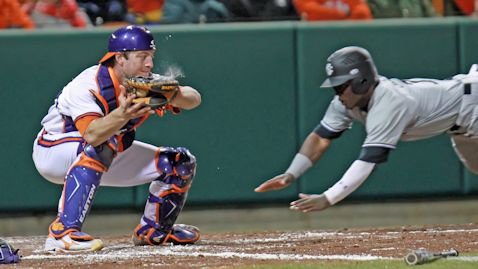 CLEMSON – The battle for bragging rights is about to be renewed, and it's a battle that Clemson has lost repeatedly since 2006.
Clemson and South Carolina renew acquaintances on the diamond again this weekend, facing off in a three-game series that will hold sports fans in the state captive over three days. The series begins Friday night in Columbia, shifts to Greenville Saturday for a game at Fluor Field, and the finale will be held Sunday at Doug Kingsmore Stadium.
The Gamecocks hold the bragging rights currently – they've won 20 of the last 28 games between the two schools since 2006. To make matters worse, many of those wins have come in the postseason when the stakes are at their highest.
Clemson catcher Garrett Boulware

Garrett Boulware
Jr. Catcher
#30 6-1, 210
Anderson, SC
View Full Profile says the Tigers are out to turn the rivalry around, and that the Tigers have had this one penciled in since before the season started.
"It is the same game that it has been the whole time this rivalry has been going," Boulware said Wednesday at Doug Kingsmore Stadium. "We have two good teams this year and I think it is going to be a really fun game. Both teams have a lot of talent and it is going to be good competition to see how we stack up against teams like them this year.
"We have been ready for this day to come so we could focus solely on South Carolina. Everyone looks forward to this series because there is a lot of hype around it and bragging rights that come with it. It is definitely a series that we have been looking forward to."
He then said that this series is all about bragging rights.
"It's not for a standing. It helps in the postseason, but it's not really even for that. It's solely for bragging rights," Boulware said. "That is really all this game is about. It's about pride. It's about saying that we're the better team in the state, and that is all they really care about. They've obviously gotten the better of us the last couple of years, but that's really all this game boils down to. We wanna beat them and they want to beat us.
"This is what you come to Clemson for. These kinds of games right here. This is the reason you don't go to the smaller schools, because you know you will have the fans that are crazy and will be ready to go at each other. It's going to be a crazy atmosphere. That's why this rivalry is the way it is. It is notorious for having crazy outcomes or crazy stories from the fans, even. It's going to be fun. I think it will be a good weekend."
Junior starter Daniel Gossett

Daniel Gossett
Jr. RH Pitcher
#23 6-0, 180
Lyman, SC
View Full Profile will match up against South Carolina's Jordan Montgomery Friday night.
"It's cool, there's no doubt about it. I faced him a couple of years ago and in high school and I have always been on the wrong side of it, so hopefully we can change that," Gossett said. "It's always fun. Everyone is going to be in to it and everyone is invested. Their fans are going to be coming at us and our fans are going to be going at them. That's just how it works. As a competitor, it makes me excited to know that the fans are invested. It's awesome."
For college baseball fans, this is must-see drama as two of the nation's best programs square off.
"I think this is one of the better weekend rivalry series in the country," head coach Jack Leggett

Jack Leggett
Baseball Head Coach
View Full Profile said. "The three venues that we play at are sold out and there are people all over the place. There is a lot of interest from the fans in the state because it is a great intra-state rivalry. That makes it a big deal and we are excited about the opportunities that we have in front of us."