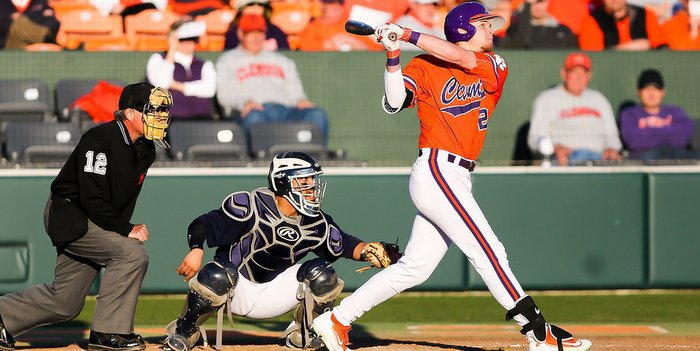 | | |
| --- | --- |
| A kid named Beer, Brew and the start of something special | |
---
Something special is brewing in Clemson, and it starts with the kid they call Brew whose last name is Beer.
Sound confusing? It shouldn't. New head coach Monte Lee thinks his program will be better than many people expect this season, and part of his optimism centers on freshman outfielder Seth Beer, who goes by the nickname Brew.
Beer, or Brew, caught the attention of Clemson fans this past weekend when he hit .273 with a homer and six RBI in the Tigers' season-opening series win over Maine. Beer, rated as the No. 2 high school player in the nation last season, turned down the chance to play his senior season in Georgia and the chance to get drafted by a major league team when he enrolled early at Clemson.
Beer starred at Lambert High School in Suwanee, Georgia, but he was a competitive swimmer who had a chance at an invite to the 2012 U.S. Olympic Swimming Team Trials at just 15 years old. Instead, he chose baseball and many had Beer slotted as a Top 10 pick in next June's amateur draft.
Instead, he chose Clemson, and head coach Monte Lee is glad he did. Beer had the first hit of his career on Saturday, a single on a 3-0 pitch that drove in two runs. Lee was impressed with a player who should be playing his senior year of high school.
"We tell our guys, if you swing on 3-0, you better rattle it off the wall. You can't miss it," Lee said Saturday after that game, in which Clemson defeated Maine 9-4. "That's the kind of hitter he is. He can shrink the strike zone like that, 3-0, and look for one pitch in one spot and absolutely hammer it.
"This guy's going to be special. He's going to play the game of baseball for a long time."
Beer sat in a corner of the team room, listening to his coach's praise with a slightly embarrassed smile.
"Him just being my coach and saying things like that is nice to hear," Beer told TigerNet. "It's a very exciting experience, and all of the work I had to do during the fall to get here makes this a very humbling thing. This is something I am going to treasure the rest of my life."
Beer said the single for the first hit of his career is something he will always remember.
"It's definitely one of those things of getting all of the weight off your back in getting that first hit. Being able to touch first base and then look up in the stands and see my mom and dad in tears," he said. "That shows all of the work I've put in to get here but also all of the sacrifice they've put in to get me here. It's something I will always cherish - the crowd and the screaming and roaring as I'm rounding first base. It's something I will remember the rest of my life. It was a cool experience to look up at my family and all of the people that got me here and know that I can do this."
Beer said he felt relaxed at the plate after getting some advice from veteran catcher Chris Okey.
"I felt some nerves before the Friday night game and Okey came up to me and said it's the same game we've played our whole life and it doesn't change," he said. "Keep playing each at-bat and in the field the same way because the game doesn't change. I look for advice from the older guys in situations like that, just to see how they would handle themselves."
During Sunday's game, Beer turned a 1-2 slider into a grand slam for the first home run of his Clemson career, and he ended the weekend leading the Tigers with six runs batted in.
"It was a 1-2 count and I was looking for something I could square up and hit up the middle and push some runs across. It ended up being a pitch I could get a good swing on and I hit it hard enough where it had a chance to go out. That was a pretty cool feeling," Beer said. "It feels great, but I feel like anybody 1-through-9 in this lineup can do that. In this series I had the opportunity to do that, but in any given series it could be somebody else. When it's not you pump up your teammates to get the job done."
With a name like Beer, headlines and storylines will be fun with the talented Georgian on the Clemson roster, but he told TigerNet he prefers his teammate-bestowed nickname..
"Probably the best one is the one I've gotten here," he said. "I got here and they call me 'Brew.' Brew is probably one of the best ones. I want that one to stick around a little bit. I like that."

Upgrade Your Account
Unlock premium boards and exclusive features (e.g. ad-free) by upgrading your account today.
Upgrade Now