| | |
| --- | --- |
| Zac Brooks: Coming to a living room near you | |
---
| | |
| --- | --- |
| Thursday, November 12, 2015 7:01 AM | |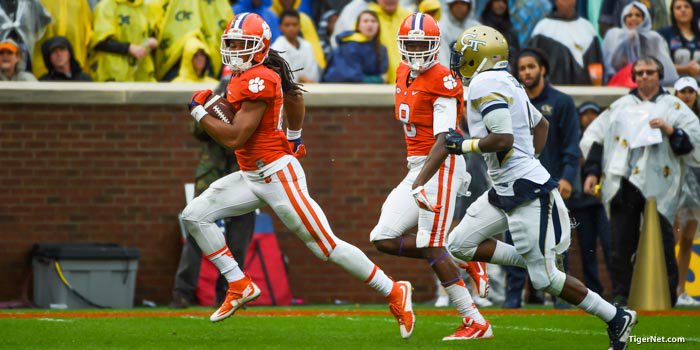 CLEMSON – Zac Brooks is in the living rooms of college football fans across the country on fall afternoons, his athletic artistry providing a comfortable eye-catching backdrop to Clemson's talented offense.
In the very near future, Brooks' artistry might be providing another comfortable and eye-catching backdrop in your own living room as he follows his dream of interior design.
The senior running back out of Jonesboro, Ark., will graduate soon with a degree in interior design. However, he missed all of last season after a foot injury in fall camp and had the option of being listed as a junior this season, giving him a year of eligibility next season. Brooks opted to be listed as senior and told the media this week that he's comfortable with the decision that this season will be his last in a Clemson uniform.
"That is something that I decided a little after fall camp this year. I went and talked to Coach (Dabo) Swinney and I let him know I just want to make this my senior year," Brooks said Tuesday in the WestZone. "I'm graduating this year and I just felt like it was the best decision for me, due to the fact the way my career has been in the past and going forward. No, I'm not going to another school. I'm going to try the NFL. All of this is subject to change, it's just a discussion that I had with Coach Swinney and it's just something that I just wanted to put in for myself as an insurance policy."
Brooks has taken over as the backup to starter Wayne Gallman and has already had his share of big moments this season. He has 24 rushes for 164 yards and three touchdowns and has caught four passes for 66 yards and two scores. His success hasn't changed his mind, however.
"It doesn't make me second guess it at all. If anything, I'm enjoying my time here," he said. "I'm enjoying spending a lot of time with my teammates and I know they can handle it if I leave. I just feel like that is what is best for me. I came back and I want to give this season all that I have. I want to give my teammates all that I have. Throughout the summer, I have and the spring. I just put it all out there to the best of my ability. I just feel like the way my career has gone since I've been here, it would be best for me to move forward."
Clemson's coaches want Brooks to give them another year.
"They definitely want me to stay. It was just something that I feel that was best for me," he said.
"Whatever fate decides for me, I'm just going to go with the flow and roll into whatever I see or whatever I feel. I'm going to pray about it and whatever I feel best is what I'm going to do."
Gallman broke through at the end of last season and charged through the spring and fall camp as the unquestioned starter at running back, and Brooks said he had to learn how to lead from behind.
"Definitely. I dealt with it. Hot Rod (Roderick McDowell) and D.J .Howard, they really helped me because of the back-up roles they had to play. Hot Rod with Andre Ellington and D.J. having situations with his health," Brooks said. "I saw how they were never jealous. He was always a brother and always helpful because he was a team player and those things really had an impact on me. Especially, our coach, we have a brotherhood in our room and those type of influences in your life shows you a lot and lets you grow.
"It wasn't really hard. I was just proud of myself. I realized what was going on and the position I was put in. I felt like I was put in that position for a reason. Everything happens for a reason. God allows things to happen for a reason. I was put in Wayne's life and I was put in the running back's room life to make an impact on those guys and I feel like I have. Everyone has to lead from different aspects. I'm leading from a situation that I'm not used to. I'm used to being out front and showing guys how to do it by my example. Now, I'm put in a situation where I'm coaching and critiquing and trusting another person to do it right. It is really helping me, just to be a brother - leading from the back."
Brooks said his first order of business will be to give the NFL a shot and says he is confident in his abilities but will be at peace when the football part of his life is over.
"Very confident. I'm very confident in anything that I do. I don't regret it. I'll always miss it. Whenever, football is over, I'm going to miss it," Brooks said. "Football is a great game to play. It's a game with many lessons to learn. A game of brothers. A game of teamwork. Football is life if you really dissect it and understand it. If you realize the lessons you learn in football carry over to life. The decision that you have to make and the growth that I have had has helped me in life. I have grown up and become a man.
"This isn't it for football. I'm going to play football as long as I can. But, I have plans after football that I'm very excited about. I love football, hopefully, I can play in the NFL if I get the opportunity, but Interior Design is something that I see as my long-term career."
Once football is over, Brooks plans to stay in South Carolina and pursue his passion – Interior Design.
"I've been playing football since I could walk. But, I've been playing organized football when I was 10 years old - Pop Warner football - in Ft. Lauderdale, Florida," he said. "I played at Tamarack Park in Coral Springs. It depends on how my career path goes with football, but I plan on staying here in South Carolina where I have a lot of connections and where people know me. I think that would be the smartest move to try and build my career.
"It's a "me" thing. It's just something that I love to do. It's an art of its own. I wish I could take you to my room and show you. It's great and I love doing it. I play with apps on my Ipad and it's something I would really love to make a career out of because it's my passion. I will graduate in December. Hopefully, I can get into some kind of Interior Design. I go to school for Interior Design, so I will finish my degree in that. One day, I want to own my own firm and work with arts."
Brooks said that being injured afforded him the opportunity to reflect on his life – his past and his future – and come up with a plan moving forward.
"It's something that I kind of realized last year when I was injured. I had a lot of time to think. I just really wanted to know what is it that I want to do? I came in doing graphic communications and throughout the process, that isn't exactly what I had in mind," he said. "Then, I went to digital production arts and that was great, but it wasn't exactly what I wanted to do. It was just thinking - a come to Jesus moment - just thinking to myself and realizing, what is it that I want to do? You know, I love to decorate the house, design my room. I find myself doing that all of the time. I talked to Jeff Davis and my father and my influences and everyone kept telling me that was a great idea. I guess another thing that influenced me, I heard of this lady who loved scuba diving and she wanted a career in scuba diving and now she is a CSI in scuba diving. If she can do that, anything is possible for me. It's just opened up my mind and it's something that I loved to do."
He is even developing his own style.
"My style - a lot of personalization and creativity. Red, black and grey. That is how my room is," he said. "It's very unique. A lot of people go out and buy posters. I go out and buy canvases and spray paint them. It's hard for me to explain it - it's just different."
Whatever life throws his way, whether in football or life or in the living rooms of the future, Brooks will be ready.
"Preparation is always key," he said with a smile. "You always have to be ready."
Designs by Zac Brooks