| | |
| --- | --- |
| With seven practices remaining, Venables still looking for leaders | |
---
| | |
| --- | --- |
| Thursday, March 26, 2015 9:45 AM | |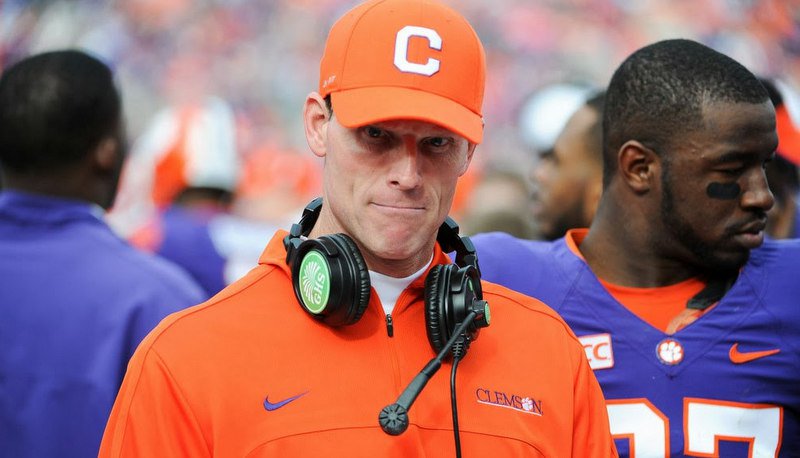 CLEMSON – Brent Venables

Brent Venables
Def. Coordinator / Linebackers
View Full Profile must replace eight starters off of the nation's number one defense, but more importantly he has to replace the team leadership.
Players like Vic Beasley

Vic Beasley
Defensive End (2010 - 2014)
#3 6-2, 236
Adairsville, GA
View Full Profile , Grady Jarrett

Grady Jarrett
Defensive Tackle (2011 - 2014)
#50 6-0, 290
Conyers, GA
View Full Profile , Stephone Anthony

Stephone Anthony
Linebacker (2011 - 2014)
#42 6-3, 245
Polkton, NC
View Full Profile , Tony Steward

Tony Steward
Linebacker (2011 - 2014)
#7 6-, 235
Hastings, FL
View Full Profile , Robert Smith

Robert Smith
Safety (2011 - 2014)
#27 5-11, 215
St. George, SC
View Full Profile and Garry Peters

Garry Peters
Cornerback (2010 - 2014)
#26 6-0, 194
Conyers, GA
View Full Profile were the heart and soul of the defense and the team. They were the guys that led on the field, that the younger players turned to and the ones that led offseason workouts.
Who is going to step up and take on that role? Will it be B.J. Goodson

B.J. Goodson
RS Sr. Linebacker
#44 6-0, 240
Lamar, SC
View Full Profile , Ben Boulware

Ben Boulware
Jr. Outside Linebacker
#10 6-0, 235
Anderson, SC
View Full Profile , Shaq Lawson

Shaq Lawson
So. Defensive End
#90 6-3, 269
Central, SC
View Full Profile , Jayron Kearse

Jayron Kearse
Jr. Safety
#20 6-4, 210
Fort Myers, FL
View Full Profile , or Mackensie Alexander

Mackensie Alexander
RS So. Cornerback
#2 5-10, 190
Immokalee, FL
View Full Profile ?
Clemson's defensive coordinator plans to find out this spring.
Venables told the media after Clemson's first stadium scrimmage there are several things he must figure out during the Tigers remaining seven practices – who is dependable enough to run out with the first group and who will step up and lead the defense on the field and on the sideline.
"Find out what guys can do and what they can't do – who is consistent, who you can count on, who your leaders are," Venables said Wednesday evening. "Try to develop chemistry. Give the young guys who maybe redshirted a year a go, giving them an opportunity. Switching some guys in the first group that go out - we switched a safety up, a backer up, a corner up to give some other guys some opportunities to see if they can have the same kind of success they're having with the second group with the ones and vice versa."
With Clemson's recruiting over the last few years, replacing great players with great players is an easy task, but for Venables finding out who will be the face of the defense when adversity strikes is far more daunting.
"We'll see who those guys are. Leaders - you've got to earn that. You can't anoint guys leaders just because you're a senior or you're a returning player," Venables said. "A leader means you're a good leader. There are good leaders and not so good leaders and then there are great leaders. We had great leadership, so we're trying to bring guys along."
It all starts with how they handle practice and how they perform when they're not on the field during scrimmages.
"A lot of the post practice talk and post scrimmage talk is how to be a good leader - how to handle adversity, how to know situations, how to communicate, what kind of demeanor to have on the sideline, owning failures or when there is a bust, how to communicate with your teammates on the sideline, get off a knee, stay off the bench. That's leadership. Good or bad," Venables said. "Maybe you get a call in late, are guys handling that well? Maybe you demote somebody in the middle of the drive. How do they handle that? A guy that you call a good leader is going to correct the mistake and come over and tap you on the shoulder and say, 'Hey coach, I got that. Please put me back in.' The bad leaders are going to go over and pout and feel bad for themselves.
"That's what you love about practice and game simulation. You get a lot of those opportunities as a coach to foster and develop it, identify it, correct it, find out a lot about guys and judge it over the long haul. Everybody has a bad day - coach and player. It's not going to be perfect ever. At the end of the day with our ones, there was a lot I thought you could feel good about. Then some little things we need to correct."
With so much uncertainty after the departure of so many key components off of the 2014 squad, Venables said he's paying attention to everything his players do – on and off the field to find out just who he can trust.
"We're having to grade every practice and keep track of that more closely when you have some uncertainty so that after 10 or 12 practices and after spring we can really quantify a depth chart and quantify and recognize performance and not just potential," he said. "Mixing and matching to find out who can play competitive football and who can play winning football for us."

Tags:
Brent Venables
,
Vic Beasley
,
Garry Peters
,
Grady Jarrett
,
Robert Smith
,
Tony Steward
,
Stephone Anthony
,
B.J. Goodson
,
Shaq Lawson
,
Ben Boulware
,
Mackensie Alexander
,
Jayron Kearse