| | |
| --- | --- |
| Wednesday update: Byers moves to OL, Reader sits and Dabo talks Pharrell | |
---
| | |
| --- | --- |
| Wednesday, October 8, 2014, 8:04 PM | |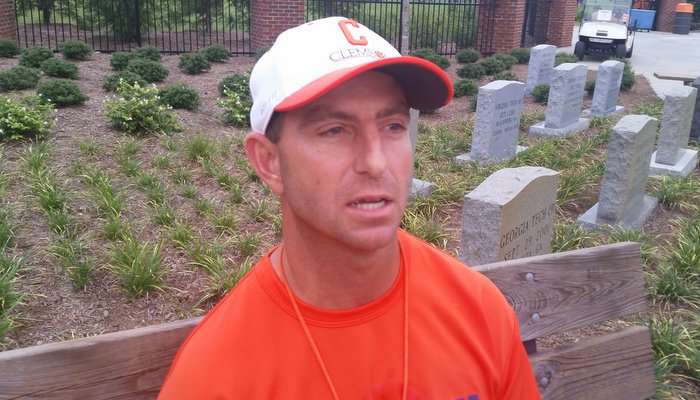 CLEMSON – Clemson's thin offensive line got a boost Wednesday with the news that defensive lineman Roderick Byers

Roderick Byers
RS Jr. Defensive End
#55 6-3, 284
Rock Hill, SC
View Full Profile was moving to the other side of the ball.
Byers, a redshirt junior out of Rock Hill, has played in three games and logged 31 snaps this season, recording four tackles.
The Tigers lost two offensive linemen to either injury or illness last week, and while Byers won't be able to help in a game just yet, Swinney said it will help in the long run.
"Some breaking news, we moved Rod Byers to o-line. He doesn't know a whole lot," Swinney said after Wednesday's practice. "Athletically, on the hoof, I think it's a great move. It's a move I wish we would've made earlier. He wasn't really fired up about doing it but I think he's taking advantage of his opportunity now. I think it's a move that will really pay off for us as we move through this season and also into next year. We've got him in number 70 out there."
Swinney said the move makes sense because Byers isn't a stranger to the offensive line.
"He's played some offensive line. He primarily played defensive line but he's not like Tyler Shatley

Tyler Shatley
Offensive Guard (2009 - 2013)
#62 6-3, 295
Icard, NC
View Full Profile ," he said. "Shatley had never played offensive line but Rod has, so he's got an understanding. It really is a great move for our team and for him. We'll see where it takes us."
Another person making a "position change" Wednesday was defensive coordinator Brent Venables

Brent Venables
Def. Coordinator / Linebackers
View Full Profile .
"We've had three different quarterbacks because Coach V [Brent Venables] got in there today and ran two periods at quarterback," Swinney said. "He wanted to sling it around and run it at his tempo. I'm not sure how much it prepares us with Coach V working at quarterback but there was a high sense of urgency."
OTHER NOTES
Injury news
" Ben Boulware

Ben Boulware
So. Outside Linebacker
#10 5-11, 235
Anderson, SC
View Full Profile looks good. Tony Steward

Tony Steward
Sr. Linebacker
#7 6-1, 236
Hastings, FL
View Full Profile is much better but it's just Wednesday. He's not ready to play today. If he can continue to make the type of progress that he's making, hopefully he'll be ready. Boulware has looked good in practice and so has Kellen Jones

Kellen Jones
RS Jr. Linebacker
#52 6-1, 233
Houston, TX
View Full Profile . Charone Peake

Charone Peake
RS Jr. Wide Receiver
#19 6-3, 204
Moore, SC
View Full Profile is still limited right now and is sore from a shot he got on Sunday. He's still a little sore from that. Cole Stoudt

Cole Stoudt
Sr. Quarterback
#18 6-4, 231
Dublin, OH
View Full Profile looks good."
Joe Gore

Joe Gore
RS Jr. Offensive Tackle
#73 6-5, 283
Lake Waccamaw, NC
View Full Profile
"It (appendectomy) was laparoscopic. We got some good news on him today. His doctors said he should be able to practice next week. We've got to put a plan in place for what he can do for the rest of the week. Hopefully he'll be able to practice next week and gets some snaps against Boston College, that's what the doctor's report was."
Wayne Gallman

Wayne Gallman
RS Fr. Running Back
#9 6-1, 209
Loganville, GA
View Full Profile earning starting RB job
"That's why we started him last week. Our confidence has grown in him as we've seen his confidence grow in what he's doing. He did a nice job last week and that's something we hope to build on."
D.J. Reader
D.J. Reader
Jr. Defensive Tackle
#48 6-2, 322
Greensboro, NC
View Full Profile suspended last week
"We did not play him last week. Just team rules. We sat him but he's back at it this week. It was just team rules and every now and then you have to get their attention a little bit."
On his participation in the Pharrell Williams "Happy" video
"I did that this summer. They just now released that? I didn't know the first line. They had to teach me the first line. I just knew 'a room without a roof' and I knew 'happy, happy, happy.' That was something we did this summer for the Alumni Association. Pharrell ain't got nothing on me. I didn't even know who Pharrell was until our bowl game. That's how sad that is. We stayed at the Fountain Bleu and he was performing and everybody was talking about Pharrell and I'm like, 'Who's Pharrell?' Literally like a month later, that song hits and I'm like, 'Hey, I know that guy!'"

Tags:
Tyler Shatley
,
Joe Gore
,
Charone Peake
,
Roderick Byers
,
Tony Steward
,
Cole Stoudt
,
D.J. Reader
,
Kellen Jones
,
Wayne Gallman
,
Ben Boulware
,
Brent Venables