| | |
| --- | --- |
| Wednesday scrimmage news and notes | |
---
| | |
| --- | --- |
| Wednesday, April 8, 2015 7:54 PM | |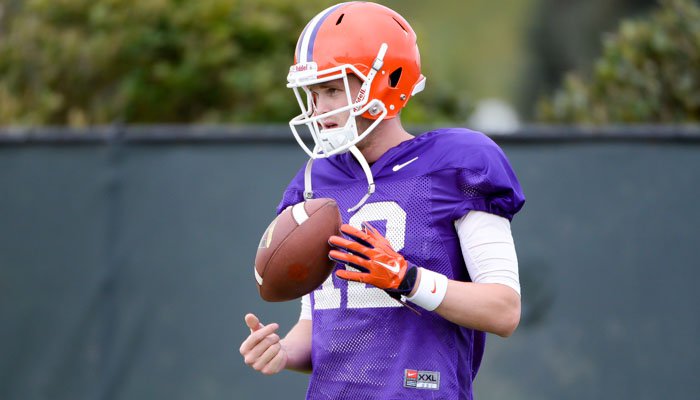 CLEMSON – The first team defense went against the second team offense – and vice versa – as the Clemson football team held another full-scale scrimmage Wednesday afternoon in Death Valley. The next time the Tigers take to the field in the stadium will be in Saturday's spring game.
Head coach Dabo Swinney

Dabo Swinney
Head Coach
View Full Profile said the rosters have already been filled out for both teams – Orange vs. White – and the "head coaches" for the two teams will be defensive coordinator Brent Venables

Brent Venables
Def. Coordinator / Linebackers
View Full Profile and offensive line coach Robbie Caldwell

Robbie Caldwell
Assistant Coach / Offensive Line
View Full Profile .
Swinney said Saturday's spring game will be competitive.
"This will be a very competitive spring game," he said. "Very balanced on both sides, just because we have 15 mid-years. I think it's good to create that game-like atmosphere as best you can. I think that is good for their growth and to see how they perform under the lights. We are performing under the sun but it's the same thing. We are going to do live kicking situations and we have some return guys we need to find out a little bit about. And we have some young guys from a coverage and protection standpoint that we need to put a little pressure on."
Other notes
Kick return and punt return
*Swinney said if the season started today it would be running back Wayne Gallman

Wayne Gallman
RS So. Running Back
#9 6-1, 205
Loganville, GA
View Full Profile and safety T.J. Green

T.J. Green
Jr. Safety
#15 6-3, 205
Sylacauga, AL
View Full Profile as the primary kick returners, with C.J. Fuller

C.J. Fuller
RS Fr. Running Back
#27 5-9, 215
Easley, SC
View Full Profile throwing his name in the mix. At punt return, he raved about wide receiver Germone Hopper

Germone Hopper
RS Jr. Wide Receiver
#5 5-11, 175
Charlotte, NC
View Full Profile but said Artavis Scott

Artavis Scott
So. Wide Receiver
#3 5-10, 190
Oldsmar, FL
View Full Profile will also get a look. He then mentioned that incoming freshman Ray-Ray McCloud

Ray-Ray McCloud
Fr. Wide Receiver
# 5-9, 175
Land O' Lakes, FL
View Full Profile is "dynamic" and will get a look in fall camp.
Blocked field goal
*Defensive tackle Carlos Watkins

Carlos Watkins
RS Jr. Defensive Tackle
#94 6-3, 295
Mooresboro, NC
View Full Profile blocked a field goal during the scrimmage – the second week in a row one has been blocked – and Swinney said the field goal protection is a concern.
"It really is, because I don't have Kalon Davis and David Beasley in there," Swinney said. "They can't get a sixth year. But we are mixing and matching and trying to find the right guys in that spot. It's a thankless job."
Tony Elliott

Tony Elliott
Co-OC / Running Backs
View Full Profile
*Co-offensive coordinator Tony Elliott said the first team moved the ball and made plays in the passing game and the running backs hit some big runs.
-Elliott also said that the second-team offensive line went against the first team defense some. Afterwards, the offensive line had to run the hill and could be seen doing crunches at midfield.
* Elliott has been most pleased and surprised with the performances of OL Tyrone Crowder

Tyrone Crowder
RS So. Offensive Guard
#55 6-2, 330
Marston, NC
View Full Profile , OL Eric Mac Lain

Eric Mac Lain
RS Sr. Offensive Tackle
#78 6-4, 305
Hope Mills, NC
View Full Profile and the football knowledge of running back C.J. Fuller. He has also been pleased with the progress of wide receiver Trevion Thompson

Trevion Thompson
RS Fr. Wide Receiver
#1 6-2, 195
Durham, NC
View Full Profile .
Ebo
*I got to spend some time talking with defensive end Ebenezer Ogundeko

Ebenezer Ogundeko
RS So. Defensive End
#1 6-3, 250
Brooklyn, NY
View Full Profile – he told me he has been playing more strongside defensive end (behind Kevin Dodd

Kevin Dodd
RS Jr. Defensive End
#98 6-5, 275
Taylors, SC
View Full Profile ) in camp and has been learning the ropes. He also said he weighs in at 256 pounds and thinks that is a good playing weight. When I asked what he has been doing to stay consistent he surprised me – Yoga. He said he tries to do it two or three times a week and that former quarterback David Olsen got him started.
Artavis Scott
Scott is a different kind of cat, and I asked him when it "clicked" for him last season.
"I came in confident and knowing that I could play this game," he said. "If you have doubts you won't succeed."
When I asked if he had goals or what he wanted to do better than last year, he reply was simple: "I just want to get better. Last year's stats won't win games this year."
Quarterback play
* Nick Schuessler

Nick Schuessler
RS Jr. Quarterback
#12 6-3, 195
Grayson, GA
View Full Profile will play for both teams on Saturday. Quarterbacks Kelly Bryant

Kelly Bryant
Fr. Quarterback
#2 6-4, 205
Calhoun Falls, SC
View Full Profile and Tucker Israel

Tucker Israel
Fr. Quarterback
#10 5-11, 190
Orlando, FL
View Full Profile will stay on separate teams. Swinney says that the two freshmen have been sponges and are greatly improved.
Young receivers
Tony Elliott talked about the young receivers.
"Trevion has done a really, really good job. Over on scout team, you don't get as many reps, but he's done a good job of picking up the playbook. He's made strides. Shadell has had that wide eyed look at little bit but you see the natural ability. He's caught about every ball that's been thrown his way, but getting him to be consistent about his assignments is the big thing but that will come this summer."

Tags:
Kalon Davis
,
Reid Webster
,
Eric Mac Lain
,
Nick Schuessler
,
Kevin Dodd
,
Germone Hopper
,
Carlos Watkins
,
Wayne Gallman
,
Tyrone Crowder
,
Ebenezer Ogundeko
,
T.J. Green
,
C.J. Fuller
,
Trevion Thompson
,
Artavis Scott
,
Kelly Bryant
,
Ray-Ray McCloud
,
Tucker Israel
,
Brent Venables
,
Robbie Caldwell
,
Tony Elliott