| | |
| --- | --- |
| Wednesday night practice report: McCullough is back | |
---
| | |
| --- | --- |
| Wednesday, September 9, 2015 7:51 PM | |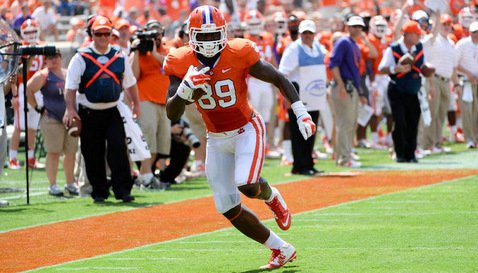 CLEMSON – The Clemson football team has one practice left in preparation for this Saturday's home matchup with Appalachian St., and it looks like most of the team is full-go.
Head coach Dabo Swinney

Dabo Swinney
Head Coach
View Full Profile met with the media following Wednesday's practice – a practice that was moved indoors because of rain in the area – and he smiled and said he isn't worried about wide receiver Germone Hopper

Germone Hopper
RS Jr. Wide Receiver
#5 5-11, 175
Charlotte, NC
View Full Profile filling in for Mike Williams

Mike Williams
Jr. Wide Receiver
#7 6-4, 213
Vance, SC
View Full Profile .
"He's had a good camp, not just this week. He did fine the other day," Swinney said. "He had a couple of plays. The biggest thing is he's just got to be an every down player instead of our pick our spot player; he needs to be an every down guy. He's tough. We don't have a tougher kid on the team than G-Hop. He's passionate about it. He's grown up. He's one of the guys that has to step up and play big, and I expect him to."
On the injury and suspension front, the news was mixed. Tight end Stanton Seckinger

Stanton Seckinger
Gr. Tight End
#81 6-5, 238
Isle of Palms, SC
View Full Profile (knee) will play, as will Jay Jay McCullough

Jay Jay McCullough
RS Jr. Tight End
#89 6-3, 249
Fort Mill, SC
View Full Profile (suspension). Defensive end Chris Register

Chris Register
RS Fr. Outside Linebacker
#45 6-2, 248
Browns Summit, NC
View Full Profile (shoulder) will be held another week. Center Ryan Norton

Ryan Norton
RS Sr. Offensive Line
#58 6-3, 284
Simpsonville, SC
View Full Profile suffered an unknown injury at the end of practice.
"Stanton is fine, and Ryan was fine all day. He kind of came out right there at the end," Swinney said. "Hopefully, he's still okay. He practiced all day, so I don't know if he was a little sore or what. Register, I didn't mention him yesterday, but he's still not ready. We're taking our time with him and really strengthen his trap (trapezius muscle). We've got to build that trap back up. He's still got a little bit of pain when he does some benching and stuff, so he's still not ready. We're hoping for the open date with him, so we'll see where he is and reevaluate him at that point. He's not ready to play."
Swinney said that McCullough – who hasn't played since last October 25th against Syracuse – will return this week.
"He's out of the doghouse. He earned his way in there, but he's earned his way out," Swinney said. "I'm happy for him. His attitude has been good, and he's worked really hard. I'm excited to see him back out there."
Williams suffered a neck injury on the opening drive of last Saturday's win over Wofford, and Swinney said that the Tigers' athletic tight ends can help pick up the slack.
"We've got plenty of guys. We've got the ability to formation however we want to formation. We don't have to change positions," Swinney said. "We just create formations. (Jordan) Leggett is a guy that as we get through the season and get people playing man-to-man, we're going to see that, because people aren't just going to line up and play soft coverage on us all day. We're going see people who are going to challenge us and play man-to-man coverage. They're going to try to stop the run, and that's when our passing game has to be at its best. We have to be able to win matchups, and Jordan, Seck (Stanton Seckinger) and Jay Jay, those guys will be huge in winning some of those one-on-one battles."
Swinney ended the interview by sending his best wishes to Appalachian St. linebacker Devan Stringer, whose 11-day old daughter passed away earlier this week.
"The backer there at Appalachian State lost his daughter at 11 days old. He's a close friend of Deshaun's, and our prayers and condolences go out to him and his family," Swinney said. "That's not something I think any of us want to put ourselves in that situation when you think about losing a child like that. I know he has an incredibly heavy heart, and we want to lift him up and offer our prayers and support."