| | |
| --- | --- |
| Wed practice notes: Young defensive backs beginning to step up | |
---
| | |
| --- | --- |
| Wednesday, March 12, 2014 7:19 PM | |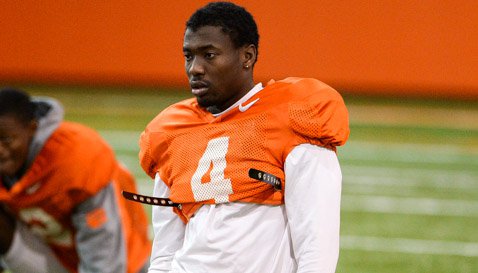 CLEMSON – College head coaches don't spend a lot of time building up young players, but Dabo Swinney

Dabo Swinney
Head Coach
View Full Profile took a step away from the norm Wednesday evening in talking about the Tigers' crop of younger players.
Swinney, speaking to the media following Clemson's last practice before spring break, said he was especially impressed with how the young players in the secondary have begun to catch his eye.
"We have a lot of young guys that are going to help our football team. MacKensie Alexander

MacKensie Alexander
RS Fr. Defensive Back
#2 5-11, 185
Immokalee, FL
View Full Profile jumps out at you. Every day he gets after the ball," Swinney said. "I really only got to watch him one practice last year. Adrian Baker

Adrian Baker
RS Fr. Cornerback
#21 6-1, 170
Hollywood, FL
View Full Profile is another. Technique-wise, he is as good as anybody we've got. Every day he's getting an interception. Same thing with Marcus Edmond

Marcus Edmond
RS Fr. Defensive Back
#29 6-1, 180
Hopkins, SC
View Full Profile . Maybe one of the best moves we've made is T.J. Green

T.J. Green
So. Athlete
#82 6-2, 189
Sylacauga, AL
View Full Profile (to safety). He's different. We don't have many guys that move like he moves. He has a chance to be something else at safety. He still has a lot to learn, but he's fast and he's taken to it."
Swinney said that while Alexander has talent, it is his willingness to compete that will set him apart.
"A lot of guys have talent. It's the competitive fire," he said. "It's the will to get better. His willingness to study. His willingness to learn from his mistakes. He's just very engaged in the process. He's focused on being a great player. He's hungry and he competes every snap. When you have a player that has that drive, most of the time they are going to be pretty good. He doesn't say a thing, but he competes every snap and his demeanor never changes. That is very encouraging, and I love where he is right now. He will get beat and make a mistake and he doesn't flinch. He just reloads."
Other notes
On Wednesday being a "live" practice
"Well that was a fun day. A lot of fun. That was the first time we've done a lot of significant live work. I like how they played today and I like how they competed. Everything is about ramping up to that first scrimmage. A lot of first down work, second down work, third down, some fourth down stuff. But the guys are really competing hard.
"I didn't see a lot of missed tackles or anything like that. I thought the guys did a good job. Wayne Gallman

Wayne Gallman
RS Fr. Running Back
#9 6-1, 195
Loganville, GA
View Full Profile was awesome. He was outstanding today, other than he put the ball on the ground one time. Defensively, we gave up a couple of big plays, two plays in a row where we just weren't where we needed to be."
On the offensive line
"I am excited about what's going on. We are forcing guys to get out of their comfort zone. We are really straining Joe Gore

Joe Gore
RS Jr. Offensive Tackle
#73 6-4, 275
Lake Waccamaw, NC
View Full Profile , Shaq Anthony

Shaq Anthony
RS Jr. Offensive Tackle
#76 6-3, 265
Williamston, SC
View Full Profile , Kalon Davis

Kalon Davis
RS Sr. Offensive Guard
#67 6-5, 330
Chester, SC
View Full Profile and Eric Mac Lain

Eric Mac Lain
RS Jr. Offensive Line
#78 6-3, 260
Hope Mills, NC
View Full Profile in particular. Tackle is where we have to find somebody and we are going to have a lot of competition in camp."
Ammon Lakip

Ammon Lakip
RS Jr. Kicker
#36 5-10, 185
Alpharetta, GA
View Full Profile
"It really started last season with him. It was like he knew his time was coming. He was phenomenal to finish the year and he has picked that right up. I am really proud of Ammon Lakip and the five days he has had. He has done it all. He has hit 50-something yarders, short ones, right hash, left hash. He has been very consistent and I've been very pleased with him. He has only missed one kick, a 53-yarder, and he just mishit it. And then we did it again, and he had it."
On the wide receivers
"They have been really good. G-Hop had his best day today, which is good because he has been very average. He was electric out there today. Mike Williams

Mike Williams
So. Wide Receiver
#7 6-5, 205
Vance, SC
View Full Profile has been inconsistent. Technically, he has to improve and play big. We have some work to do there with him. Adam Humphries

Adam Humphries
Sr. Wide Receiver
#13 5-11, 190
Spartanburg, SC
View Full Profile has been by far our best guy. Very encouraged with those three young guys. Kyrin (Priester) made a couple of great plays today, and you can't help but notice Artavis (Scott). And Demarre Kitt

Demarre Kitt
Fr. Wide Receiver
#8 6-1, 195
Tyrone, GA
View Full Profile is the total package. Those three have gotten better all five days."

Tags:
Adam Humphries
,
Adrian Baker
,
Ammon Lakip
,
Demarre Kitt
,
Joe Gore
,
Kalon Davis
,
Mackensie Alexander
,
Marcus Edmond
,
Mike Williams
,
Shaq Anthony
,
T.J. Green
,
Wayne Gallman