| | |
| --- | --- |
| Watson, Oglesby showcase talents at Byrnes 7-on-7 tourney | |
---
| | |
| --- | --- |
| Monday, June 17, 2013 9:34 PM | |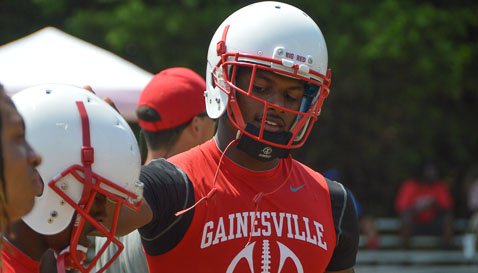 DUNCAN, SC – The annual Byrnes 7-on-7 passing tournament usually brings in many of the region's top talent, and this past Saturday's event was no exception as schools from around the area – and even New Jersey – participated in the tournament.
Included among the attendees were four Clemson commitments and a few others that the Tigers are recruiting, and TigerNet was on hand to check out the action.
The biggest name from a Clemson perspective was 2014 quarterback commit Deshaun Watson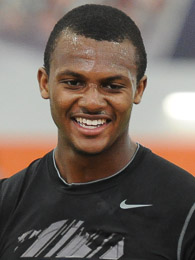 Deshaun Watson
Quarterback
6-3, 190
Gainesville, GA
View Full Profile out of Gainesville, Ga. Whenever Gainesville would take the field, there were always a ton of interested onlookers. In many ways, observing Watson in that type of environment is better than watching him work out at Dabo Swinney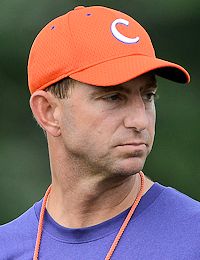 Dabo Swinney
Head Coach
View Full Profile 's high school camp, where he had spent the previous two days.
Watson told us on the last day that he had been throwing - a lot – for 10 straight days and that his arm was tired. That tiredness didn't hurt his accuracy, however, and his mechanics looked spot for most of the event.
Two separate plays on Saturday highlight his maturity as a quarterback. The first came in the next-to-last game when he locked in on a receiver to his left side, drawing the coverage to that of the field. Once the coverage shifted and covered that receiver, he whipped his head to the right and threw a strike to a receiver cutting across the middle for points.
The second came in the last game when he did much of the same thing – he locked on to a receiver on one side of the field, and once the coverage took the bait he went over the top for a quick-strike touchdown to one of his receivers. You have to like the way that he doesn't stare down receivers or make too many throws into coverage – he threw one into triple coverage that would have been better had it not been thrown – but he still completed the pass because he put it on the money.
One word of caution, however, for those who put all of their faith into stats – Watson may not have the kind of year this year that he had last season when he led Gainesville to the state championship. Gainesville lost playmakers off of that squad to graduation, and Watson is still trying to find his way with a young group of receivers.
Several times on Saturday Watson put the ball right on the money, only to have it dropped. There were also a few instances where he threw to a spot and the receiver wasn't there. Watson turned and looked at the coaches like, 'What else can I do?' If his stats go down or the team doesn't meet the standard of last year's team, you could hear whispers from the doubters who will say Watson is over-rated or resting on his laurels. Not a chance. One Byrnes coach looked at me after Watson's last game and said what we all already knew – if Watson had the receivers that Byrnes has, he would have been the best player there, hands down.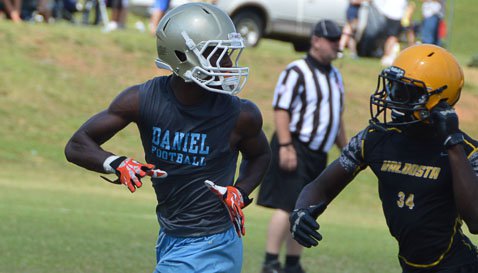 *Jae'lon Oglesby, Daniel, 2014 RB commit – It was good to see Oglesby in a different light at the 7-on-7, where he could showcase his receiving skills. It looked to me like he had gained a few pounds since the end of last season, and it's all good weight.
The Daniel coaches didn't try to get too fancy with Oglesby's patterns – he would line up in the slot or in the backfield and then do simple out cuts or drop into the middle or the flats. However, he would extend the pattern to the sideline when Daniel needed a score, and it was hard for defenders to stay with him 1-on-1.
It always amazes me how well he sees the field and can avoid tacklers. As one Daniel coach told me, he sees what is going to happen before it happens and makes the cut or the spin at the right time. When he gets to Clemson, it looks like he will be able to line up in the backfield as a running back or go out into the slot where he can create a mismatch for a bigger safety or a linebacker.
In Daniel's ground-oriented offense, he isn't asked to catch the ball a lot, but he showed great hands on Saturday.
* Judah Davis

Judah Davis
Linebacker
6-2, 215
Central, SC
View Full Profile and J.D. Davis

J.D. Davis
Linebacker
6-2, 215
Central, SC
View Full Profile , Daniel, 2015 LB commits – I was switching up between fields to watch different players, and I didn't get a lot of time to watch Jeff Davis' sons in actions.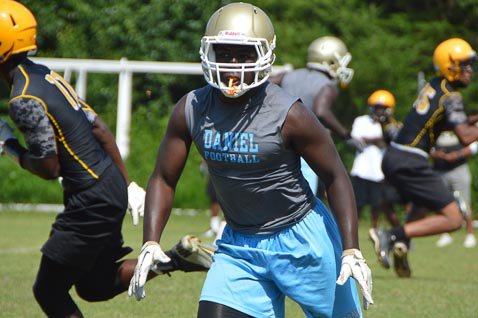 I saw both of them before one of the games and was actually surprised at how big they both are, and Daniel's coaches tell me that neither one of them is done growing. They are both very young for their class, and are smart football players who understand where to be on the field.
In the limited time I did get to watch them, I was impressed with how well they got up the field and how good they looked in getting straight up the field. If they continue to grow and maintain that kind of aggressiveness going up the field, it wouldn't surprise me in the least to see one or both move to a defensive end spot before all is said and done.