| | |
| --- | --- |
| Walker says pain of losses to Jackets in 2008 and 2009 still vivid | |
---
| | |
| --- | --- |
| Wednesday, October 26, 2011 4:31 PM | |
CLEMSON – Landon Walker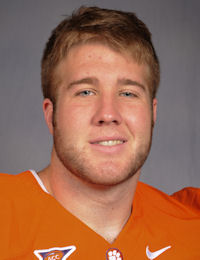 Landon Walker
Gr. Offensive Tackle
#72 6-6, 305
North Wilkesboro, NC
View Full Profile remembers the pain. He remembers the phantom holding call, and he remembers the feeling of having oranges thrown at him as he tried to make his way to the Clemson locker room.
Both incidents took place in 2009, the former in Clemson's 30-27 loss at Georgia Tech in the second game of the season, and latter following the ACC Championship Game loss to the Yellow Jackets in Tampa.
Both still hurt, and he says for that reason alone he and other players who were around in 2009 for those games won't let the younger players slack off this week or overlook a Tech team that has lost two games in a row. The memories are still too fresh.
Walker said he even remembers the 2008 Clemson-Tech game in which another holding call cost the Tigers a win, and his goal for 2011 is to not let that happen again.
"You don't ever want it to come down to where a holding call determines if you win or lose, and that is what it has come down to," Walker said this week. "We have had holds that have stopped big drives, and the big thing is this – we don't want it to come down to one play. If it does, you don't want that to happen. You don't want the game to come down to one play. Take care of business early."
In 2008, Thomas Austin

Thomas Austin
Offensive Line
# 6-4, 285
Camden, SC
View Full Profile 's only holding penalty of the season nullified a 27-yard, fourth-and-12 grab by Jacoby Ford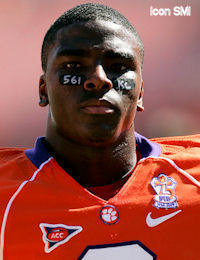 Jacoby Ford
Wide Receiver
#6 5-9, 175
Royal Palm Beach, FL
View Full Profile to Georgia Tech's 26-yard line. The Jackets held on to win, 21-17.
In 2009's Thursday night contest – with the score tied at 27 - Ford again brought down a clutch grab, this one a 39-yarder with about three minutes left that seemingly had set the Tigers up in field goal range at Georgia Tech's 18-yard line. But again Austin's holding penalty, his first since - you guessed it – the 2008 Georgia Tech game - ended Clemson's last best chance for victory in the loss.
"It happened twice to us, and I couldn't believe it," he said. "The one at Georgia Tech in 2009, I was running down the field because I was excited and I thought he had made the catch. Then I saw the flag, and it just took the wind right out of us. It hurt. It hurt in the locker room, and it was just a sick feeling. I thought that if I had anything to do with it, it wouldn't happen again.
"Both were questionable calls. One guy maybe would have made that call while another guy probably wouldn't have made them. You just don't know. But both left us with that same kind of feeling. Those were awful, and it takes the wind right out of the team. Especially when you think you have the opportunity to go down and win there at the end."
The Tigers had a shot at redemption in the ACC Championship Game in Tampa a few months later, but despite the best efforts of C.J. Spiller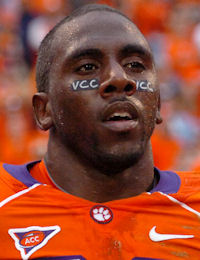 C.J. Spiller
Pro Running Back
#28 5-11, 195
Lake Butler, FL
View Full Profile and the offense, the Jackets claimed the berth in the Orange Bowl while Clemson was relegated to the Music City Bowl.
Walker remembers the pain of having to walk off the field as celebrating Georgia Tech fans and students took sadistic pleasure in throwing oranges at Clemson players and coaches as they tried to exit the field and get to the locker room.
"I can't even begin to describe how I felt walking off the field and having those oranges thrown at me," he said. "It's like you are an inch from being at the top, and then not making it. I thought we had it, especially when we scored at the end of the game. I thought we had it won. I thought we could stop them one time."
Clemson beat Tech 27-13 in Death Valley last year, but Walker says that win doesn't even begin to quell the hurt, and compares the losses of 2008 and 2009 to being gut shot.
"Last year, we weren't in the position we are in this year. If they were to beat us this year and stop everything good that we have been doing, it would be like being gut shot again," he said. "I think if we can go in there and beat those guys at their place and make a statement, then that is more redemption for us."
Walker said his feelings for the Jackets are pretty simple – he doesn't like them.
"Basically, that just says it all," he said. "We don't like them at all, especially after the championship game a couple of years ago. Those are things you don't forget. You don't forget about losing to teams in games where you feel like you are supposed to win. No matter if we beat them last year, I am still out for them every time. Even the coaches who have been through it take it personal, the guys that have been gut shot."
It all adds up to one thing, he says.
"Go in there and do your job, and don't put yourself in a position to let that one play beat you."