| | |
| --- | --- |
| Venables talks position battles at safety and corner, talks Georgia run game | |
---
| | |
| --- | --- |
| Monday, August 18, 2014 2:01 PM | |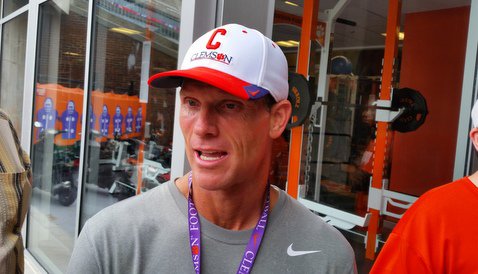 CLEMSON – The Clemson football team practiced in Jervey Meadows again Monday morning, taking reps under cloudy skies for most of the session and then a rain shower as practice ended.
The Tigers scrimmaged Saturday inside of Death Valley, a scrimmage in which the defense held the offense in check at the beginning, but Venables said he doesn't pay too much attention to one scrimmage, preferring to look at the entire body of work in fall camp.
"Saturday was just one day of two weeks. It was really just another opportunity to practice," Venables said after Monday's practice. "I really just look at the two weeks, because that is where we are building and installing and evaluating and mixing and matching personnel groups and things of that nature. I am really pleased with camp – I think we are coming along and getting better and developing chemistry in our two-deep. I like the position battles and I think we have some depth at positions, quality depth where maybe we are just looking for one guy and we have two guys. Especially at corner and safety and we have a lot that we can choose from and we still have another week plus where we can find somebody to choose from. It's been a good two weeks. "
With most of the starting positions set in stone – there are still battles at safety, corner and Nickle/SAM – Venables said he has spent a majority of his time fine-tuning the defense in preparation for the opener at Georgia on August 30th.
"I haven't been disappointed or surprised, good or bad. I think it's been a two weeks where guys have had a heavy load from an install standpoint and physical standpoint," he said. "I like the way our guys have gone out and competed. It's never going to be perfect but our guys have displayed toughness and being physical and making improvement. We are still looking for more precision and all of the little things and the details and still ironing out the position battles that we have. But the guys, from a two-deep standpoint, have earned our trust and now you are dividing up reps percentage wise going into that first game and that is what we will continue to evaluate."
Jadar Johnson

Jadar Johnson
So. Defensive Back
#18 6-1, 207
Orangeburg, SC
View Full Profile and Jayron Kearse

Jayron Kearse
So. Safety
#20 6-4, 215
Fort Myers, FL
View Full Profile continue to battle for the starting spot at strong safety opposite free safety Robert Smith

Robert Smith
Sr. Safety
#27 5-11, 211
St. George, SC
View Full Profile .
"It's a good battle. The race isn't over," Venables said. "Both have had their share of really good plays and at time not so good plays. We've got another week to see who really wants it. It's close enough not to call yet."
Venables said that he has liked what he has seen out of young corners MacKensie Alexander

MacKensie Alexander
RS Fr. Cornerback
#2 5-11, 190
Immokalee, FL
View Full Profile and Cordrea Tankersley

Cordrea Tankersley
So. Defensive Back
#25 6-1, 195
Beech Island, SC
View Full Profile .
"Mackensie has done well. Cordrea has done well and between the two of them, I think that we'll be fine there," he said. "The hard part about the game of football is that it is constant every day - that grind, that challenge and to get guys to stay on edge and precise every day, that's the big challenge. The nature of that position is that you don't get a lot of action at that position all of the time, but you can take the top off the defense in a hurry if you're not doing what you need to do. They've had some really, really good days during the course of the last two weeks and I expect those guys to just keep getting better and better."
OTHER NOTES
On Georgia's run game
"It's a huge challenge. They're very physical. They know what they're doing. They do it well. They're very aggressive in how they run the football. They run it downhill. They had us on our heels at times last year and at times we responded. They'll physically try to impose their will on us and be persistent about it."
Redshirts
"There are still some guys that we're evaluating and we'll know within the next day or so. There are some guys that may not be ready to play quite yet but we'll keep them ready based on the health of some of the other guys. "
The mentality of the veterans
"To this point it has been great. I've been pleased with the attitude and the focus and the work ethic. I've been very pleased with both leadership and focus. It seems that the mind is in the right place and the work ethic has followed."
On the battle at WILL
"Tony (Steward) and Ben (Boulware) both have had solid camps. Tony has been better, but not by much. I feel great about where we are at that position, and Ben can play the MIKE linebacker position as well."
On the battle at Nickel/SAM
" Korrin Wiggins

Korrin Wiggins
So. Defensive Back
#12 5-11, 190
Durham, NC
View Full Profile has had a good camp, and T.J. Burrell

T.J. Burrell
RS So. Linebacker
#41 5-11, 215
Goose Creek, SC
View Full Profile has had a good camp. Dorian O'Daniel

Dorian O'Daniel
RS Fr. Linebacker
#6 6-1, 217
Olney, MD
View Full Profile in his limited role has done well. I am still looking at him at corner, but Martin Jenkins

Martin Jenkins
RS Sr. Cornerback
#14 5-9, 185
Roswell, GA
View Full Profile can play that position as well. I think we will be fine at that position. I think we have a little more depth than we had this time last year for us."