| | |
| --- | --- |
| Venables rips defense after lackluster Wednesday practice | |
---
| | |
| --- | --- |
| Wednesday, April 9, 2014 8:07 PM | |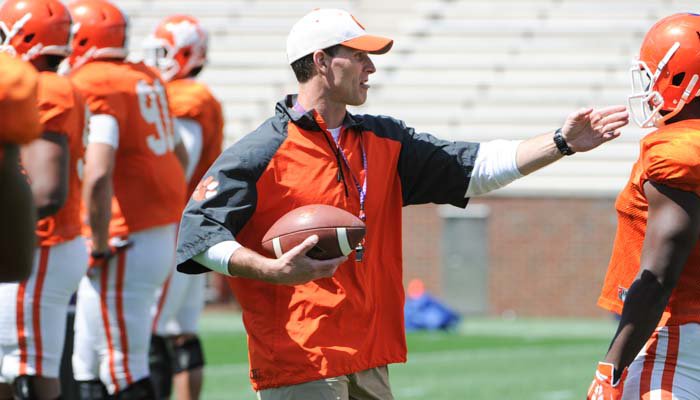 CLEMSON – Brent Venables

Brent Venables
Defensive Coordinator / Linebackers
View Full Profile was not happy with his defense Wednesday afternoon, and it showed.
The first hint that things might be amiss occurred when Clemson's defensive coordinator kept two linebackers out on the field for an extra 15 minutes or so following Wednesday's practice, doing more preaching than practicing.
Once he arrived to speak with the media outside of Clemson's locker room, his answers were short and to the point, and he eventually let it out that while his defense may be getting a lot of attention from fans and from the media, he has been less than pleased with the group's effort.
Venables then said that his defense made Clemson's offense look like the Green Bay Packers during Wednesday's session, and when one reporter asked if that might not be a bad thing – maybe bringing the players back down to earth – he received a glare from Venables, who said he felt like the defense "farted around" too much for his liking.
"I don't like it, ever. I don't think it's all right. It's not acceptable, and it's not OK," Venables said. "If you sit there and accept it as a coach, then that's probably what you're going to get. You'll get more of it.
"I'm disappointed in the lack of leadership this late in the spring to come out and not have our guys ready to compete and practice. It starts with us coaches."
Venables then said that this year's team can't depend on last season's success.
"If you want to play at a high level and have success, you have to earn it," Venables said. "You have to work. Can't cheat this game. Can't just show up and expect people to roll over for you. Got to invest in the process, come with the right mindset – be on edge. Or you're going to be get exposed. That happened out there today. It was like we were playing the Green Bay Packers out there today."
He called the results "unacceptable."
"(To) not have our guys ready to compete in practice starts with us coaches and for our guys to fart around – (the Clemson offense) got after us on defense today," Venables said. "That's not OK. I don't expect that. I don't give them a mulligan. Can you be the same emotional high-pitch every time out there? No, you also know when it's at the other extreme. That's never acceptable. Ever."
Another reporter told Venables that many of the offensive players say that Clemson has the best defensive line in the nation, and he grimaced.
"I don't know how they can say that," he said. "They haven't played against everybody in the nation. But today, they (the defensive line) got exposed today."
I asked Venables about the secondary, and he said that the entire group was "pretty inconsistent." He noted that the competition at the SAM linebacker spot has been hindered by injuries.
" Korrin Wiggins

Korrin Wiggins
So. Defensive Back
#12 6-1, 185
Durham, NC
View Full Profile , Travis Blanks

Travis Blanks
Jr. Defensive Back
#11 6-0, 190
Tallahassee, FL
View Full Profile and Martin Jenkins

Martin Jenkins
RS Sr. Cornerback
#14 5-10, 180
Roswell, GA
View Full Profile are all guys that you would expect to see back there," he said. "But right now, we only have two in T.J. Burrell

T.J. Burrell
RS So. Linebacker
#41 5-11, 215
Goose Creek, SC
View Full Profile and Dorian O'Daniel."