| | |
| --- | --- |
| Venables recovers from depressing camp start, focuses on the rewrite | |
---
| | |
| --- | --- |
| Monday, March 16, 2015 3:45 PM | |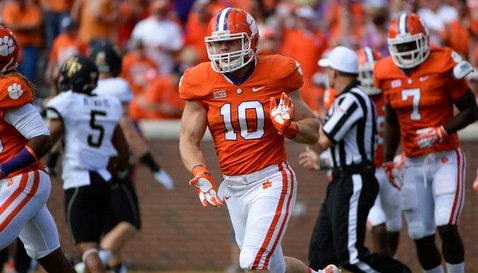 CLEMSON – Brent Venables

Brent Venables
Def. Coordinator / Linebackers
View Full Profile walked out onto the practice field for the start of spring practice and it didn't take long to notice there were some familiar faces not in attendance. No Grady Jarrett

Grady Jarrett
Defensive Tackle (2011 - 2014)
#50 6-0, 290
Conyers, GA
View Full Profile . No DeShawn Williams

DeShawn Williams
Defensive Tackle (2011 - 2014)
#99 6-1, 295
Central, SC
View Full Profile or Vic Beasley

Vic Beasley
Defensive End (2010 - 2014)
#3 6-2, 236
Adairsville, GA
View Full Profile or Josh Watson

Josh Watson
Defensive Tackle (2010 - 2014)
#91 6-4, 290
Wilmington, DE
View Full Profile . Stephone Anthony

Stephone Anthony
Linebacker (2011 - 2014)
#42 6-3, 245
Polkton, NC
View Full Profile and Tony Steward

Tony Steward
Linebacker (2011 - 2014)
#7 6-, 235
Hastings, FL
View Full Profile were missing, as was Robert Smith

Robert Smith
Safety (2011 - 2014)
#27 5-11, 215
St. George, SC
View Full Profile .
Clemson's fourth-year defensive coordinator didn't think it was odd, however. He had another word for it.
"It wasn't odd, it was depressing. We will be alright, but that is a good group of guys," Venables said earlier this month. "We knew for a while they weren't going to be here. Coach (Swinney) has us go and address the opposite side of the ball, just go and give them a few words of encouragement in a meeting before we come out for spring ball. The last couple of years I had a big stick to swing and challenged. This year I went in there and I was on my heels a little bit - Us, We, Team - but we have a good group of guys and they are flying around out here. We have a good energy and good focus to us. I like how we are working. There is a lot to like. We have some good guys coming up across the board and we will see how they progress. And there is some young talent there to be excited about, too."
Despite the enormous loss in production and in experience, Venables said this year won't be about reloading or rebuilding. It will be about rewriting.
"I would say it's a rewrite. Every year you have to do that because you have to start over, whether you have a bunch coming back or you don't," he said. "Whether you finished really well or you finished poor, there is a process and you have to start over and you have to earn your way. Just because you are a returning player that played really well doesn't mean it will happen again. You really do, you have to go back to the basics and fine tune. They really have to get back to the nuts and bolts of it. These guys have to rewrite. Last year's book has been written. That is a group that will never return and now these guys have to create and write their own legacy."
Venables has a large group of returnees that not only started games last season, but gained valuable experience along the way.
"You look at guys like Jayron (Kearse) and Mackensie (Alexander) a year ago at this time, we weren't quite sure what they were. Ben Boulware

Ben Boulware
Jr. Outside Linebacker
#10 6-0, 235
Anderson, SC
View Full Profile , B.J. Goodson

B.J. Goodson
RS Sr. Linebacker
#44 6-0, 240
Lamar, SC
View Full Profile , Shaq Lawson

Shaq Lawson
So. Defensive End
#90 6-3, 269
Central, SC
View Full Profile - they all look like leaders and they look comfortable in their roles," Venables said. "They look confident in what they are doing. Kevin Dodd

Kevin Dodd
RS Jr. Defensive End
#98 6-5, 275
Taylors, SC
View Full Profile is one you can probably throw into that group as well. They understand how we do things and why we do things the way we do, so they have a serious about them and a focus. Korrin Wiggins

Korrin Wiggins
Jr. Defensive Back
#12 5-11, 195
Durham, NC
View Full Profile would be in that group. Jadar Johnson

Jadar Johnson
Jr. Defensive Back
#18 6-0, 200
Orangeburg, SC
View Full Profile . All guys that played significantly this past year, more so than they had at any other time in their careers and I think that experience has helped them going into the spring, no question.
"And then I didn't mention guys like Carlos (Watkins) or D.J. (Reader) or Cordrea Tankersley

Cordrea Tankersley
Jr. Defensive Back
#25 6-1, 195
Beech Island, SC
View Full Profile and T.J. Green

T.J. Green
Jr. Safety
#15 6-3, 205
Sylacauga, AL
View Full Profile . Those are all other guys that have also played. Scott Pagano

Scott Pagano
RS So. Defensive Tackle
#56 6-3, 295
Honolulu, HI
View Full Profile is in a much different place than he was a year ago at this time. So there is absolutely a strong foundation."
With that strong foundation and experience, the success of the 2015 defense will lie in how hard they want to work.
"That is the key with all of them," Venables said. "How hard are they willing to work and how much are they willing to invest and can they bring other guys along with them? Then there is the competition part of it - staying humble and staying hungry. That is all a big part of it, too, going forward because there are no older guys to lean on. They are the older guys now."

Tags:
Brent Venables
,
Vic Beasley
,
Josh Watson
,
Grady Jarrett
,
Robert Smith
,
DeShawn Williams
,
Tony Steward
,
Stephone Anthony
,
B.J. Goodson
,
Kevin Dodd
,
Shaq Lawson
,
Cordrea Tankersley
,
Ben Boulware
,
Jadar Johnson
,
Korrin Wiggins
,
Scott Pagano
,
T.J. Green